I'm declaring it now…New Orleans is without a doubt my favorite city in all the US. This is a town with so much life, color and interesting history that it's hard to pack it all into a four-day visit. But that's all the time I had, so I made sure to experience as many facets of the city as I could.
Now you might think of New Orleans as the location of the raunchy street party brought on during Mardi Gras. I myself once dreaded the notion of spending a vacation roaming crowded streets next to drunken frat boys who yell at girls to lift up their tops in return for a beaded necklace. Sure you might find that happening on Bourbon Street, but you can't define an entire city by one street alone. Especially in this city! Instead you have to look beyond all that and what you find is so many things like uniquely delicious cuisine, historical events and people who are now legendary, social engagement, deep-rooted traditions, and eternally optimistic music! New Orleans is so many wonderful things that I fell in love with this city, and I think with some guidance you will too.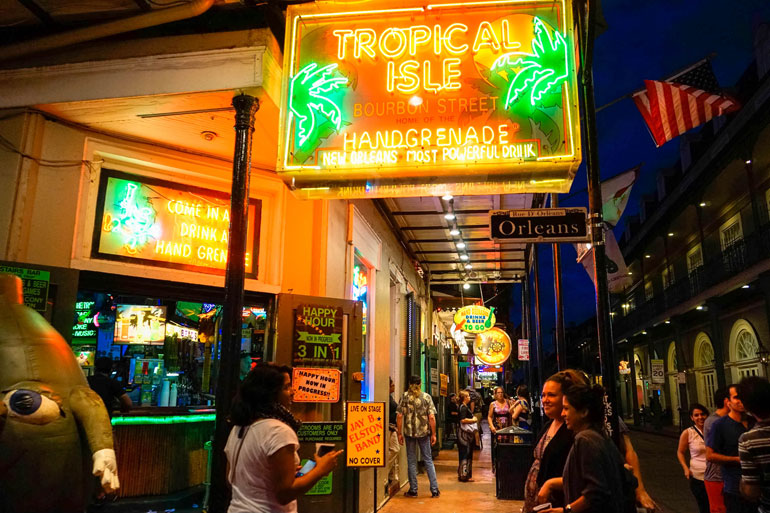 Bourbon Street at Night
So let's begin in the one place that I already warned you about…Bourbon Street. Since I arrived in the early evening, this was the first thing on my itinerary… to walk to the French Quarter and scope out the happenings on and around Bourbon Street. During Feb or March the city is flooded with party goers, but in early October, the number of visitors is much smaller and the streets are easier (dare I say safer) to walk down. I felt it was the perfect time to visit and I felt everyone else on the street was genuinely excited to be there. I was advised to avoid streets that were dark or empty and to keep an eye on personal belongings. After all, this is the town that had the famous 19th century sign "Beware Pickpockets and Loose Women". Fortunately I didn't have any problems but I do know a guy who got his wallet lifted in the first 10 minutes he was there. (To be fair he was probably drunker than a lord so go figure).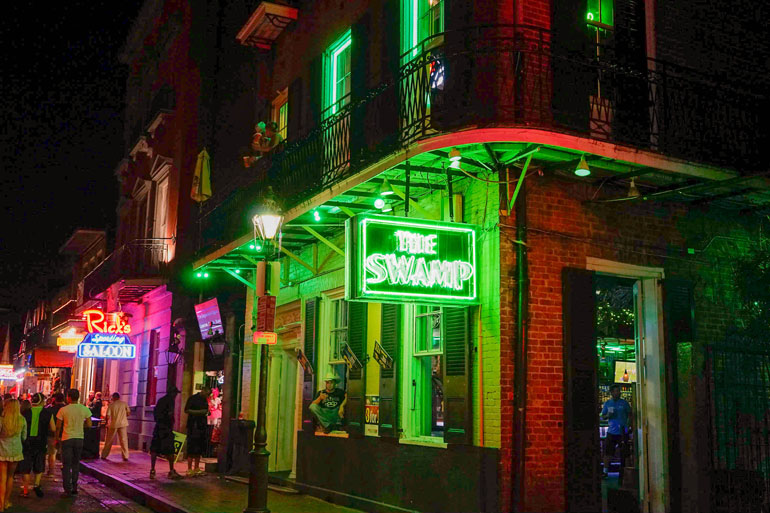 The first thing you'll notice are bars everywhere with colorfully bright neon signs advertising drink specials for thirsty travelers. The lights cast a seductive glow of greens, purples, reds and yellows that shine on the old brick and wood buildings. Most of the bars have unique themes like The Swamp, Tropical Isle, or Voodoo Vibe. It seemed that the people inside were having a good time, enjoying the night and each others company.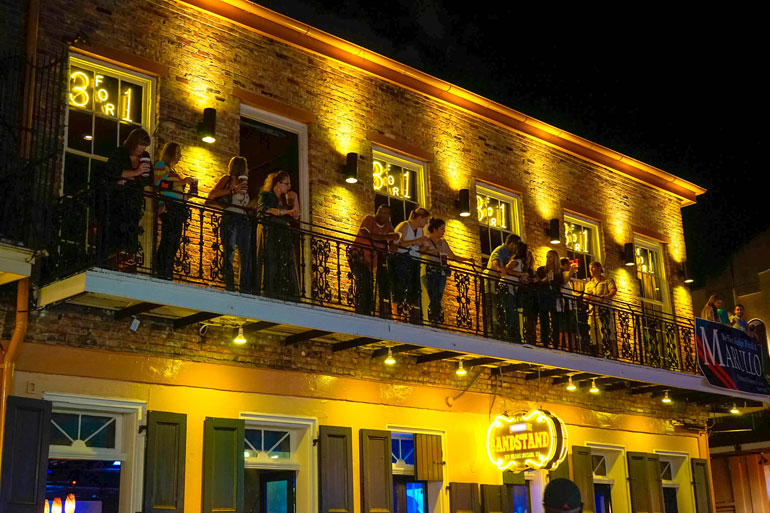 There are a lot of balconies in the French Quarter. It's probably the best location you can be at to get a birds eye view of the entire colorful street. I'm sure it's a great place to people watch as well. During Mardi Gras, beads are often thrown from of balconies like this one to onlookers below.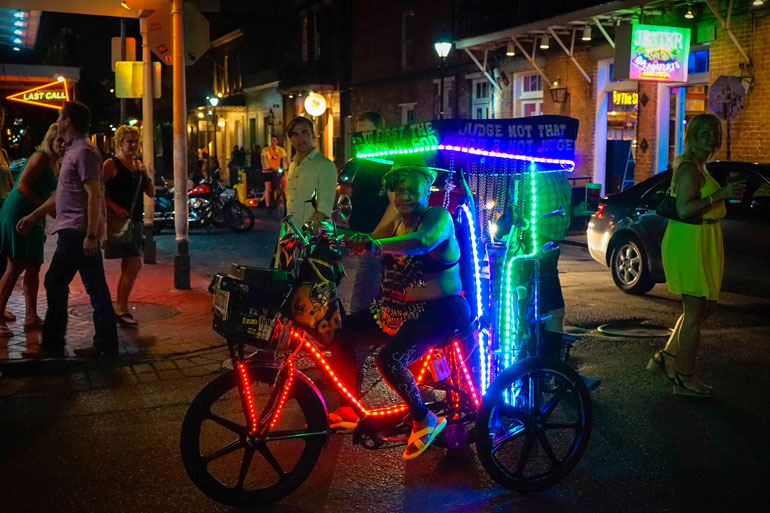 The streets are not only colorful in color, but in people too. This lady in her bicycle mobile was peddling through the streets, looking as content as ever. As I stopped to snap a picture, she winked at me then gave me a big smile. That's when I began to understand the nickname for New Orleans. The Big Easy. This is an attitude that many people have where you don't sweat the small stuff and simply live and enjoy. This local woman was livin' and enjoyin' her night just like everyone else.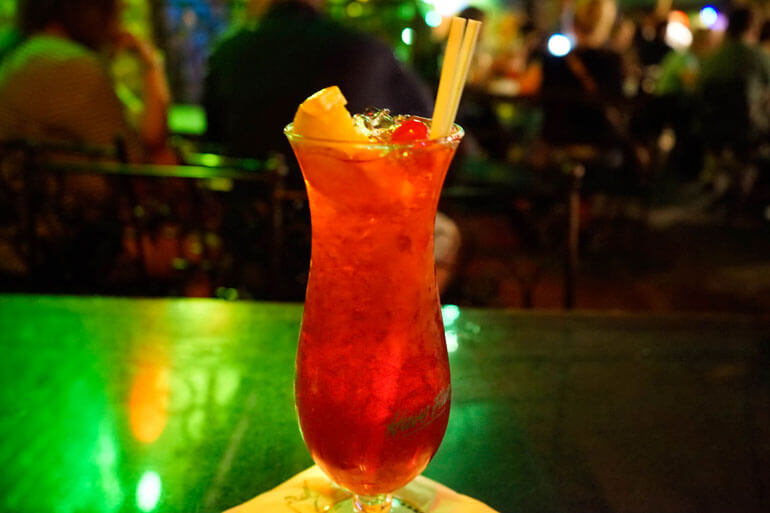 I keep talking about color, but nothing prepared me for how colorful the drinks in New Orleans are. This one here is the world famous Hurricane from Pat O'Brien's. The Hurricane was invented in the bars of New Orleans and was sold to sailors in the 1940's. Now it is one of the top drinks to try when visiting New Orleans. It is equally delicious as it is strong! Two many of these and it's goodnight!
Besides a Hurricane, there are a few other drinks you should definitely try while in New Orleans. First there is the Vieux Carré (meaning "old square" in French) which you can find in the rotating Carousel Bar in the Monteleone Hotel. This upscale bar has live jazz music and yes, the circular bar actually rotates! If you leave your drink on the bar to go to the bathroom, be careful…your drink will have moved! Another great drink is the Sazerac, which is now the official cocktail of the city of New Orleans. The Ramos Gin Fizz also invented in New Orleans, has a 12-minute mixing time. The super classy Roosevelt Hotel trademarked the drink and still makes it today. I didn't get a chance to try the Hand Grenade, the signature drink of the Tropical Isle bar, but I heard it is such a powerful drink that even the bar itself says not to drink more 4 in a night!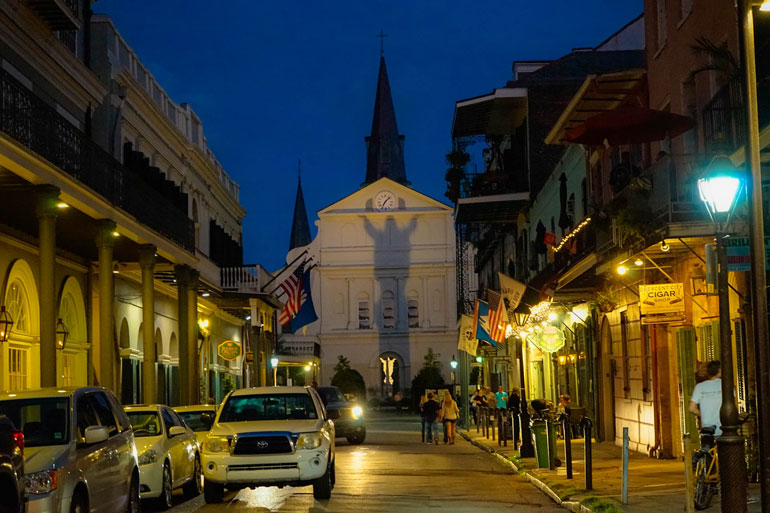 I found it interesting that tucked quietly down one street was a church with a statue of Jesus whose shadow looked as if it were holding up the roof of the building. Maybe it was symbolic for the penance one would need after loosing their sole to the earthly pleasures of drinking and carousing in the streets of New Orleans. Or maybe not.
The French Quarter and Jazz Music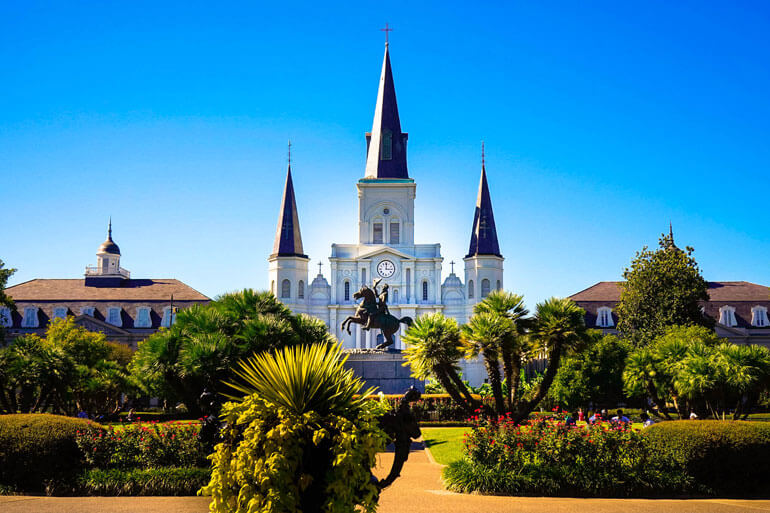 One of the best ways to explore the French Quarter is to take a walking tour through the city. I highly recommend you use Free Tours By Foot, a tour company that is literally free and you decide if you want to pay at the end of the tour. I was skeptical at first, but after the tour I decided to pay the tour guide because she did such an awesome job of teaching us the history of New Orleans. We met in the center of Jackson Square, the historic park in the French Quarter with a statue of Andrew Jackson in the center. Our tour guide walked us around the city pointing out historic churches, houses, and courtyards. She told us stories about famous authors like William Faulkner and Tennessee Williams who resided in the French Quarter. We also walked down Pirate's Alley, a historic haven for pirates like Jean and Pierre Lafitte.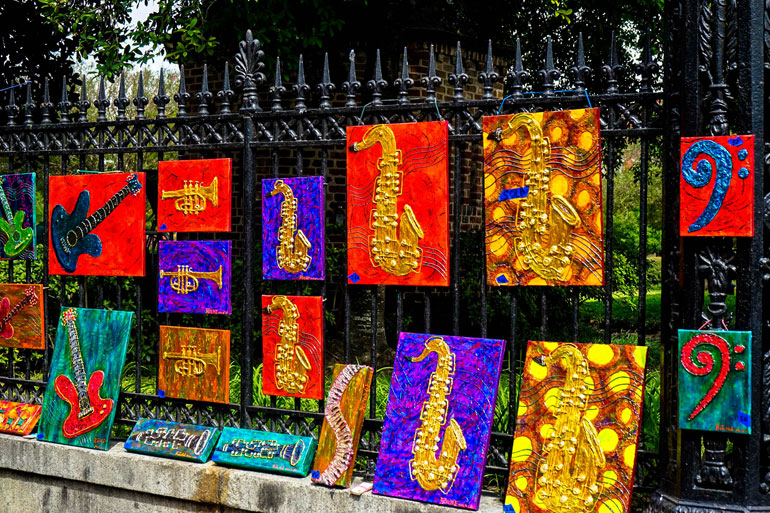 After the tour, we walked around Jackson Square and began noticing how much music influences the city. In front of the St Charles Cathedral, next to a band of fortune tellers were a few men playing saxophones. Also I saw many paintings and pieces of art like the ones above that related to music.
It's amazing that almost everywhere you look there is some sort of music happening. On one street corner, two girls were playing classical music with violins. On another street, a group of young boys were dancing while an adult strummed a guitar. The man in the picture above was happily playing zydeco music on a washboard in the middle of the street. It was beautiful and really showed how much the people love music and are not embarrassed to share it with others. It's not a surprise that New Orleans is known as the birthplace of Jazz. If you want to experience an incredible Jazz concert, you can get tickets to see a show at Preservation Hall or visit New Orleans during the yearly Jazz Festival.
Shops, Museums and Pralines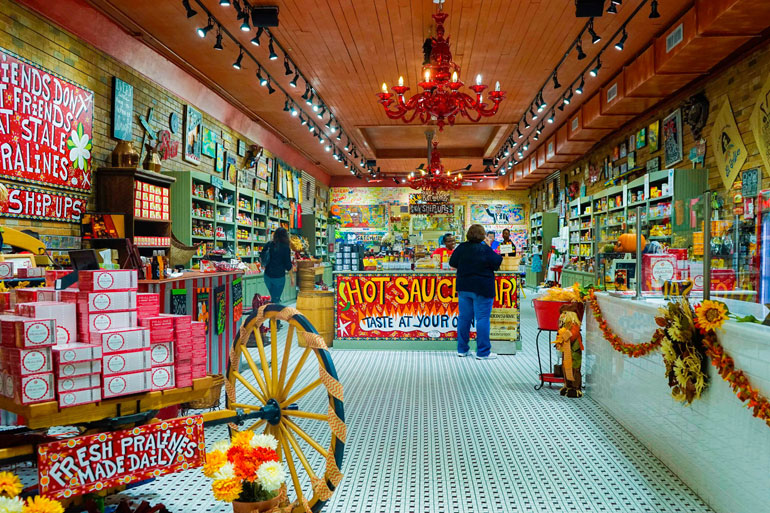 I'm not much of a shopper, but that all changed when I visited the French Quarter. There were so many interesting shops on almost every street. Each shop is so unique in design and merchandise, it really makes you want to continue to explore to hunt for that perfect souvenir. When I walked into the colorful Magnolia Praline Company store on Decatur Street, I was blown away by how many cool products where inside. You have got to sample their signature pralines, a New Orleans delicacy. This store has so much more like a Hot Sauce bar where you can sample many different hot sauces and flavored jellies. Beware though…some of them are super duper hot!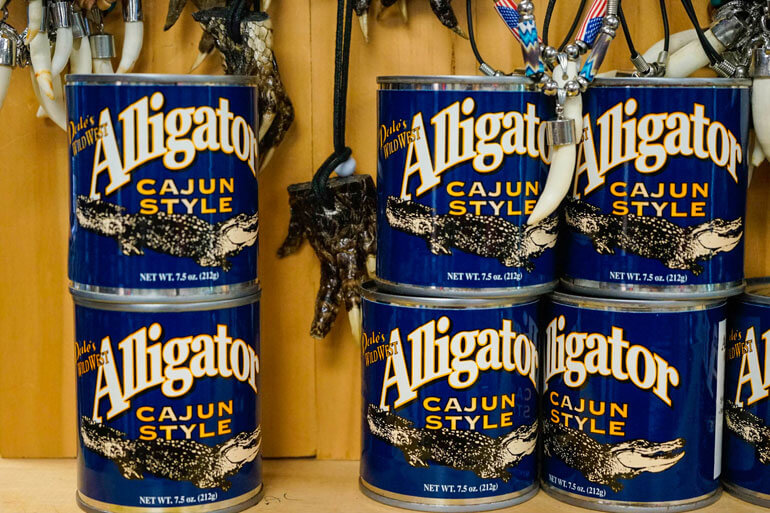 Of course, many of the shops sell signature souvenirs like little Voodoo dolls, Mardi Gras masks, New Orleans Saints merchandise, and beads! But occasionally you might see something uniquely different like this stack of canned alligator. Yummy! There are also a few interesting art galleries in the city. I even found some vampire stores that sold slightly weird vampire type merchandise. This isn't surprising considering New Orleans is famous for producing one of the most iconic vampire novelists in the world…Anne Rice, author of "Interview With A Vampire".
There is a darker side to New Orleans if you dare to explore it. Actually, it is considered one of the most haunted places in America. There are so many stories of odd happenings that tour guides provide Ghost and Vampire Tours in the city. Even if you take a regular walking tour of the French Quarter, you will learn about several hotels, restaurants and cemeteries that are apparently haunted. If you're familiar with the third season of American Horror Story, Coven, you will learn it was filmed here and that the real Lalaurie House from the show stands on the corner of Royal Street and Governor Nicholls Street. This was the home of Delphine Lalaurie, a brutally sadistic serial killer known for torturing and murdering slaves. It's very creepy to know the history of what happened within the walls of that 3 story mansion, which is also allegedly haunted.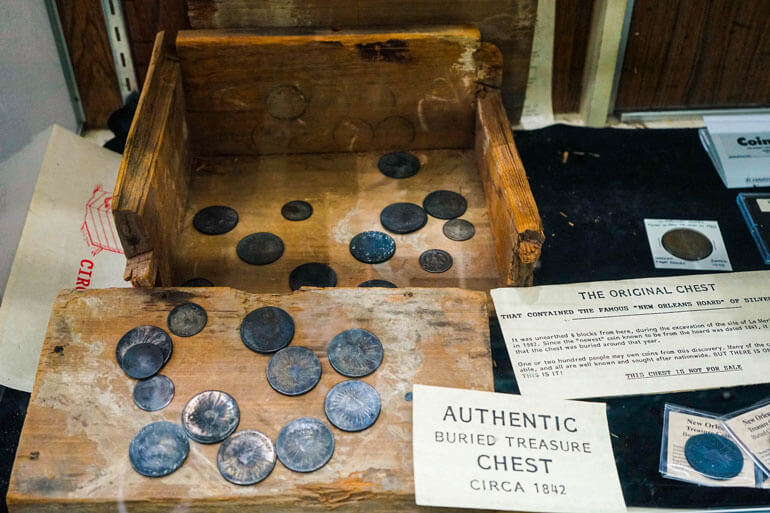 Also on Royal Street I stepped into one of the coolest antique shops I've ever seen. Cohen James H & Sons Inc antique gun and coin shop is like stepping into a museum. There are tons of antique guns from the mid to late 1800's displayed on the walls. There are also antique swords displayed, some of which were owned by pirates of the time. In the display cases, are collections of rare and interesting coins. I even saw an authentic buried treasure chest broken open that contained coins from around 1842. You can really spend lots of time in this amazing shop and if you have enough cash, can purchase some of these incredible pieces of history.
Potions, Gris-gris and Voodoo Dolls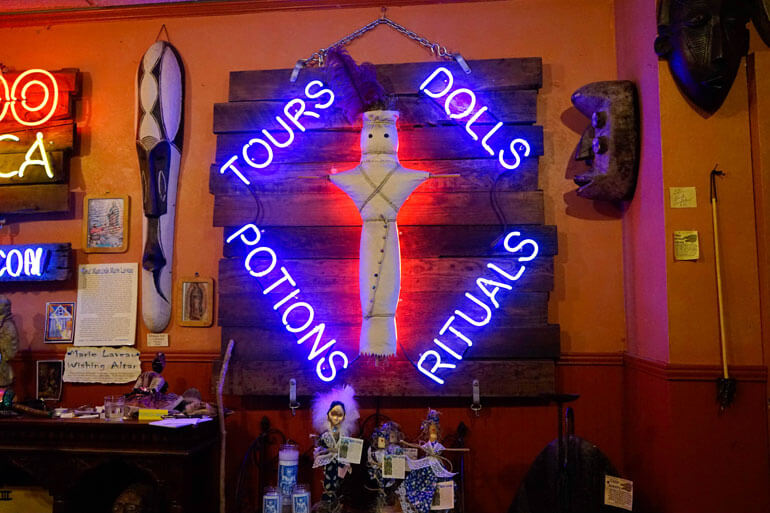 When your out exploring the streets of New Orleans, you are bound to come across several Voodoo shops. Voodoo was a religion secretly practiced by the slaves from Africa on the outskirts of the city. At the edge of the city is Armstrong Park and within it is Congo Square, the location where these Voodoo rituals took place. Although slave owners tried to ban it, the religion endured. To this day there are still many practitioners within the city. It's definitely fun to check out a shop or two for the curious merchandise inside.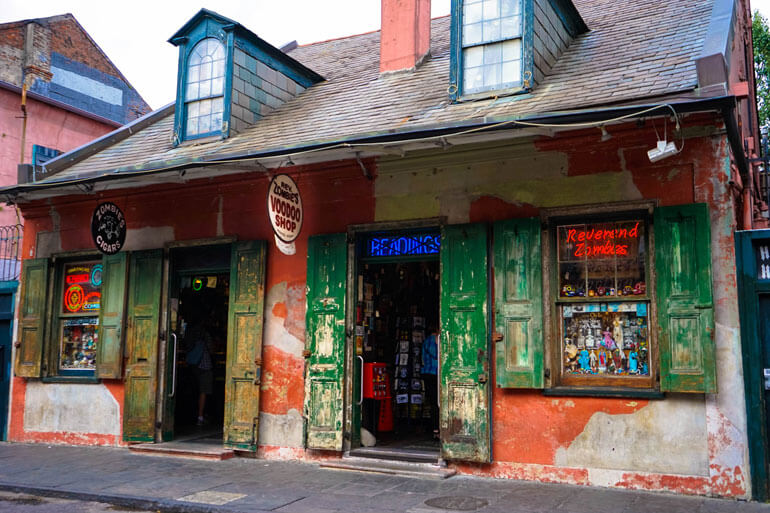 We actually took a walking Voodoo tour throughout the French Quarter. Not only did we learn a little about the religion of Voodoo, but we also learned about the Voodoo Queen herself, Marie Laveau. Her story is simply fascinating. She was born a free woman of color and lived in the edge of New Orleans close to Armstrong Park. She became a hairdresser for the wealthy socialite women of New Orleans. During this time, she gathered tons of details and secrets on the affluent families simply by listening to her customers gossip. Later she appointed herself a Voodoo queen and began practicing. To prove her powers to the people she began fortune telling (really just revealing some of the gossip she had learned over the years). The people of New Orleans were utterly convinced and began seeking her out for spells and potions. This led to her becoming wealthy and famous and made Voodoo a credible religion amongst the people of New Orleans. Today you can visit Voodoo shops like the Reverend Zombie's House Of Voodoo above.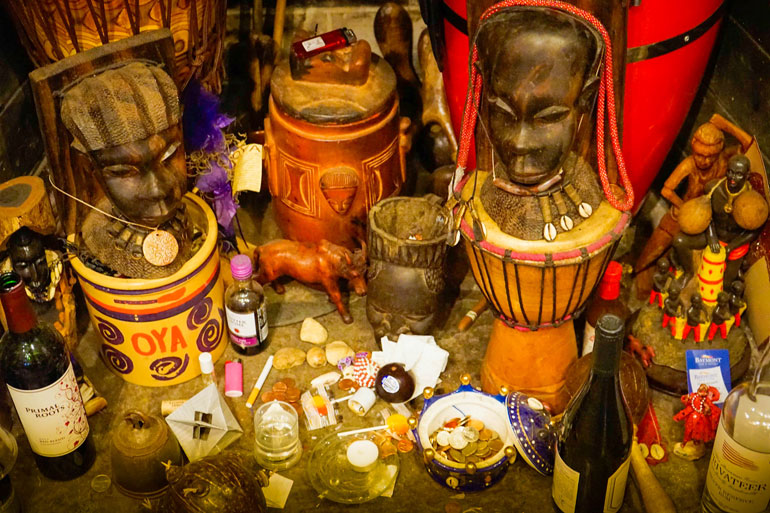 Inside the Voodoos shops and stores you will find many unique items for sale. Of course there are plenty of Voodoo dolls, candles and potions. I also found some "magical rocks" and small bags called gris-gris (or gri gri). You are supposed to fill these bags with personal items to bring you wealth and luck or other things if you so desire. Our tour guide told us people might put a coin in for wealth, a piece of hair to personalize it, and any other trinket they deem necessary. Inside these shops you will often find several Voodoo alters littered with random items like statues, coins, alcohol, or cigarettes. Basically these items are offerings of earthly pleasures to the Voodoo spirit the alter is built for.
Creole Plantations and Mint Juleps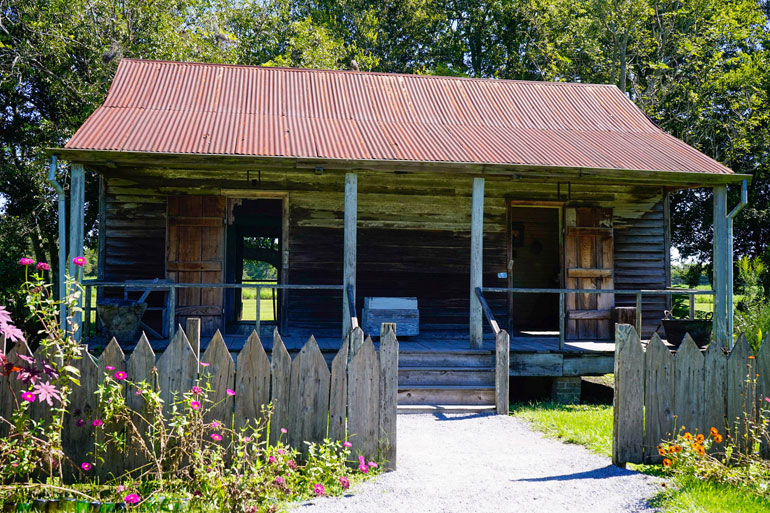 Now we step back in time to the days of the plantation owners and slaves. It is a sad but true part of our American history and I think it is a must see attraction while visiting New Orleans. We took a Plantation Tour which shuttled us off to two famous plantation homes, the Laura Plantation and Oak Alley Plantation. The first was the Laura Plantation, a historic Creole sugar plantation built in 1805. The guided tour begins at the main house where you can see many of the Laura family's furniture and heirlooms. In the back of the home are the slave cabins surrounded by sugarcane fields in which they worked. You can walk into a cabin which will give you an idea of the meager living quarters slave families endured. Also the tour guide gave us honest accounts of the horrible things that happened to the slaves at the Laura Plantation. On lighter note, an interesting piece of history was that a man named Alcée Fortier visited this plantation and began to record the folklore passed down by the slave families. Most of the stories were about lively accounts of Compair Lapin, better known as Br'er Rabbit. These stories were eventually published and became a part of Southern American folklore. Fortier's friend, Joel Chandler Harris, also published these stories and wrote the classic "Tales of Uncle Remus".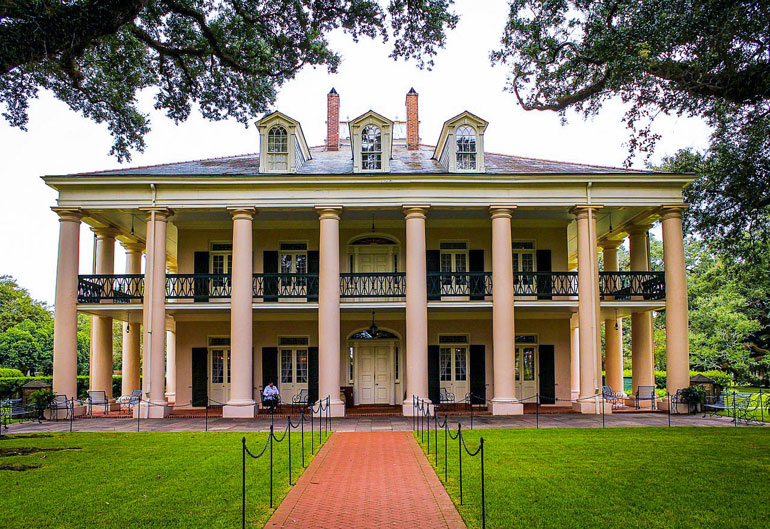 The view from the front of the Oak Alley Plantation may conjure up memories of scenes from Gone With The Wind. It's no wonder, because the entrance to this antebellum mansion is absolutely magnificent. Hundred year-old oak trees salute the red-brick path on both sides. As you walk up to the mansion you can imagine the extreme wealth of it's owners. The grounds are beautiful and the landscape is breathtaking. On this tour, guests can buy mint juleps while they wait for the tour to begin. I've gotta tell you, that was probably the sweetest mint julep I've ever tasted. This plantation, now a National Historic Landmark, was also the location of several films such as Interview With A Vampire filmed in 1993 starring Tom Cruise and Brad Pitt. The plantation served as the vampire Louis's southern home.
Cajun Swamps and Gators
No trip to New Orleans is complete without booking a Swamp Tour. The Louisiana swamps are home to many Cajun residents that have lived in the area for several generations. It's also the home of the mighty alligators. Your almost always guaranteed to see alligators on a swamp tour. The shuttle bus picked us up at our hotel and dropped us off in the Honey Island Swamp where we boarded a small 22 passenger boat. These boats are ideal to maneuver through the tight waterways of the bayous. As you travel through the swamp, you discover undeveloped areas of Louisiana decorated with Spanish moss and lined with gnarled cypress trees. The swamps were considered dark, foreboding and dangerous. Yet the swamp displays some of the wildest nature the earth has to offer.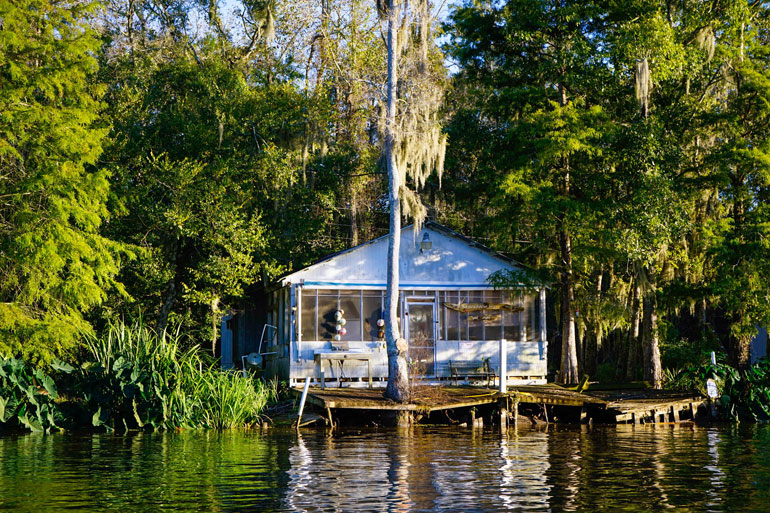 It's amazing to think that people can live in these swamps, but they absolutely do! Cajun life is much slower paced than the city yet equally as enjoyable. The Cajun people take pride in their heritage. What are Cajuns exactly? Well, the Cajuns were French-speaking settlers who relocated from Nova Scotia. They were originally known as "Acadians," but the local dialect eventually changed the name to "Cajun". Many still speak French, cook and eat Cajun foods and enjoy Cajun music. Along the channels of the Honey Island Swamp are several Cajun swamp homes.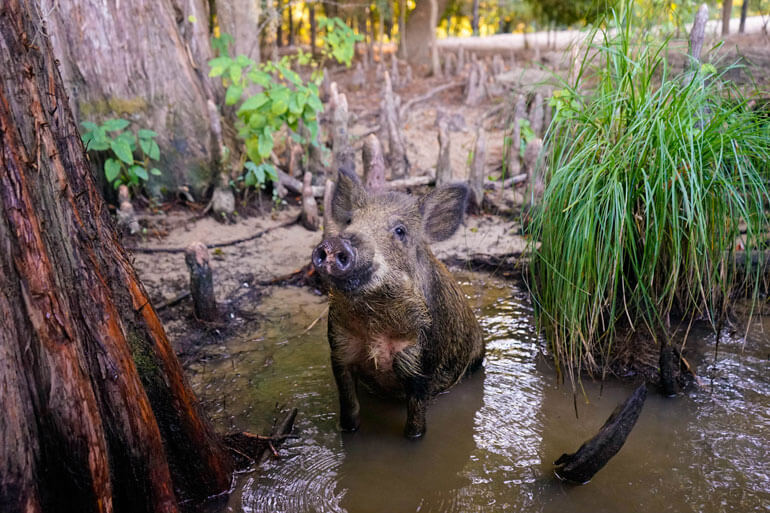 During your swamp tour, you are bound to see some of the local swamp creatures like alligators, crawfish and catfish. We saw a band of wild boars (cute as ever) frolicking on the muddy river banks. We also saw a cute family of raccoons curiously observing us as we passed by. Our tour guide threw out white marshmallows to help attract the evasive alligators. These sneaky beasts were lurking beneath the water with just their eyes and a bit of snout showing. They weren't that large, but I'm sure their parents were hiding in the tall grasses not very far from us. Our gators weren't very active, but ordinarily the tour guides can prompt a gator to snap it's powerful jaws. Well no was bitten by an alligator, but we got attacked by swarms of mosquitos as we waited for the tour bus to return us to our hotels. So be prepared and bring repellant!
Peaceful Tombs in Decrepit Cemetaries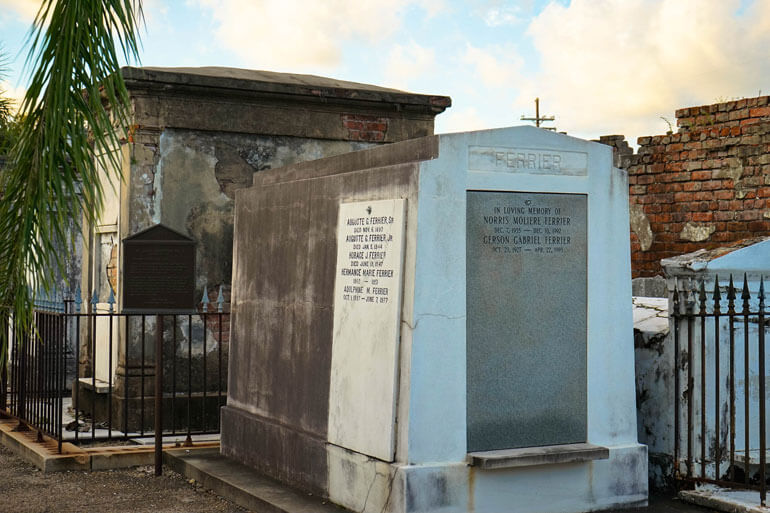 On our last day in New Orleans we decided to visit some of it's famous cemeteries. First we browsed around the St. Louis Cemetery No. 1, the oldest and most famous. It is believed that the Voodoo Queen Marie Laveau was buried here in the Glapion family crypt. There are also several famous and influential people who had a hand in the rich history of early New Orleans buried here. Weirdly enough, the actor Nicolas Cage bought a pyramid shaped tomb here for his final resting place. There are cemetery tours you can take that will point out all this interesting and bizarre history.
As part of the Garden District Walking Tour, we stopped at the Lafayette Cemetery No. 1. This cemetery was much more peaceful and beautiful then the the St Louis Cemetery. Our tour guide explained that because Louisiana is mostly swamp, burying the dead underground won't work. They will eventually float up! Creepy! So that is why families purchase overground tombs to be buried in. There are recent tombs and tombs which date back to the 1800's. There is even a tomb of a family who all died from Yellow Fever, a powerful epidemic that punished the state in the year 1878. Most of the grass, shrubs and trees in the cemetery are completely overgrown, but I feel this adds to the quiet charm of the place.
Victorian Style in The Garden District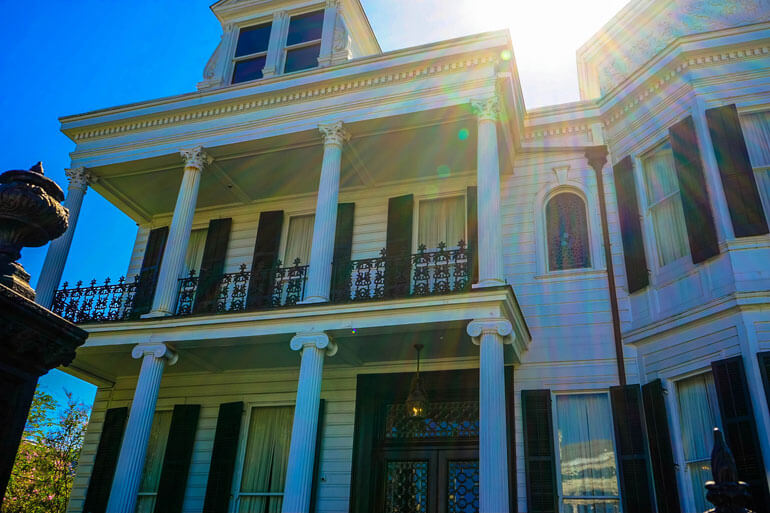 After listening to the tales of cemeteries of New Orleans, we walked down the street to view absolutely beautiful mansions in the Garden District. It is here were the wealthier patrons live, including some famous residents such as Anne Rice, Sandra Bullock, John Goodman, and Peyton Manning. What's amazing about these homes is some are incredibly old and historic. They are also incredibly expensive to keep up and several owners have not been able to do so, forcing them to forfeit their property. As your walking down the beautiful streets, you may spot a horse-drawn carriage giving of this area. Seeing the carriages reminded me of what life must have been like in the 1800s for those affluent residents.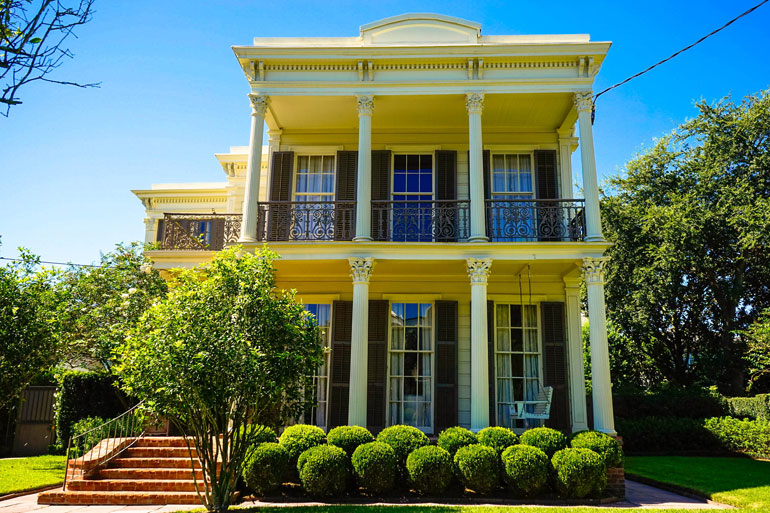 When you're walking down the street, admiring mansion after mansion, you probably will notice how broken up the sidewalks are. Louisiana is an ever changing habitat, and the swamp under the city is constantly ruining the streets making it difficult to maintain. So in some places, they simply give up and let the streets contort in all ways, bending to the will of the water underneath.
To finish off the trip, we decided to have a celebratory meal at the Commanders Palace, a beautiful historic restaurant in the Garden District. If you go, try to get a table in the outside patio. It is magnificent and you will enjoy incredible tasting food while listening to a relaxing Jazz band play music. Raise your glass of champagne and have a toast for completing an incredible adventure through the city of New Orleans.