Wow, what a view! Chicago's skyline is one like no other. From up here on the 94th floor of the John Hancock Tower you can get unbelievable 360 degree birds eye views of the breathtaking metropolis below. There are so many architectural masterpieces everywhere you look. Do you see the tall black building on the right hand side in the image above? That is the Sears Tower (renamed the Willis Tower) that once held the record for being the tallest building in the world. From its' skyscrapers and beautiful architecture to its' parks and deep dish pizza, Chicago has always had a unique and interesting personality. Journey with me as we explore some of the coolest attractions in Chicago.
Getting To Know Downtown Chicago
I'll be honest. When I first decided to go to Chicago I half expected that I would be learning about the city's history of dirty politics and the wrongdoings of prohibition era gangsters like Al Capone. After all, that's the exciting stuff I had learned about in history classes. After my vacation, however, I felt I had gained a much brighter more positive outlook on the city of Chicago. My trip began in downtown where most of the mighty skyscrapers reside and where the world's first modern skyscraper was born. I was immediately blown away by the architecture of the skyscrapers which is second to none. Many of these modern masterpieces were created by some of the hall of famers in building and design. In order to get a better appreciation for Chicago's skyline you can take an architectural boat tour on the Chicago River or go to the top of either the John Hancock Tower or Sears Tower like I did. That way you can gaze at these mighty giants from above and below. Downtown Chicago is easily walkable but is still pretty large in scale so take a good pair of sneakers.
Why They Call It "The Windy City"
The minute we walked down the Magnificent Mile, (Chicago's famed upscale shopping district), we were blasted by a wind that would have knocked a toupee off an old man. That gust of air was brutally strong and made me think "Yep! That must be why they call this the windy city!" It wasn't windy the entire time we were in Chicago though. One day it rained and was a little chilly. Another day was just gorgeous with blue skies and not a cloud in the sky. Every time we commented on the abrupt change in weather to anyone from Chicago they would just say "That's Chicago for ya". Chicagoans have already come to accept that the weather is wildly unpredictable. So if you get a blue sky day make use of it and go to the beach. If you get a rainy day then head to a movie or one of the cities wonderful museums.
Stroll Around Millenium Park
Fortunately our second day was one such blue sky day. It was simply gorgeous outside and we had planned on strolling around Millennium Park, the city's 25-acre section of northwestern Grant Park. Millennium Park is an award winning center for art, music, architecture, and landscape design. It seemed everywhere we looked there were examples of public art such as the iconic Cloud Gate sculpture pictured below. People flock to this sculpture, nicknamed "The Bean", to take pictures of it, look for their reflections in it, or to wonder how it was even constructed. I personally thought it looked like some weird futuristic spaceship.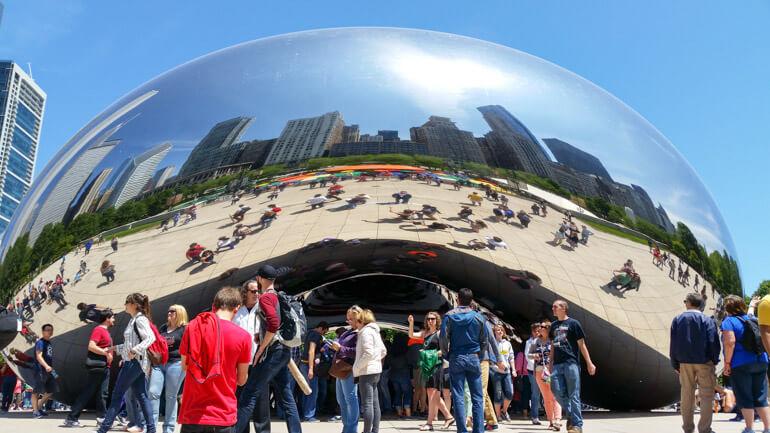 Walking through Millenium Park will open your eyes to beautiful landscape design and architecture. A few minutes walk from Cloud Gate we saw people enjoying their afternoon picnics on the lawn of the Jay Pritzker Pavilion. This is where the Grant Park Music Festival occurs each year, the nation's only remaining free outdoor classical music series. It's also home to the Grant Park Symphony Orchestra and a wide range of other musical performances. The Pritzker Pavilion looks like a wonderful place to enjoy a concert on a comfortably warm summer day.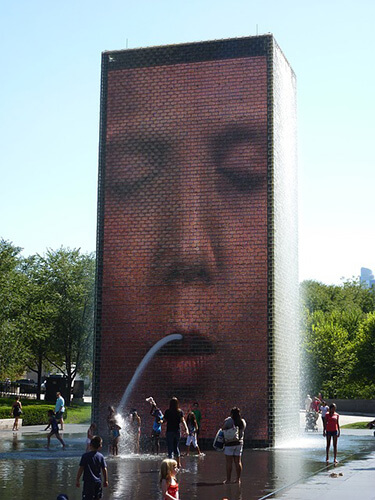 In another area of the park kids were running on a wet black granite reflecting pool. Two immense glass brick towers placed at either end of this watery playground displayed a digital video projection of a unique face for a few minutes at a time. Known as the Crown Fountain the two towers have a large nozzle that lines up perfectly with the mouth of the person in the LED projection and intermittently water will spout from it. Kids and adults love it as was evident by all the splashing that was going on.
We continued walking towards Lake Michigan and used the snakelike BP Pedestrian Bridge to get there. Even this bridge is a work of art designed by the Pritzker Prize-winning architect Frank Gehry. Along the way we saw rock climbing walls and large jungle gyms for kids to play on. It really was a beautiful day and finally seeing the light blue colors of Lake Michigan made it even more enjoyable.
Take A Walk Along Chicago's River
After exploring Millenium Park we were hungry and decided to walk along the Chicago Riverwalk to grab some lunch. Satisfied by a juicy hot dog and some sweet lemonade we agreed to board one of the boat tours on the Chicago River. These tours sell out fast in the summer. If you find the one you want is already sold out walk across the DuSable Bridge to the other side of the river and you will find other tour operators there. We settled for the architecture river tour that gave us more history on architectural gems and renowned landmarks such as the Tribune Tower, Wrigley Building, Marina City and my personal favorite and the building that was designed to resemble a giant Champagne bottle, the Carbide & Carbon Building.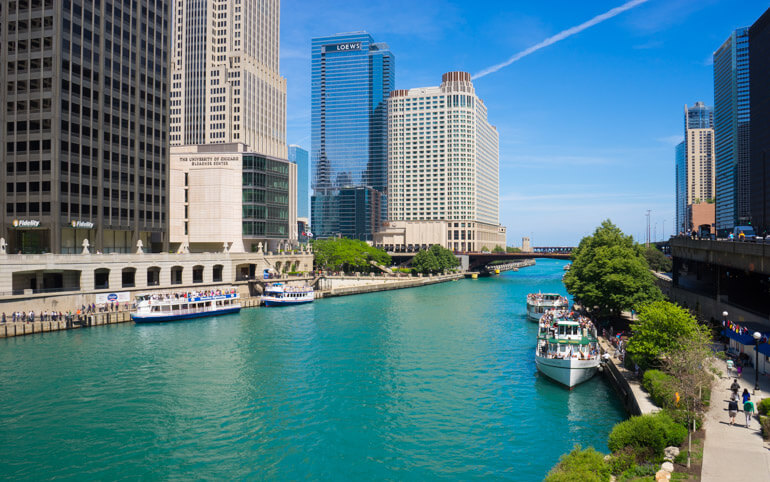 I really couldn't get over the bright bluish-green color of the Chicago River. It runs right through the city of Chicago and I've heard on St. Patricks Day the river is dyed bright green in celebration. It was on this tour that we cruised by the Sears Tower a building that was built with 76,000 tons of steel, had 25,000 daily visitors, and only takes 60 seconds to ride the elevator to reach the top. Impressive!
Marvel At Chicago's Art
For first timers, I cannot stress enough how wonderful the Free Tours By Foot are. After all, they're free and you only pay IF you feel the tour was worth your time. Our tour began in the downtown area at the theatre district. We learned about the history of the Chicago Theatre (one of the city's most famous landmarks), saw the elevated L-trains that run on tracks overhead through Chicago's Loop, wandered through the elegant Palmer House, and then walked to the Daley Plaza. Standing tall in the center of the plaza is the untitled monumental sculpture by Pablo Picasso simply known as the Chicago Picasso. You can see children sliding on it below and yes, it does look like a giant baboon!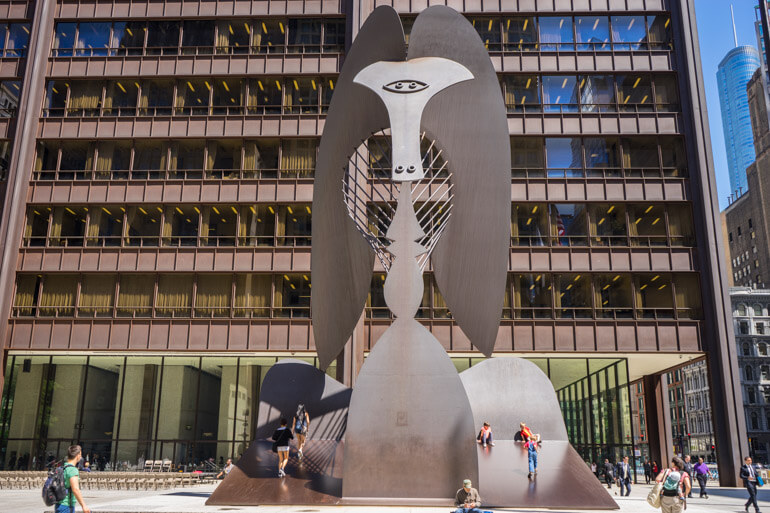 Our tour guide was honest about revealing the darker history of Chicago such as the Chicago Fire of 1871 that destroyed the entire city. It was believed that this great disaster, one of the largest U.S. disasters of the 19th century, was caused by a cow kicking over a lantern in the barn owned by Patrick and Catherine O'Leary. However other testimonies stated that a group of men were gambling inside a barn close by and a lamp they were using had accidentally been knocked over. Whatever the cause, the fire ravaged through the city killing 300 people and leaving 100,000 people homeless.
That wasn't the only disaster she told us about. We walked down the alley of the Oriental Theatre (originally named the Iroquois Theatre). It was here that the deadliest theater fire and the deadliest single-building fire in United States history occurred. At least 602 people died trying to exit the building but were trapped inside. I'll spare you the details but it's an interesting yet tragic read if you have the time.
Play At Navy Pier
Another fun activity to do while the weather is good is to visit Navy Pier on the Chicago shoreline of Lake Michigan. There's always something happening at Navy Pier. You can find shops, restaurants, family attractions, exhibition facilities and even fireworks on certain summer nights. One of the major attractions is the 150-foot tall Navy Pier Ferris Wheel shown below. This is sort of an homage to the original Ferris Wheel, referred to as the Chicago Wheel, that was the centerpiece of the 1893 World's Columbian Exposition in Chicago, Illinois. It was the exposition's largest attraction at 264 ft tall.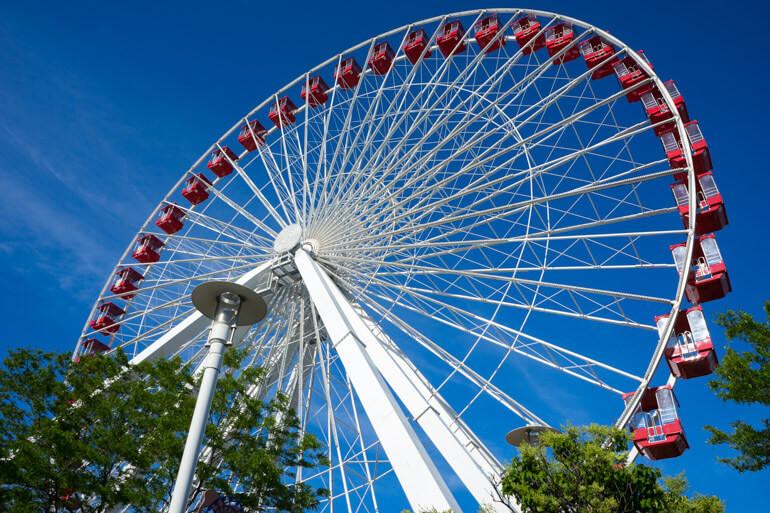 There are plenty of other activities to fill your days in Chicago. If your traveling with kids you can spend the day with the lions, tigers and bears (oh my!) at the Lincoln Park Zoo the U.S.'s oldest public zoo. Or why not explore Lincoln Park itself. You'll find four free conservatories to wander through (Palm House, Fern Room, Orchid House and Show House). You can't beat getting something for free.
Explore Chicago's Neighborhoods
A visit to Chicago is not complete without tasting some of its' most famous foods. Fortunately there are incredible restaurants all over the city and in all the different neighborhoods. In fact one of the best restaurants in America is here, called Alinea. Unfortunately it also has the most expensive prices so we opted not to go. Maybe someday when I win the lottery. Instead we settled for a jaunt over to the Fulton Market District. There were a few great places to grab pre-dinner drinks such as The Betty and the neighboring Publican. I was in the mood for something a little different for dinner so we walked to Maude's Liquor Bar. You wouldn't know it by the name, but this dimly lit lounge served house cocktails, seafood & classic French dishes. The food was delicious!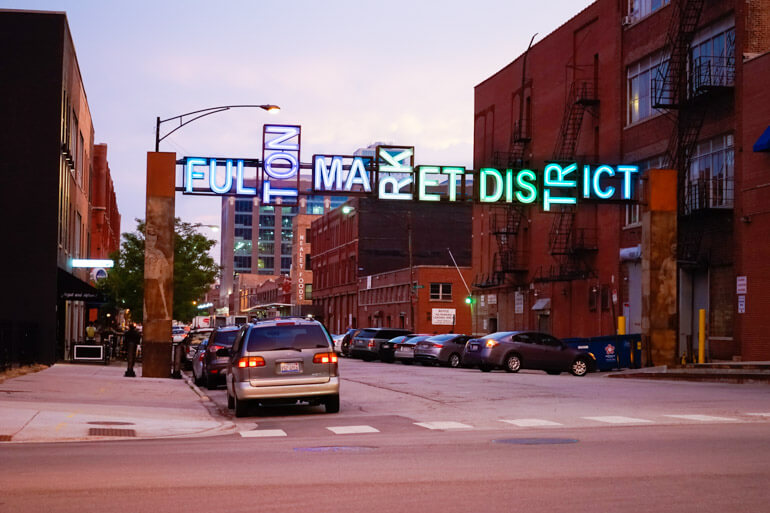 I was told that I'd have to try Chicago's famous deep dish pizza before I left, so on another evening, we visited Lou Malnatti's Pizzaria. It was okay, and the crust was very buttery, but I have to say I'm not really a fan. I'm not sure if it's because of all the hype that raised my expectations or what, but I guess I'm just more of a New York style pizza fan. There are plenty of other classic Chicago pizza restaurants such as Gino's East and Giovanni's Pizza. I love pizza so if I'm ever back in Chicago I'll definitely give it another shot.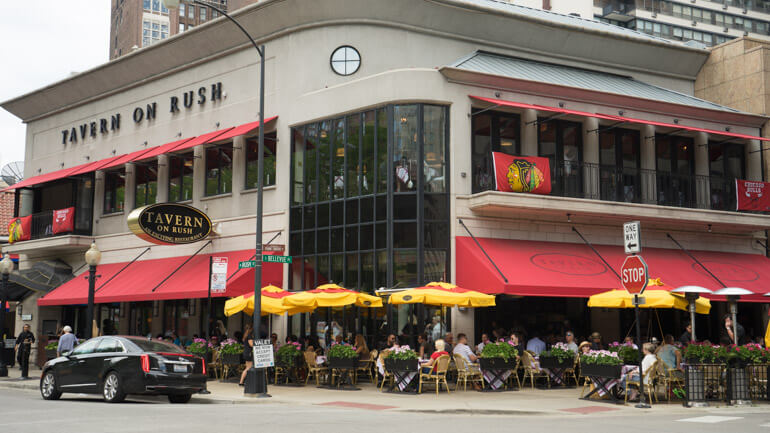 The day we left, we literally "rushed" over to visit Rush Street. Here you'll find one of the wealthiest neighborhoods in the country as is evident by its' highly rated restaurants, five-star hotels and prominent bars. We had lunch at Tavern On Rush and then walked across the street to buy an Italian gelato for dessert. The dining was good overall, but I wished we had made reservations for one of the restaurants with a skyline view of the city. This is an attraction in itself and I would highly recommend it.
Visit The Museums
So remember when I talked about the weather being unpredictable? Well only one day after we had warm sunny weather, the rain and thunderstorms rolled in. Fortunately, we had planned on spending the day indoors at a couple of Chicago's most famous museums. Our first stop was the Field Museum of Natural History. It is one of the largest natural history museums in the world and one I had heard about after seeing the 90's film "The Ghost And The Darkness" starring Val Kilmer and Michael Douglas. The story was based on the true accounts of the notorious man-eating Tsavo lions in Africa. It's a fascinating tale, and now the lion's skins and skulls are permanently on display in the Field Museum.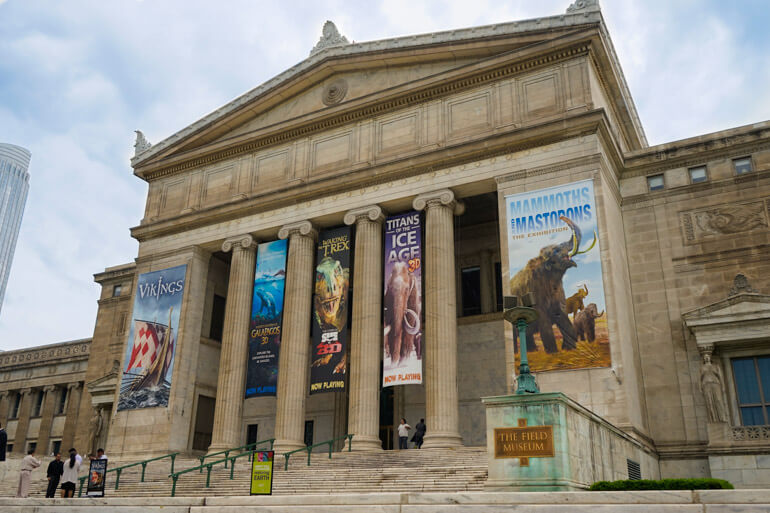 You can always find something new to learn about at the Field Museum. While we were there, the museum had an interesting exhibit about Vikings. On display were ancient runestones, jewelry, wooden boats and even Viking weapons. It was perfect timing because I had just started watching Vikings the TV show. In another room there were incredibly tall totem poles from the northwest. And right in the center of the museum is Sue, the largest, most extensive and best preserved Tyrannosaurus rex specimen ever found. What's really interesting is the legal battle that ensued (ha) over who owned the fossil after it was found. The museum with the help of some partner companies wound up paying over 7.5 million dollars for old Sue.
Click on any image below to view the gallery:
You can spend an entire day at just one of these museums, but we wanted to try to visit two. Our second stop was the Museum of Science and Industry. There we learned about the history of the German U-Boats used during World War II and were able to see a real U-505 submarine up close. This historic submarine was captured by Americans in what is considered one of the most unprecedented feats of bravery in the naval history of the United States and it's now a National Historic Landmark. There's a wonderful history of the U-505 submarine that you can read about on the museum's online website.
Among the other attractions we experienced were seeing historical spacecrafts like the real Apollo 8 module, a tornado exhibit that includes a 40-foot vortex of swirling air and vapor you can study and manipulate, and even a walk-through exhibit titled Yesterday's Main Street that allows you to see what Chicago would have looked like back in 1910.
As you might know I a bigger fan of science than art. However, if art is your thing then you should definitely plan to visit the Museum of Contemporary Art, or get lost in the Art Institute of Chicago. If you crave more art, then visit The City Gallery, located inside the historic Water Tower on the Magnificent Mile.
Enjoy Lake Michigan
Somehow our final day in Chicago was bright and sunny again. From our hotel window, we could see a glimpse of what looked like a beach so we headed out to see it. We arrived on the sands of Oak Street Beach a popular summer hotspot where people enjoy swimming, volleyball, and basking in the sun. For a minute I forgot that this was no ocean like I'm used to, but instead the waters of Lake Michigan. With more time I would have gone for a swim, but I was content with just getting my toes wet in the warm water.
Darn! We ran out of time and didn't even get to visit the famous baseball park Wrigley Field. Oh well, that just means there will be more for us to explore the next time we visit Chicago!