Are you ready to walk along the white sandy beaches of a Caribbean island? Then let me introduce you to the island of St. Maarten. But first, let's get one thing straight. This island has not one but TWO names and there is a very good reason for that. This tiny island is divided between two countries, France to the north and the Kingdom of the Netherlands to the south. On the French side, the island is called Saint Martin and on the Dutch side, it is called Sint Maarten. For simplicity's sake, I'm going to refer to it as St. Maarten. Each side has it's own unique feel but together they make one incredible island. From the casinos, shopping, and nightlife on the Dutch side to the French Caribbean cuisine and nude beaches on the French side, this island has a lot to offer. Now that I've sparked your interest, come along for some incredible Caribbean fun!
I've placed several markers on this map to point out some of the better beaches on the island and some sightseeing locations you shouldn't miss. Just click on a marker to read details about each location or attraction. Now you might question how did this island maintain it's dual ownership for all these years without conflict? After all, the French and Dutch agreed to divide the island way back on March 23, 1648 with the signing of the Treaty of Concordia. The answer is…I don't know and I'm not going to take a history class to find out either. Let's just accept that on this island, the two sides live in peace and share the beauty one could only find in a Caribbean island.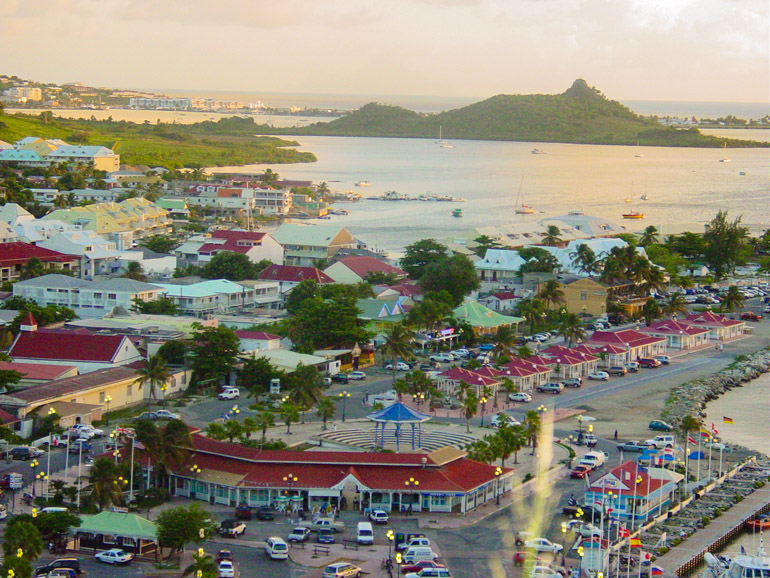 When you spend some time in St. Maarten, you begin to realize that time just sort of becomes irrelevant. The days seem to roll slowly by giving you plenty of time to enjoy the island's unique charm and beauty. It easily puts you into a state of relaxation, which is usually what I'm looking for in an island vacation. This feeling is especially evident in the town of Marigot, the capital of the French side of the island (pictured above). When I strolled along the waterfront I noticed fine restaurants and several small yet elegant shops with interesting duty-free goods for sale. A warm breeze moved through the leaves of the green trees as people wandered from shop to shop looking for a treasure or two that would remind them of their travels here. Up on the hill overlooking the town sits an old fort with rusted cannons still intact. I was curious to learn more about this island and it's old history and there is no better way to do that than to take a tour from a local.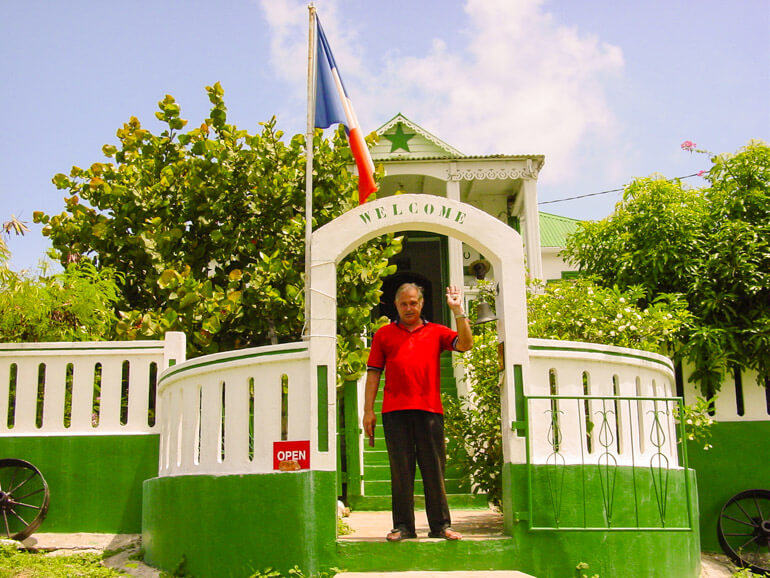 So we wanted to take a tour with a local and happened to find a man named Pierre who met us on the steps of his little museum. Pierre spoke perfect English with a heavy French accent and was more than willing to teach us about some of the local history. Right away we could see that he was particularly interested in teaching us about the history of rum in the Caribbean. As he began to speak we could tell he had been indulging himself in the stuff already. Well, at least he wasn't driving so we continued to listen to his stories. He told us that St. Maarten flourished in the production of tobacco, sugar, cotton, indigo & grapes due to the several plantations scattered throughout the island in the 17th and 18th centuries. Slaves worked the plantations much like they did in the Southern states of the US. However, slavery was abolished on St. Maarten in 1863. The economy slid down but eventually picked up again in the 1950s and 60s due to the popularity of tourism. He also told us about Guavaberry, the legendary folk liqueur of St. Maarten. It was first made on this island centuries ago and has become an important part of the local culture and tradition of the island. There are even folk songs and stories written about it. After talking with Pierre we were filled with images of pirates drinking rum on beautiful islands in the Caribbean.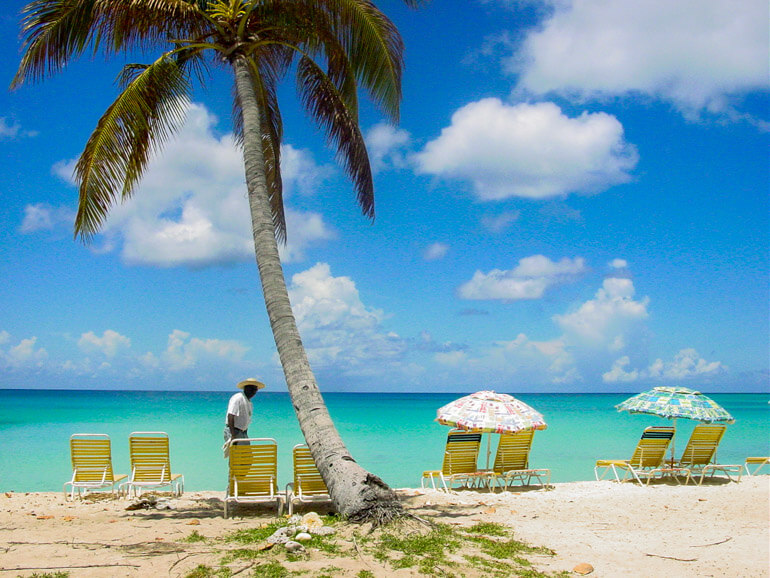 The main attraction in the Caribbean are the turquoise colors of the ocean. It was time to visit the beaches of St. Maarten. We first visited Le Galion Beach. The waves on this beach were relatively calm and was good for families with small children. We jumped into the ocean and oh man was the water warm! Ridiculously warm! The waters are absolutely crystal clear. So if your sunglasses fall in the water, have no fear…you'll be able to see them immediately. All the beaches we visited on St. Maarten were equally as beautiful as this one. Dawn Beach on the Dutch side I found to be much more rugged than the others. I have heard that lots of construction projects were completed after I visited making it much more appealing to visitors now. Probably the prettiest beach on the island is Mullet Beach on the Dutch side. The color of the water is incredible, the sand is incredibly fine beneath your feet and there are no waves. Absolute paradise!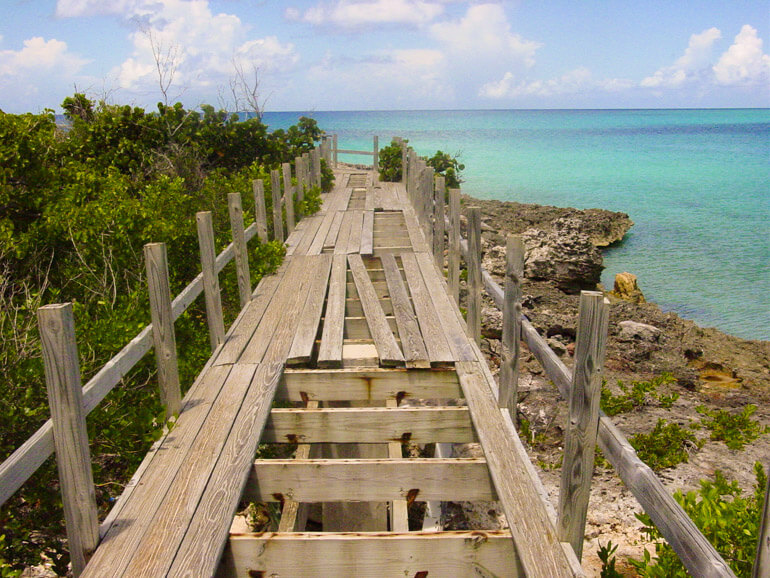 There is a little footbridge the spans the rocky cliff over the edge of Mullet Beach. When we were there, many of the boards were missing. Today maybe someone has finished the job…or not? If you swim up to the edge of this cliff, it is a perfect spot for snorkeling. There are so many multi-colored fish that thrive in this marine paradise for you to see. The waters are so calm, it really makes it easy even for beginner snorkelers to give it a try. If you've spent time in colorful and warm oceans like this, you really can get spoiled. I spend a lot of time in the Pacific Ocean back at home and when I see past images of the beauty of the Caribbean I get depressed and want to return.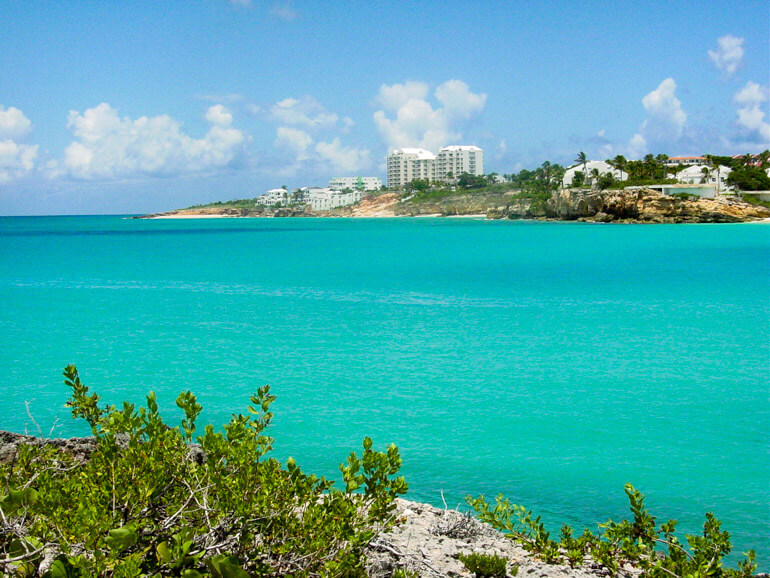 There are many other beaches that rival the beauty found in Mullet Beach. One such beach is Orient Beach on the French side. Orient Beach is the most developed, the most popular and probably one of the busiest beach on the island. Here you will find beach bars and restaurants on the beach, a variety of water sports like jet skis and paragliding, oh and did I mention it is the island's foremost swimsuit optional beach (aka nude beach). Yeah we were a bit shocked about it. In the US, that isn't a very common thing to see. In fact there are so many nude beaches mainly on the French side of the island, I began feeling slightly overdressed each time I went in the water.
A few other notable beaches are Grand Case, Anse Marcel, and Maho Beach. Grand Case is an awesome beach for swimming, snorkeling and jumping off the old fishing dock into the clear water. Anse Marcel is an upscale beach for couples and families. It is pleasantly quiet and peaceful allowing you to grab a beach chair and snooze the afternoon away under the shade of a beach umbrella. To visit Maho Beach is quiet the experience. This small stretch of white sand attracts tons of visitors for one main reason. It is located at the western end of the runway of the Princess Juliana International Airport (SXM). What is so special about that you ask? Well if you stand on the beach when an aircraft is landing, it will pass about 30 feet over the top of your head before it lands on the airports small runway! In fact people can't wait till the 747 and Airbus 360 planes glide down from the sky and blast onlookers with their jet engines. It's quite a rush and photographers love it. The runway is also positioned between the beach and a large hill at the other end making landing a little frightening for people who see the approaching hill.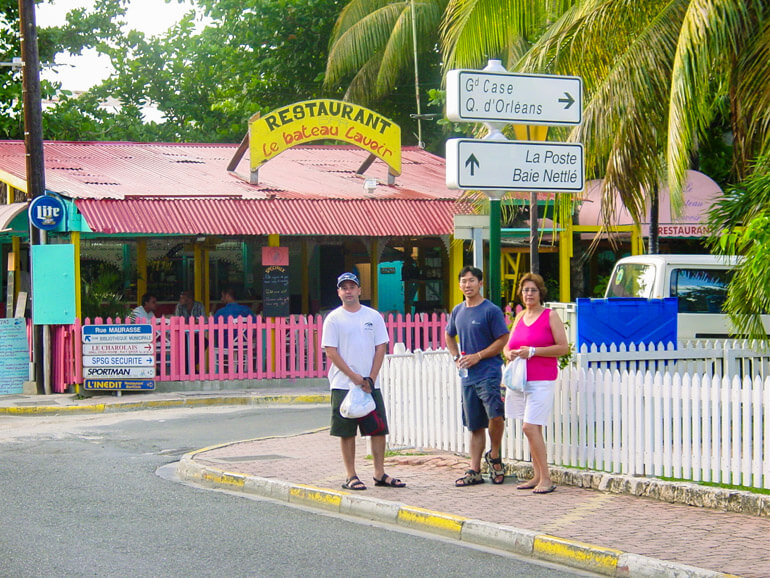 St. Maarten is not just all beaches. Well it is, but there are also lots of cool activities to do on the island as well. Like eating! On the French side you can expect these quaint villages to have really delicious food to sample. French pastries are found all over the area, so indulge yourself and have a croissant, chocolate éclair, or macaron. Once you've satisfied your sweet tooth, try one of the more adventurous activities like taking a snorkeling trip or a sunset cruise. We chartered a catamaran that took us to a remote area where we could snorkel to our hearts content. The crew of the catamaran also let us help with the sailing chores on the boat if we wanted to learn. We also enjoyed lying over the mesh rope deck and watching the dolphins race the boat from underneath.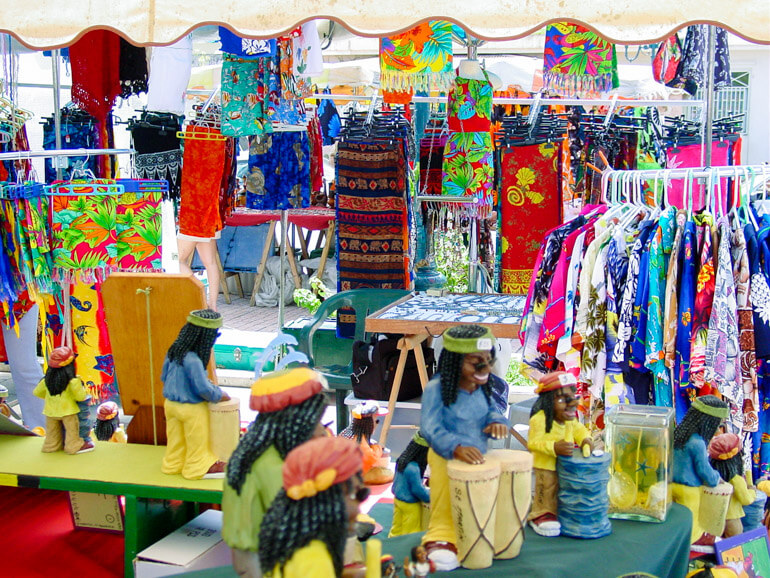 I've already mentioned that shopping is great in St. Maarten. You can find local arts and crafts, exotic foods and island liquor like rums for sale, and it's all duty-free! All stores accept the US dollar, but you might want to change money at the banks to get a better deal. In Philipsburg, capital of the Dutch side, you will find casinos, and lots of shopping boutiques.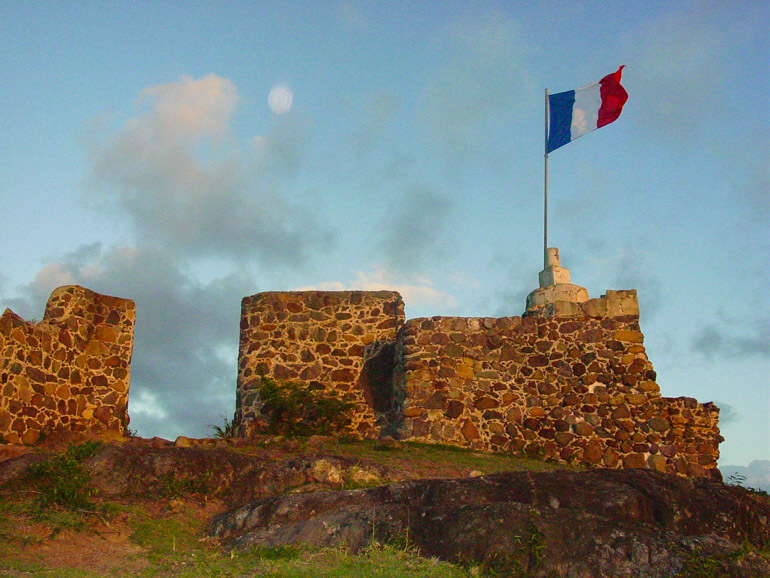 There are places of historical interest you can visit if history is more your thing. Up above the city of Marigot, is the remains of Fort Louis, the only military monument in St. Maarten. After the success of the sugar cane plantations, the colony needed to guard its shipping ports. In 1789 Fort Louis was built for this purpose. It stands today high above the town overlooking the harbor.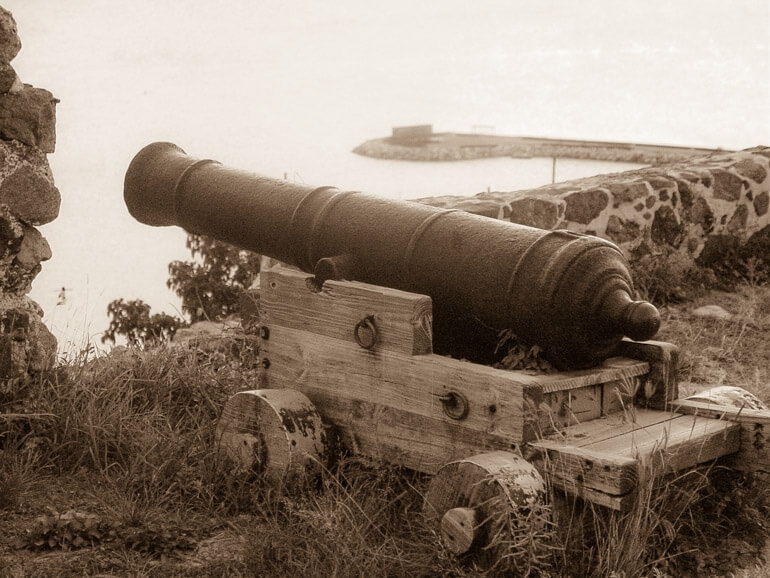 When you enter Fort Louis, you can see old cannons which lie strategically over the harbor. I can only imagine what it would have been like to fire those cannons in hopes of protecting your little piece of Caribbean paradise from pirates and privateers. Yo-ho-ho-ho, island life's the life for me! There are a few cautions about visiting the island you should remember though. Protect yourself from mosquitos! My legs had so many mosquito bites, they looked diseased. Gross I know, but it didn't look as bad with a beautiful Caribbean tan to coat those red welts on my legs. Also the island got quite hot on some days, even in the shade. We would try to cool off by jumping in the ocean, but the water was so warm sometimes it didn't help! Be sure to bring lots of water with you to help keep you hydrated.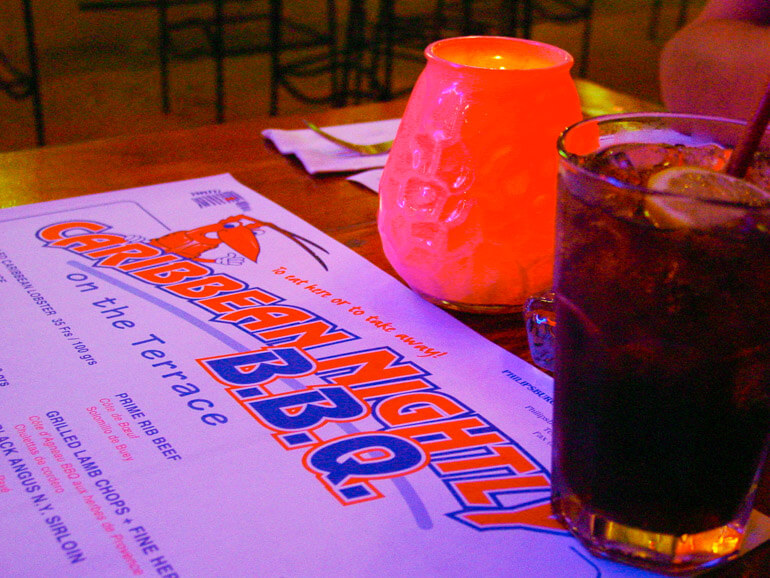 After all the snorkeling, swimming, sailing and exploring it was time to get down to some serious food business. We enjoyed a few great meals in Philipsburg like the one at the Caribbean Nightly B.B.Q restaurant. We also ate scrumptious seafood like perfectly cooked buttered lobster. Those babies were large and absolutely delicious since they were fresh from the ocean. In fact, all the seafood is superb in the Caribbean. A foodie paradise!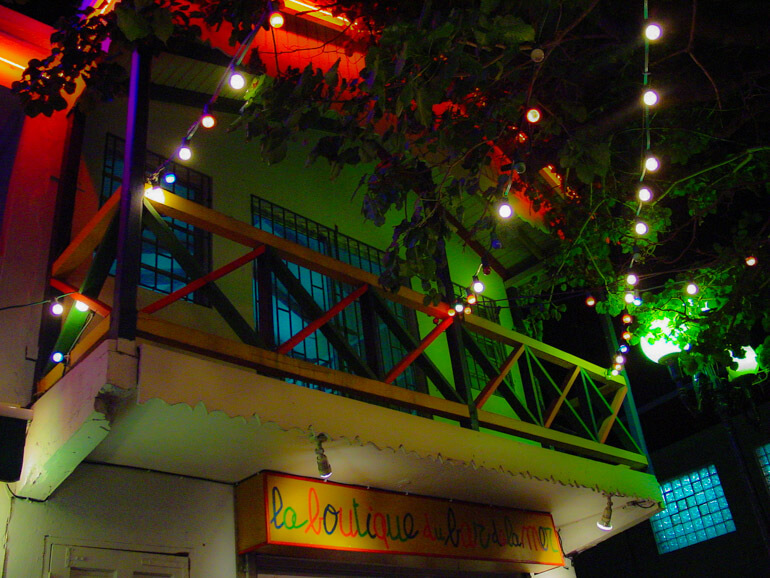 No island paradise is complete without an island party! On St. Maarten, we attended a few parties where local musicians beat their drums and sang Caribbean tunes right on the beach. You couldn't help but join in on the fun. A few of the sunset cruises had karaoke machines allowing visitors to belt out lyrics to their favorite songs. After a few rum punch drinks, everyone was fighting for attention on the mic. It is obvious that this island is unique in it's flavor and fun. I really enjoyed my time in St. Maarten and I'm certain that if you visit, you will also have tales of adventure and days of peaceful happiness.