Did you know that there is an area not too far from Los Angeles with some very peculiar looking rocks that was the filming location for an episode of Star Trek? It's true! I had heard the tale but had never seen it for myself. Being the curious person that I am, I decided it was time to seek this place out and view its interesting rock formations. My goal was to explore Vasquez Rocks and in the process I would learn the incredible tale of the very successful Mexican bandit for whom the place was named after.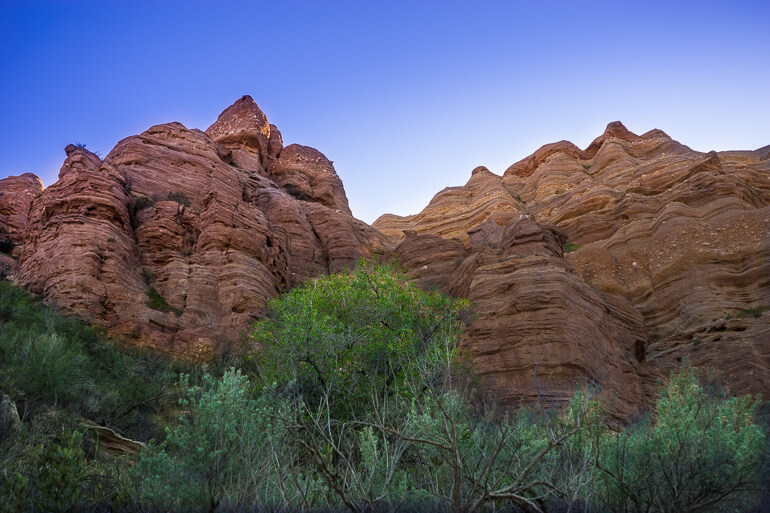 Getting To Vasquez Rocks
Vasquez Rocks is located just off the 14 freeway between Santa Clarita and Palmdale. After driving on Escondido Canyon you'll pull into the entrance to the park. You can either explore the interpretive center or head out on one of the many trails. It doesn't seem to get too crowded (well at least when I was there) so you can enjoy a peaceful hike while visiting. Any trail you take will loop you through gorgeous rock formations that display extremely bright red and orange colors.
The Bandit Hideout
The otherworldly rock formation in the first picture is not only where several movie scenes were shot but also the location of a very real western shootout! Back in the mid-1800's a notorious bandit named Tiburcio Vasquez used this area as his personal hideaway from the law. He and his men would rustle cattle, rob stagecoaches, steal horses and pillage to their hearts content. Then they would ride back to the Vasquez Rocks caves to hide from their pursuers. Vasquez gained popularity among the Mexican people as a sort of "Robin Hood" against the gringo Americans. His men stashed stolen treasure in these very caves!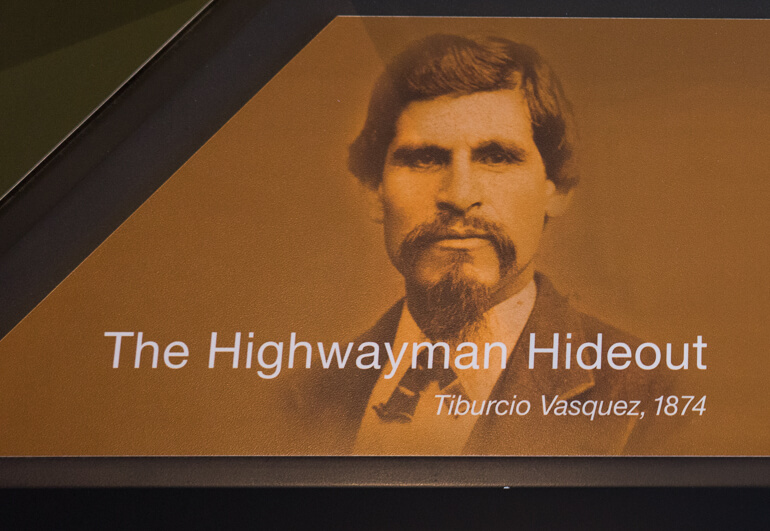 Things may have been going well for Vasquez until of course he decided to have an affair with the wife of one of his lieutenants. The angry husband shot and wounded him then raced to the authorities to tell them of the rocky hideout Vasquez had been using. Two posses were sent out to hunt down Vasquez and his men. Right there at the tallest rock formation in the park was the scene of a massive shootout. Vasquez and his men were cornered. It was highly unlikely Vasquez would survive this gun battle. Many of his men were killed but miraculously Vasquez survived! Somehow he escaped the battle and fled the scene. He was later captured in a shack in Cahuenga Pass and taken to San Jose where we stood trial. He finally met his death in 1875 in the San Quentin prison where he had been sentenced to die by execution.
Oddly enough Vasquez is thought to be one of several sources for the bandit-hero character Zorro. After all, his success as a bandit and womanizer is legendary. He escaped capture so many times and was extremely successful at this exploits. It seems strange that although Vasquez was a murderer, bandit and thief the area known as Vasquez Rocks was named after him. His legend in California became just another colorful historical outlaw similar to Billy The Kid.
Learn More At The Interpretive Center
I love going to park visitor centers. They're usually packed with lots of information about the animals in the area, the best trails to take and other interesting local facts. The Vasquez Rocks Interpretive Center is definitely worth a visit. It's located right in front of the parking lot. Yikes! A big full grown rattlesnake was what greeted me inside the center. It's true though that if I'm going to see a snake like this I'd rather see it behind a glass tank rather than roaming around on a trail outside!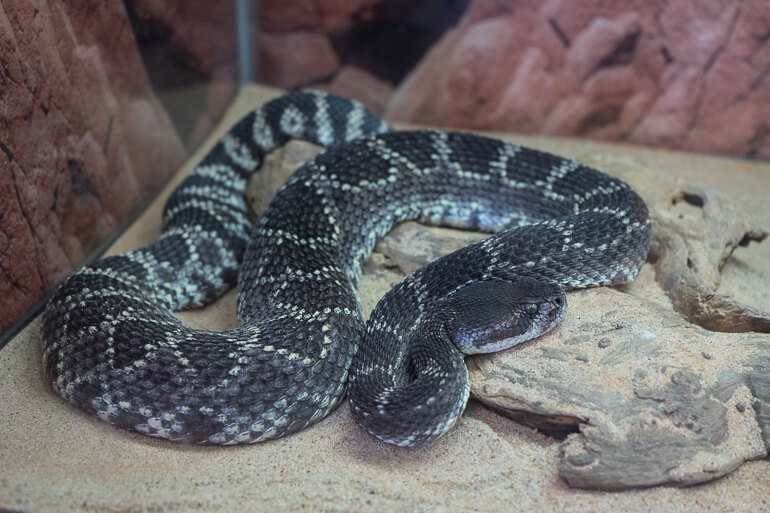 Explore A Trail
I decided it was time to hit up a trail and get to see this park up close. I decided that I'd start by taking the #3 Nature Heritage Trail. Armed with my trail map from the visitors center I headed out. Immediately I was blown away by the crazy looking rock formations. They looked so weird and different from each other. I started rock gazing because so many formations started looking to me like dinosaurs, skulls or giant elephants. It was really pretty interesting.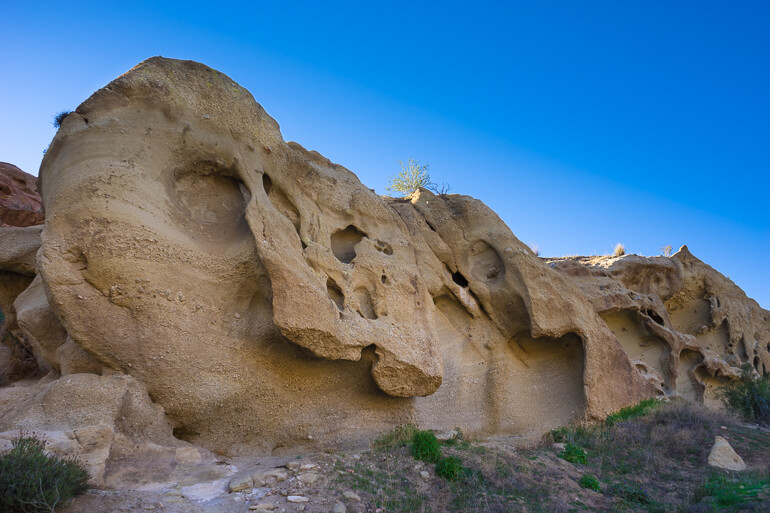 If you've come to stretch your legs out for a good day hike then you've come to the right place. Some of the trails are easier and wiggle in and around the rock formations. Others have a bit of a steeper incline to really get your legs burning. There is even part of the Pacific Crest Trail that runs through this park. I saw people hiking alone, with family and even with dogs on some of the trails. The big attraction of course is the main rock outcrop in the center of the park. There were so many people trying to climb up to the furthest outcroppings tip. The rocks are so big that the people climbing on them looked like little ants wearing T-shirts.
Evidence Of Native People
It's amazing that as popular as this area has been throughout history there is still existing evidence of the first people who inhabited this place so many centuries ago. I learned about the Tataviam Indians who once lived here from about 2000 B.C. to the late 1700's. Some of the trails will lead you to the grinding bowls the natives carved out in the surrounding stone. There are also several examples of pictographs like the one I took a picture of below. Do you know what the difference is between a petroglyph and a pictograph? A petroglyph is carved or etched into an exposed rock surface. A pictograph on the other hand is painted on a rock surface. This most definitely is a Tataviam pictograph.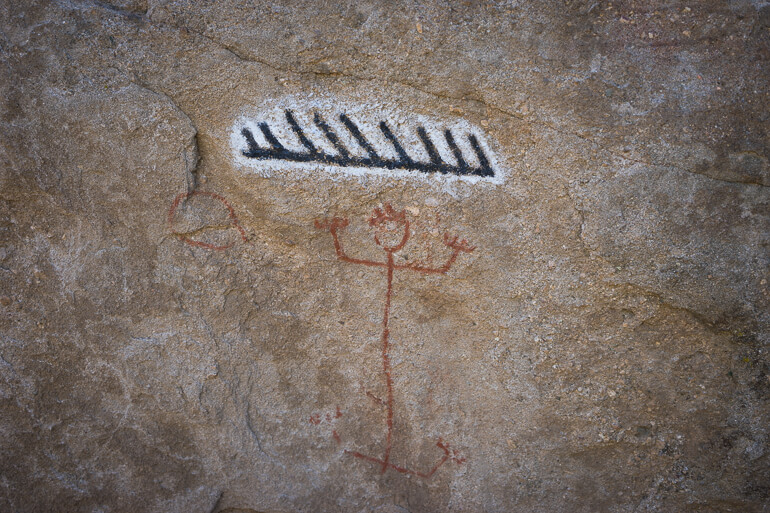 Lights, Cameras, Hollywood!
I can't end this story without mentioning the popularity of Vasquez Rocks as a filming location for Hollywood. In addition to the Star Trek episode that was shot here this is also the setting of the little town of Bedrock for the film version of The Flinstones. But that's not all! Here is just a small list of some of the films shot here: Werewolf of London, The Adventures of Rin Tin Tin, The Outer Limits, Bill & Ted's Bogus Journey, Jay and Silent Bob Strike Back, and one of my favorite comedies of all time Blazing Saddles. It was also the shooting location for many TV shows like The A-Team, F-Troop, and MacGyver. It continues to be a popular area to shoot but I'd recommend you take your camera with you and create your own interesting photographs with this unique rock backdrop.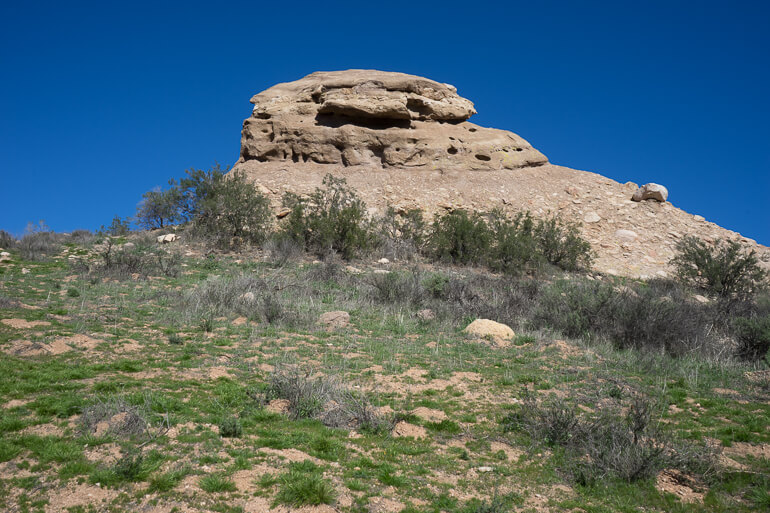 Vasquez Rocks Natural Area Park
Location: Vasquez Rocks Natural Area
10700 W. Escondido Cyn. Road
Agua Dulce, CA 91390