Can't you just feel it? Spring is definitely in the air. Although it may be too cold to travel to some parts of the country right now, it's the absolute perfect time for a weekend getaway to Palm Springs, California. Springtime means abundant sunshine, clear skies, and most importantly warm weather! There is no shortage of chic hotels to choose from, dining options for every palette, and fun activities to keep you busy while exploring this relaxing desert oasis.
Relaxing Poolside
There is no better way to start your weekend getaway to Palm Springs than by grabbing your towel and heading straight to the pool for some much needed lounging. It's the best way to relieve stress and let's face it, everyone has some. Well not in Palm Springs, folks! Just look at those people in the pool. They don't look too stressed out to me. Bring a book, catch some rays, or go for a relaxing swim. We stayed at The Riviera Hotel and were lucky to find a bartender in a cabana serving drinks. Ah…now this is the life!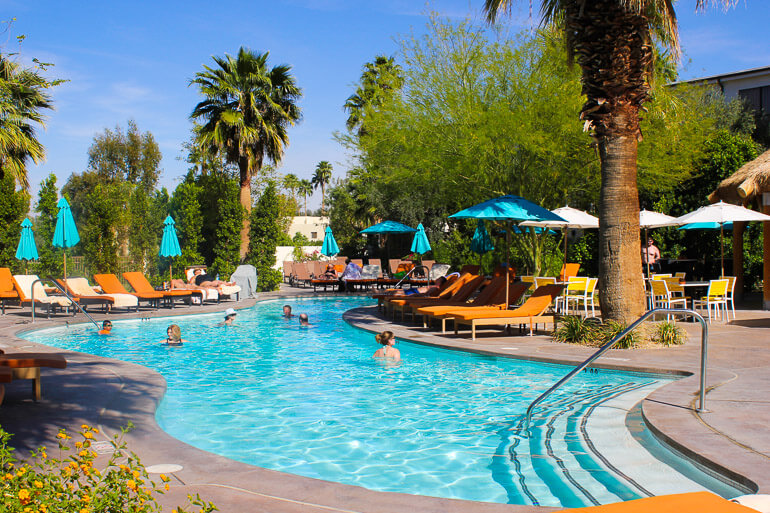 Exploring Chic Hotels
Now that your feeling more relaxed, it's time to explore your hotel and surroundings! We walked around The Riviera to find beautiful pools, fire pits, outdoor dining, a band that plays every evening and a fancy looking lobby. There are so many more nice hotels that the only way to really get a feel for them is to visit them all. We decided to explore the The Parker Palm Springs and eat breakfast at Norma's, their five-star diner.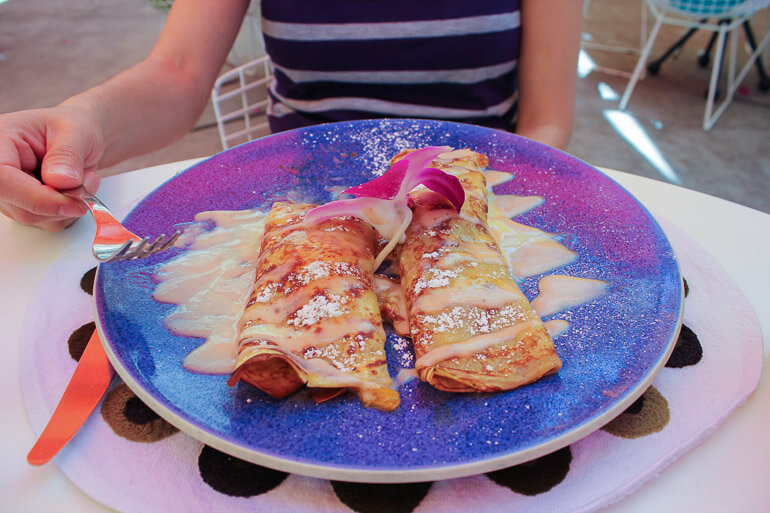 The food was delicious and a perfect way to start our morning. Afterwards we strolled around the hotel grounds to find beautiful pools and various grassy areas used for volleyball, bocce ball and croquet games. I haven't played croquet since I was a kid so we picked up the mallets and enjoyed a game. There was even a giant-sized chess game set up on the grass with 4 foot tall chess pieces! There were benches placed inside several garden areas that seemed to invite guests to sit and enjoy the beautiful landscaping. The resorts atmosphere was one of peace and relaxation just like at The Riviera. You'll notice The Parker and several other hotels in Palm Springs are very upscale. It's no wonder this town was once the spring break destination for Southern California celebrities and socialites. The Colony Palms is beautiful, The Saguaro has an incredible pool, and the Ace Hotel is popular among the more hipster young crowds.
Strolling Through Downtown Palm Springs
With food in our belly it was time to explore the heart of Palm Springs by walking along the famed Palm Canyon Drive. You'll note that free parking is abundant around this area. The first thing that greeted us was a giant statue of Marilyn Monroe. Apparently the 26-foot-tall sculpture known as "Forever Marilyn" was created by artist Seward Johnson and remained in Palm Springs for two years. It has recently been dismantled to be shipped to its next location, but the local city leaders are making plans to try to bring her back permanently saying that the artwork "embodies the city's glamorous history".
Palm Canyon Drive is easily walkable and has an assortment of shops and dining. You'll find craft boutiques, fashion stores, art galleries, theaters and museums all along the way. There are also lots of souvenir shops where you can buy keychains, t-shirts, postcards and other corny merchandise if your heart so desires. There are also lots of options for dining. You might want to try a Mexican food restaurant with outdoor patio dining for lunch or one of the more affluent restaurants along the strip for dinner. We tried Pinocchio In the Desert restaurant for breakfast and were certainly satisfied.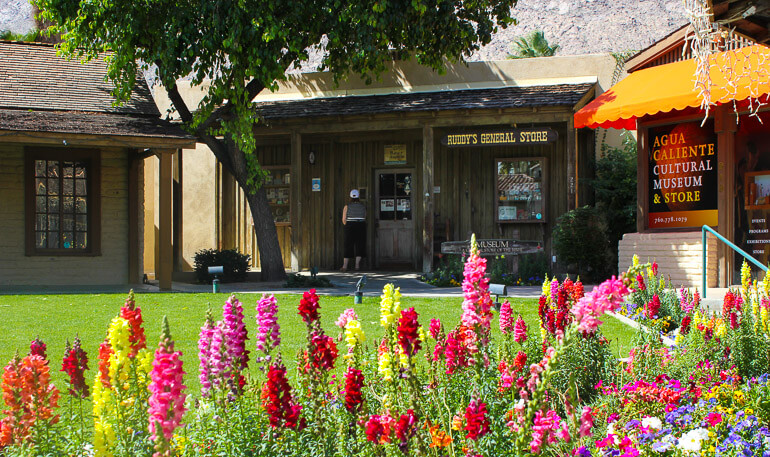 One thing I especially enjoyed on Palm Canyon Drive were the historical buildings like the ones pictured above. Towards the center of town is the The Village Green Heritage Center. Two 19th century pioneer homes still stand amid a park-like setting with beautiful flower beds. The McCallum Adobe built in 1884 is the oldest remaining building in Palm Springs. Next to it is Miss Cornelia's "Little House" which was built by the city's first hotel proprietor, Dr. Welwood Murray, in 1893. There is also a museum that exhibits a collection of "photographs, paintings, clothing, tools, books and Indian ware from the earliest days of Palm Springs".
Side Trip To Fancy Palm Desert
Now if you want to move your shopping and dining experiences up a notch you might travel the extra 15 miles from Palm Springs to Palm Desert. Here you'll find the world famous El Paseo Shopping District known as the "Rodeo Drive of the Desert". With around 300 world-class shops, clothing boutiques, art galleries, jewelers, and restaurants you won't run out of high-end shopping opportunities. El Paseo would be a perfect place to enjoy lunch, coffee or even a glass of wine while your shopping. It's definitely more fancy and you'll find people dress up a bit more here than the casual style you see in Palm Springs.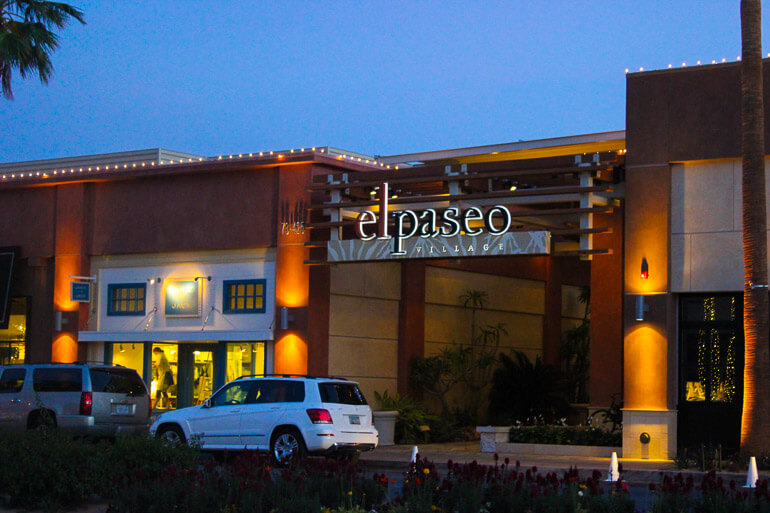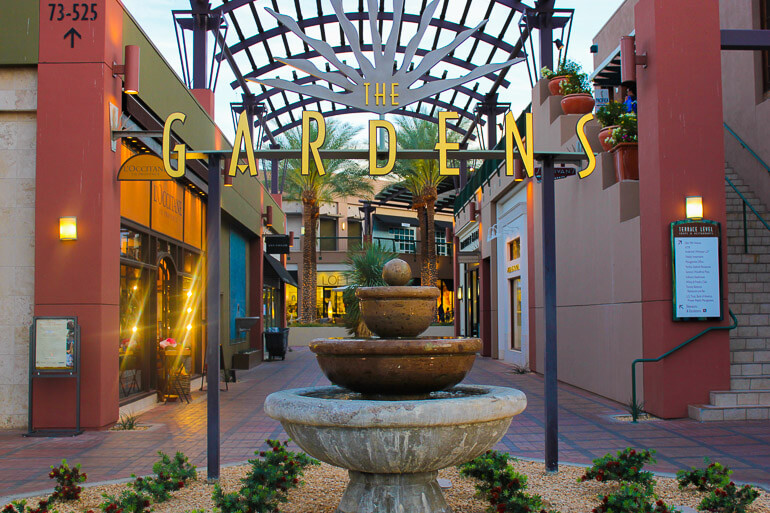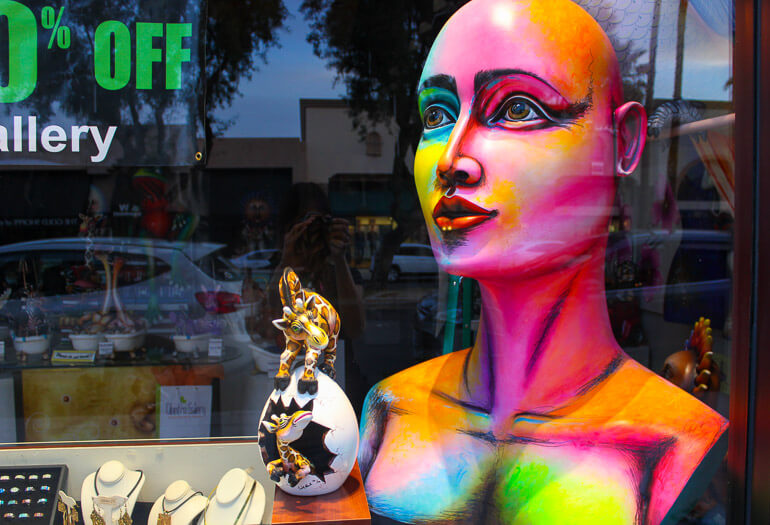 Visit the Palm Springs Air Museum
Okay maybe shopping isn't your thing. Well there are certainly other things to do like visiting an air museum! I didn't even know there was one in Palm Springs. The Palm Springs Air Museum was actually rated by CNN Travel as one of the top 14 air museums in the world. It has an impressive amount of planes on display especially ones that fought during World War II. For instance below is an American fighter aircraft, the Vought F4U Corsair. Standing next to these historic machines and learning about the heroes who flew them gave me goosebumps. The museum has three main display hangars, a theater, and a gift shop.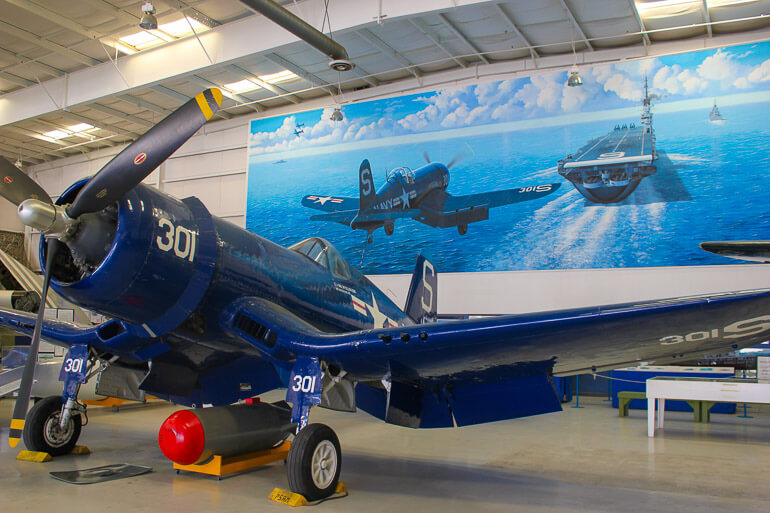 Enjoy A Night On The Town
After so much fun during the day, you'll definitely want to see what the night has to offer in Palm Springs. We loved the art deco style of The Riviera Hotel shown below. Before dinner, we decided to play a game of pool on the glamorous looking pool. A man and woman walked by and asked us if we knew that members of the original Rat Pack used to play pool here back in the day. (For those that don't know, the Rat Pack was a group of actors that included Frank Sinatra, Dean Martin, Sammy Davis, Jr., Peter Lawford and Joey Bishop and Humphrey Bogart.) I think I believed him because I've heard those stories before and the hotel also displays large art murals of some of those famous actors from the past such as Sammy Davis Jr. and Phyllis Diller. The Riviera does have that swanky Vegas look to it too!
We went for dinner downtown at Al Dente restaurant. This quaint eatery served delicious pear martinis! The food was delicious as well. Then we strolled again along Palm Canyon Drive at night. The mood was certainly quieter as many of the shops were already closed but it was wonderful to take a walk after eating a big meal. Another night we ate dinner at Cirque 59 in The Riviera. You can eat indoors or outside with views of the pool and musical entertainment. From what I remembered the food was amazing. After dinner we sat out by the fire pits and listened to the band play calming tunes under the light of the full moon. The perfect way to end an exciting day!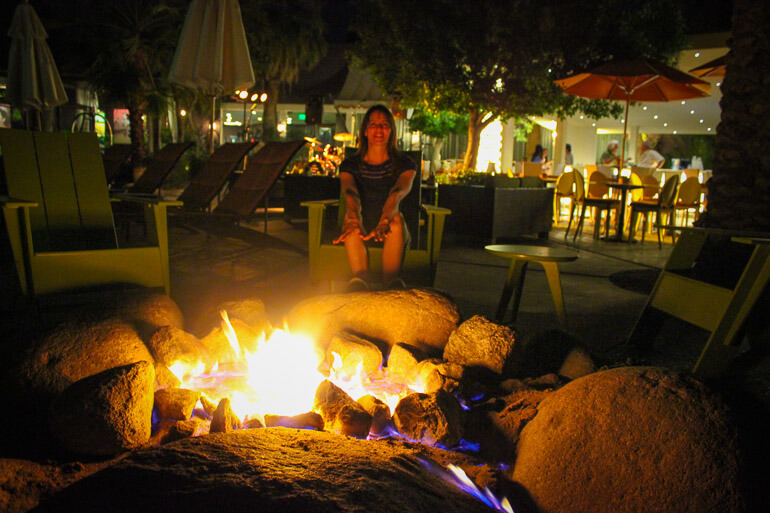 Hike Through Indian Canyons
Since I'm an adventurist, I was looking for some local hiking opportunities in Palm Springs. Well I found what I was looking for not far from downtown at Indian Canyons. There are several canyons you can explore including Palm Canyon, Andreas Canyon, and Murray Canyon. We decided to hike in Palm Canyon and began our adventure by parking at the Trading Post. From there you can view a abundant collection of California Fan Palms. A trail leads down into these palms and along a running stream. You can hike for as long as you like to explore the interesting desert oasis, waterfalls, and vegetation. We took the Andres Canyon Trail, a one mile loop that weaved in and around the giant palm tree gardens. It is interesting to note that this area was home to the Cahuilla people. They learned to utilize the desert efficiently to support their way of life. Today their descendants The Agua Caliente Band of the Cahuilla still live around here and operate many businesses in the Palm Springs area.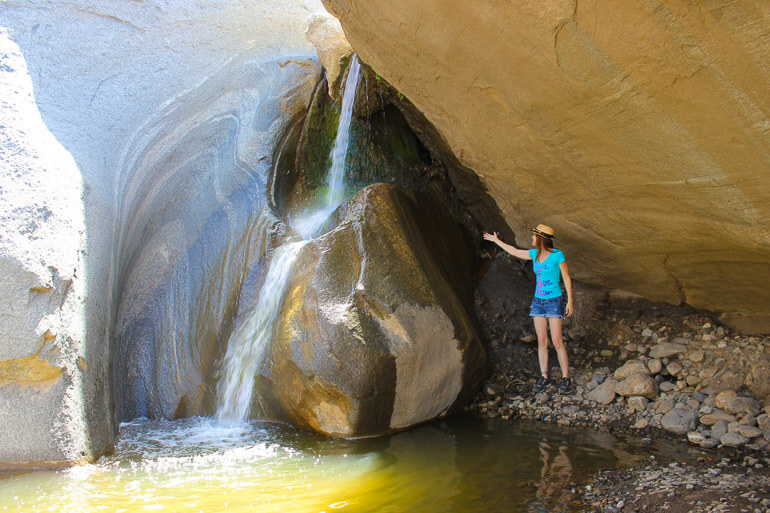 Visit The Dinosaur Museum On Your Way Home
All good things must come to an end including this trip to Palm Springs. On the way back home we decided to stop at the Dinosaur Museum along the 10 Freeway in Cabazon. For me it was a must do activity especially since the dinosaurs from this roadside attraction were featured in the movie Pee-Wee's Big Adventure (a childhood favorite of mine!) Funny, in the movie it looks like there is this whole big area inside the dinosaur but actually has quite a small museum and gift shop in the belly of the brontosaurus. You'll have to pay a few bucks to climb inside the T-Rex's head like Pee-Wee did. Au revoir!