Welcome to part two of our two-day visit in Death Valley, CA. There was so much for us to do and we only had one full day left so we set out early to try to squeeze in as many activities as possible before the sun retreated. We began by visiting a slot canyon a few hours north of Furnace Creek. While driving by, we saw vast yellow sand dunes and decided to explore those next. Finally we planned on driving south on Badwater Road to attempt a 2.5 mile roundtrip hike through ridiculously colored badlands. We packed our backpacks, grabbed as much water as we could carry and headed out.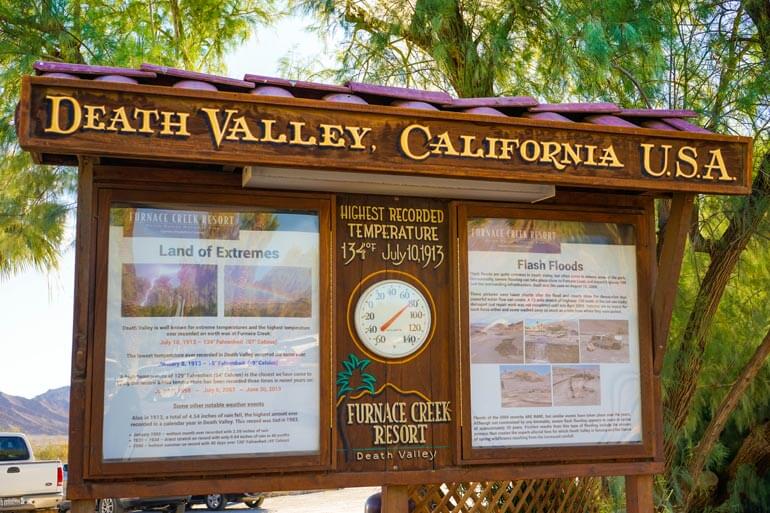 It is worth noting that even in winter it can still get pretty hot in Death Valley. Actually take a look at the temperature gauge in the image above. Hitting the 80s and it was barely mid-morning in late January. I mentioned before that this is a land of extremes. Just look at the record set on July 10, 1913 for the highest recorded temperature of 134℉! That was a crazy year for Death Valley because in the same year the record for the lowest temperature was also set.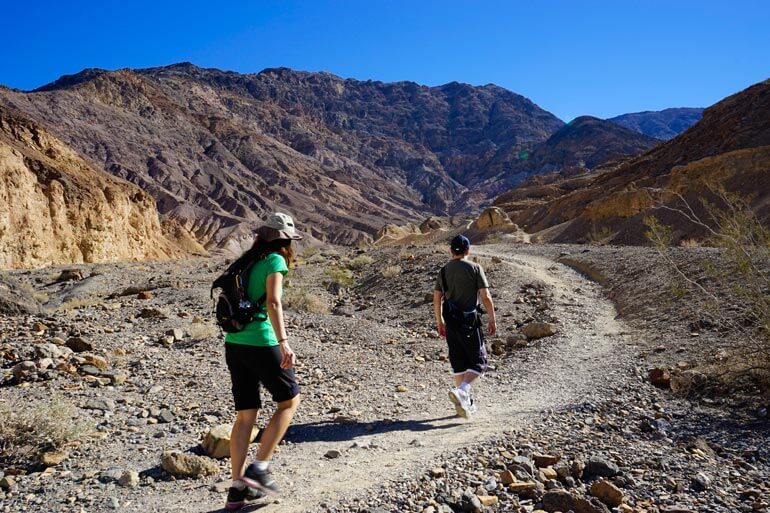 If you have any questions about where to go and what to do while in Death Valley, I'd advise to visit the Furnace Creek Visitor Center. Not only do they have a pretty cool interactive museum but they have lots of trail maps and rangers who can offer advice on what to do given the amount of time you have. We had visited the Visitor Center the day before and already had our game plan. Activity 1: Hike through Mosaic Canyon. Mosaic Canyon is 23 miles northwest of Furnace Creek. I really wanted to hike through some slot canyons while in Death Valley! If you've never hiked a slot canyon it is really pretty cool. Basically you enter the canyon and as you walk through, the canyon walls begin to pinch closer together. Soon you're traveling through the thinnest section called a slot. Mosaic Canyon had some pretty tight sections and some more wide open areas like the one shown above.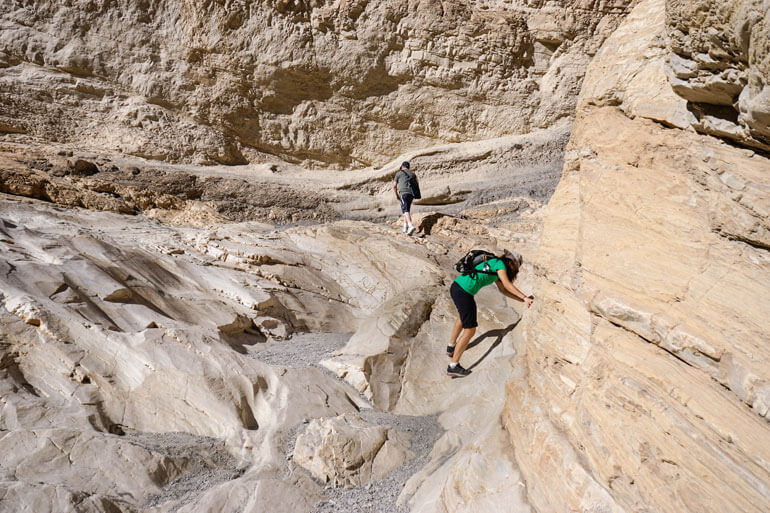 As we hiked through Mosaic Canyon, I noticed the rock changed so much in texture. In some places it was very porous and rough. In other spots it was smooth as marble like in the image above. In fact the marbleized rock was so slippery we had to be extra careful walking over it. As I encountered new rock formations I kept asking myself how did it form? I'm sure each section of the park has it's own unique history of natural forces thrusting it's rock layers upwards and the erosional forces that try to tear them down again. What's left is an incredible kaleidoscope of unique terrain for us to explore.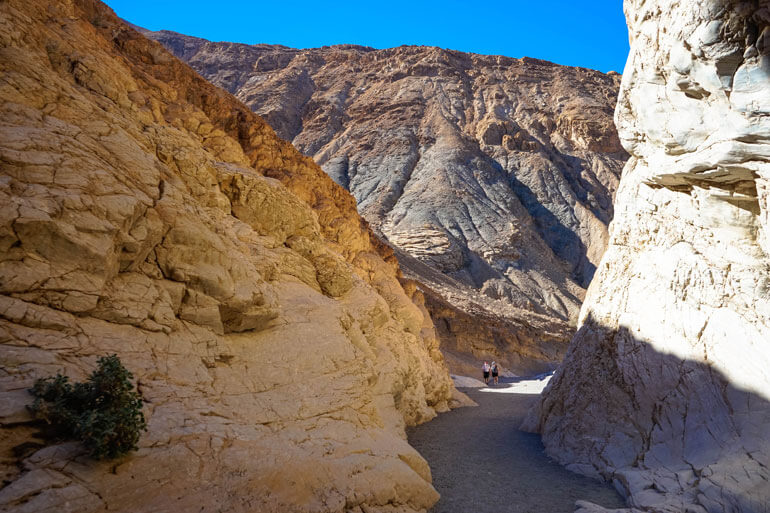 The hike through Mosaic Canyon can be anywhere from a one to a four mile hike depending on how far you go. We only did about a mile or so one way so we would have time to see the rest of the park. I couldn't get over how high the walls were dwarfing the travelers who passed by. It felt like we were traveling through some kind of gateway to a magical land. Then again maybe that was just the sun playing tricks on my imagination. The rock colors were beautiful though. Sometimes they were white, sometimes yellow and sometimes a deep burnt orange.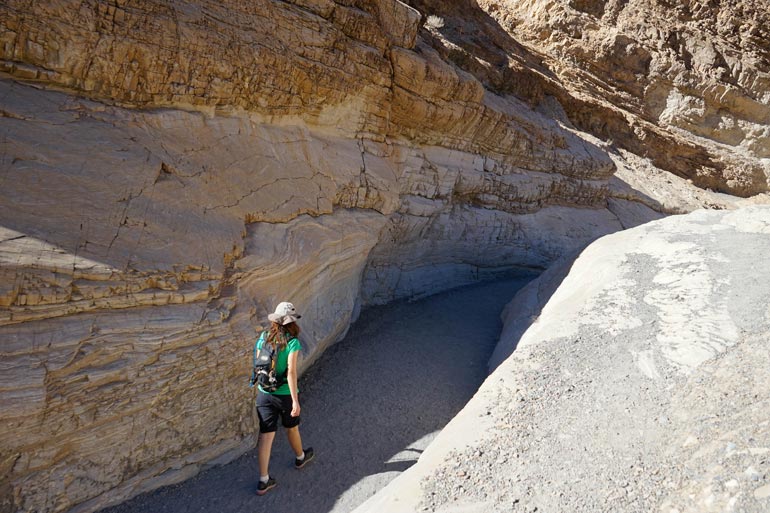 The hike itself was actually rather easy since there is relatively no elevation gain. The sun can make the trail hot so moments like this above will make you appreciate the high walls and shade of the canyon. The canyon trail winds back and forth like a snake making you want to continue at every corner just to see what landscape will be revealed around the next bend.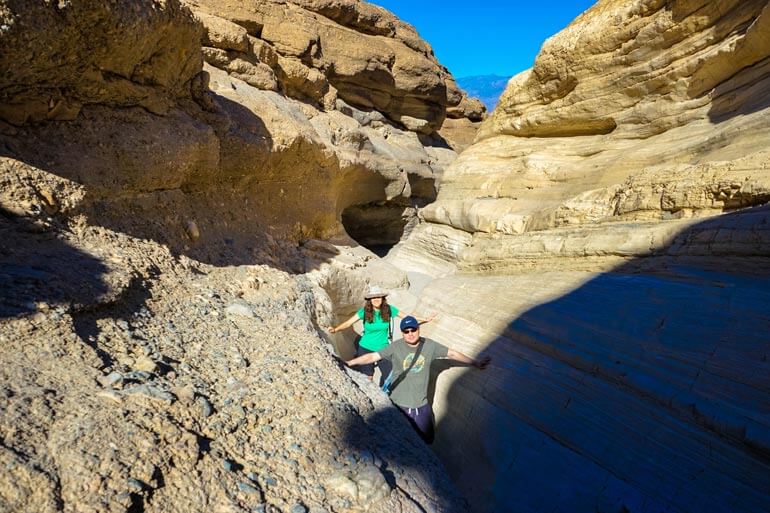 That's about how tight it got in this slot canyon for us. Look how close the walls are and how winding it is. The geology in this park is just amazing. After we felt we'd had enough of the slots we turned back towards the car. It definitely warmed up our muscles for the rest of the day!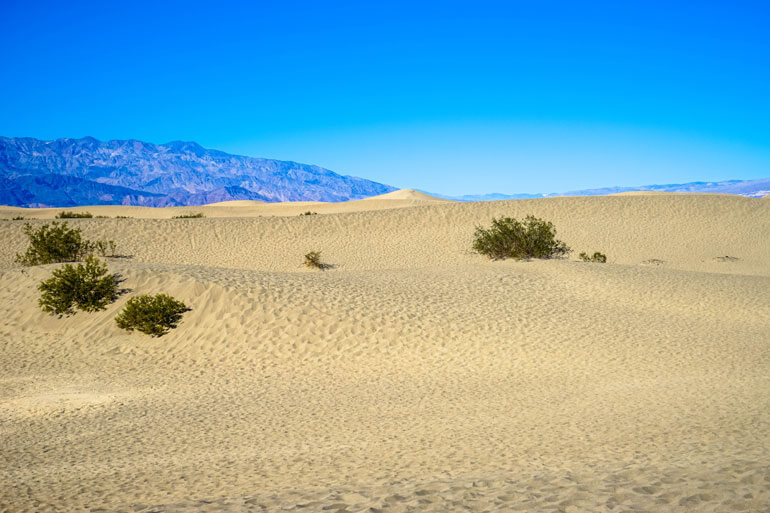 We didn't have to drive very far to our next destination. Activity 2: Explore the Mesquite Flat Sand Dunes. When first glancing out we could see a vast space of yellow and white sand dunes littered with small green desert bushes. We decided that we'd leave our water in the car because it wouldn't take to long to explore, so we ran straight out to the top of the first sand dune. After crossing a few more dunes we realized it was a total mistake to leave water behind, even for this short of a distance. The temperature in this part of the desert felt so much more extreme than it had in the canyon. Of course we didn't have the canyon walls to shade us anymore. Now we were at the mercy of the full sun with nowhere to hide. The Mesquite Flat sand dunes can reach heights of 150 feet. There are no trails here but you are free to explore to your hearts content. The further out you travel, the larger the dunes get. I have a feeling you will get the urge to roll or slide down a dune like we did. The sand is extremely fine and will make you feel like your on a nice sandy beach, with no water of course. Oh and watch out for sidewinder rattlesnakes. We didn't see any but I've heard they frequent these dunes regularly.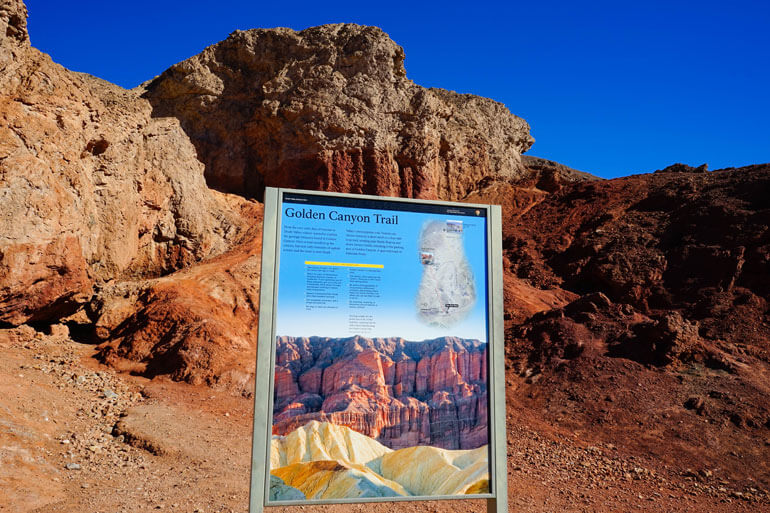 Before the sun zapped away all of our energy, we returned to the car and headed back towards Badwater Road for our final excursion of the day. Activity 3: Hike Golden Canyon to Red Catherdral. I didn't know this at the time, but this trail is an interpretive trail. The small wooden posts with numbers that I thought were mile markers are actually tied to descriptions in a trail guide provided by the National Park Service. You might want to print this out or pick up a free copy at the Furnace Creek Visitor Center. At the start of the trail there is a metal box that says Trail Guide, but they were all gone when we arrived.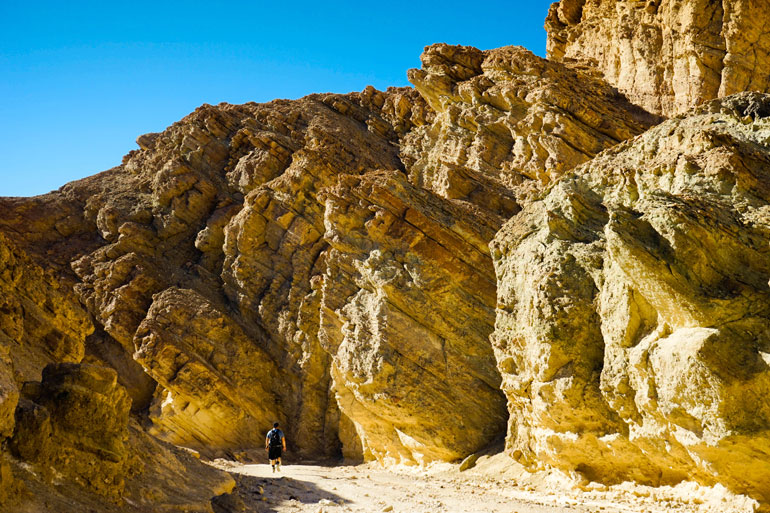 They don't call this Golden Canyon for nothing. Just look at those colors. Again, during the first part of the day the sun will hit one side of the canyon illuminating the walls. During the last part of the day the sun shifts and it's rays will hit the opposite walls.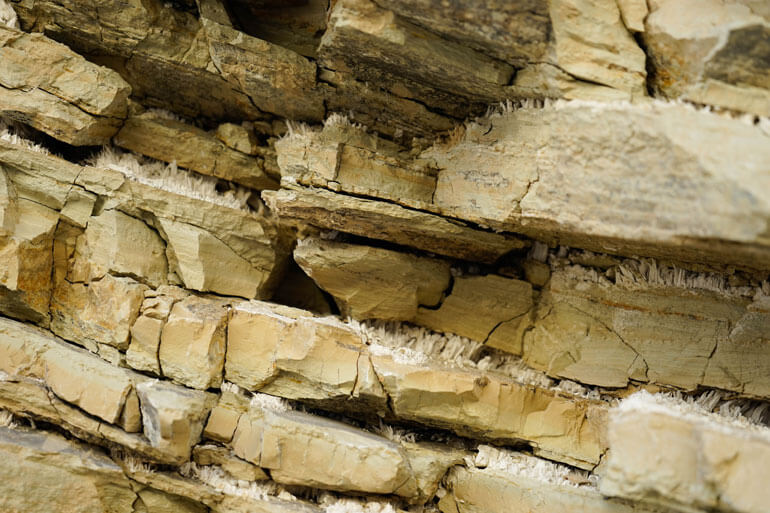 Taking a closer look at the rocks, you can see a strange material wedged between the rock slates. These white crystals grew as mineral rich water evaporated from this area. Can you believe these rocks are estimated to be about 5 million years old! Simply amazing!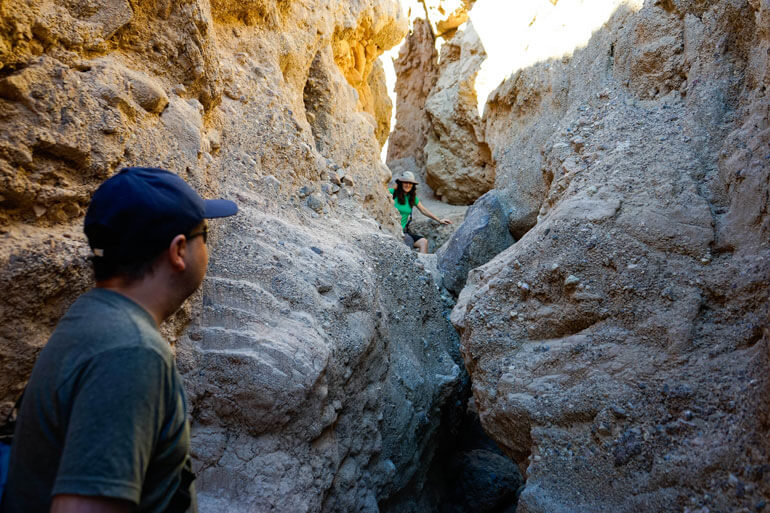 Although Golden Canyon is much wider than the slots of the Mosaic Canyon hike, there are also several slots you can explore on the sides of the trail. The discovery of trying to find out where they led to was fun. We had brought a couple of 2-way radios so we used them to see how far we could go before we lost signal. Well I never lost signal but I also didn't want to lose my group so I headed back. We finally came to the endpoint of Golden Canyon. There is a sign that points off towards Zabriske Point (which unfortunately was closed) but we decided to continue the extra 0.25 miles to Red Cathedral. It got a bit confusing since the trail we had been on got really small and led to a few rocks we had to climb over. In the image above, you can see us trying to navigate the trail through some tight sections.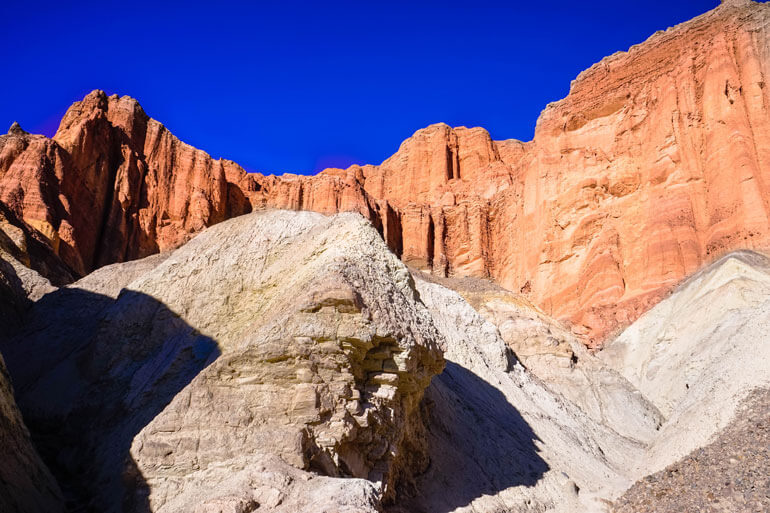 The spires of Red Cathedral indicated we were very close to the end, but the trail confused us. As we were about to head back a ranger showed up and assured us we only had about 60 feet more to go to reach the end. Say no more! We followed her to the shaded open area right under the bright red rock towers above us. It was a peaceful place to rest and soak in the beauty.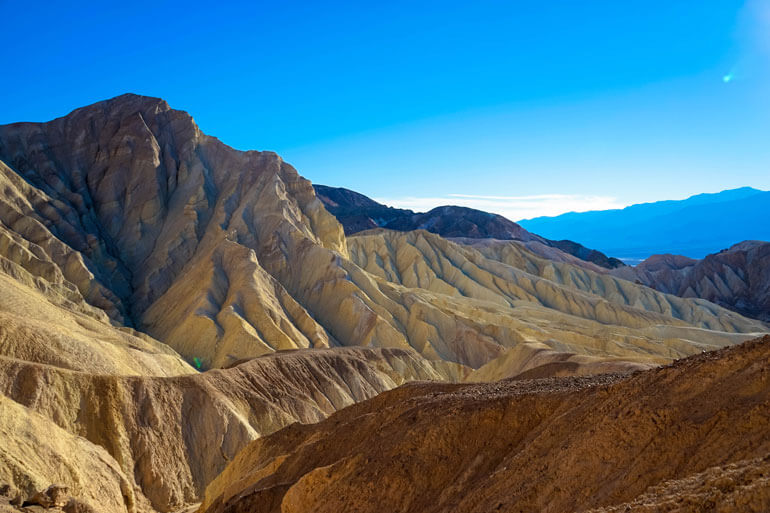 The ranger told us that if we really wanted to get a great view, we should climb up the small dirt path to a viewpoint where you could see the badlands and the valley in the distance. The climb was very slippery and steep, but with a good pair of hiking boots you should be ok. I definitely got a little jittery from the height at this lookout, but calmed down when I saw the magnificent view of the rugged mountains before me.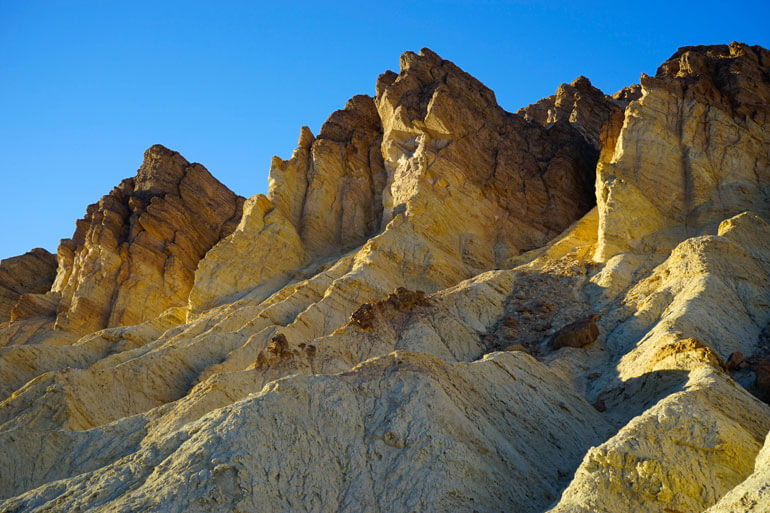 Our legs were sore so we decided to call it a day and return the way we came. Even though we were walking down the same trail, everything looked different. The general terrain was the same but we noticed things we had not noticed on the way in, making this a really enjoyable trail. The trail is labeled as easy, but if you haven't hiked in a year you might be hurting a bit like we were.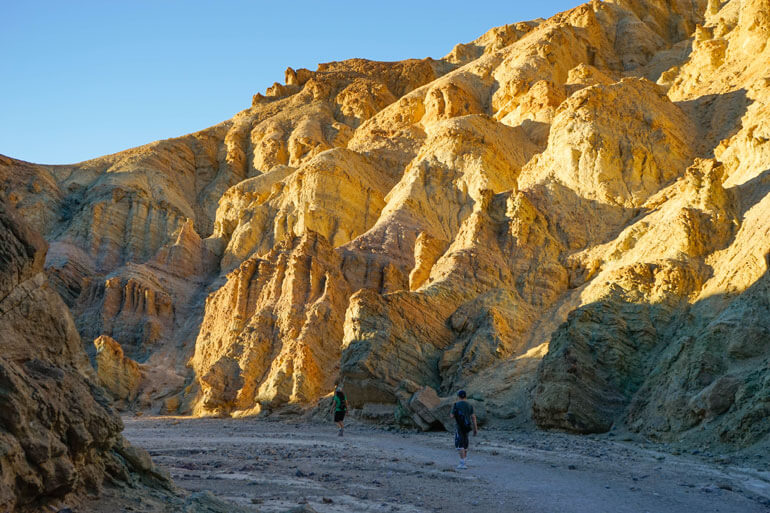 It was amazing that we took so long to complete the first mile and a quarter of this hike. On the contrary, it took no time at all to return! It was almost like we had entered a twilight zone time warp or something. With a day of successful exploring under our belts, we decided to reward ourselves with a wonderful meal at the Furnace Creek Inn (the more expensive hotel) before driving home. This hotel was much more quiet than the Furnace Creek Ranch, probably because it was late Sunday. We ordered drinks, toasted each other on a wonderful weekend adventure in Death Valley and watched the sun cast it's last crimson rays over the Panamint mountain range.
If you haven't already, find out what happened on day one of our Death Valley two-part adventure. Read about The Geological Wonders of Death Valley.