How many of you Harry Potter fans would give anything to be transported into the magical world of wizards and fantastic beasts? Well at The Wizarding World of Harry Potter in Orlando now you can! I'm not kidding. This place is amazing! JK Rowling actually insisted on keeping the scale of the park consistent with the books. Everything looks and feels just as though Hogwarts really truly exists. Come with me as we explore the park together and discover amazing things to do, see, eat and drink. Oh and of course we'll try a spell or two.
Shopping in the Wizarding World
If your planning on visiting The Wizarding World of Harry Potter in Orlando you should know there are two parks you can visit. The first is Universal Studios Florida which has a recreation of Diagon Alley. The other park (which requires a separate entrance ticket) called Islands of Adventure has a recreation of Hogsmeade. So your best bet is to buy a park hopper ticket which will allow you to see both parks. That's what I did plus you get the added benefit of being able to take the Hogwarts Express train ride.
When you get to either park you'll probably be dazzled just like I was by the immense shopping opportunities. I spent lots of time wandering through shops and worrying that if I didn't buy something in one of the parks I wouldn't be able to find the same product in the other park. Don't worry! Universal's got you covered. Most of the merchandise in Diagon Alley will also be available for purchase in a similar shop in Hogsmeade. However each store is unique and has a different name so you'll have to hunt a little. The other advice I can give you is that some of the stores are tiny and the aisles are pretty narrow. This is especially true in the wand shops! Try visiting these shops early in the day while people are on the rides.
Visit Gringott's Money Exchange
If you're going shopping for wizardly items then you'll need some money. Upon entering Gringott's Money Exchange in Diagon Alley you'll notice the goblin up at the front desk. Ask him any questions you like and he will answer them for you! You can buy money related items or you can trade U.S. currency for Gringott's bank notes. If you remember Disney dollars at Disneyland then bank notes work the same way at Universal. Basically you can use them to purchase anything within Diagon Alley and Hogsmeade.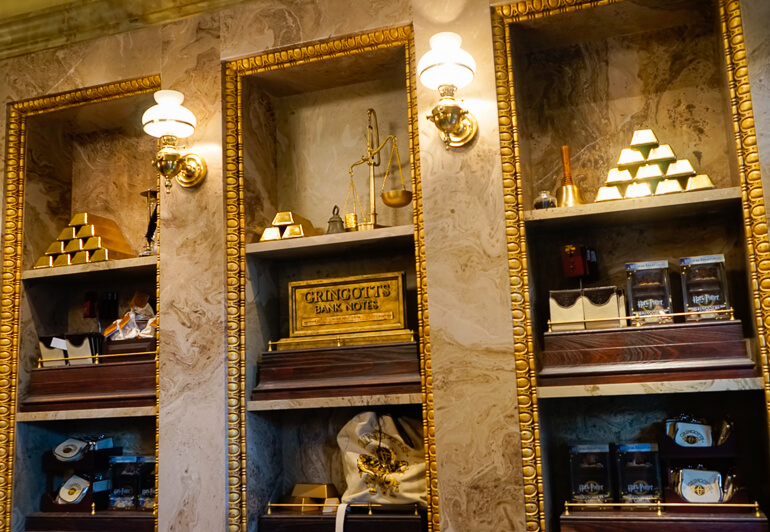 Wizard School Supplies
If you're going to a wizard school then you're going to need school supplies. At Scribbulus in Diagon Alley you can buy ink, feather quills, parchment, and writing paper. They also have beautifully bound notebooks with Hogwarts house crests on the front cover. I bought a Gryffindor and Slytherin metal bookmark and almost bought a Hogwarts backpack.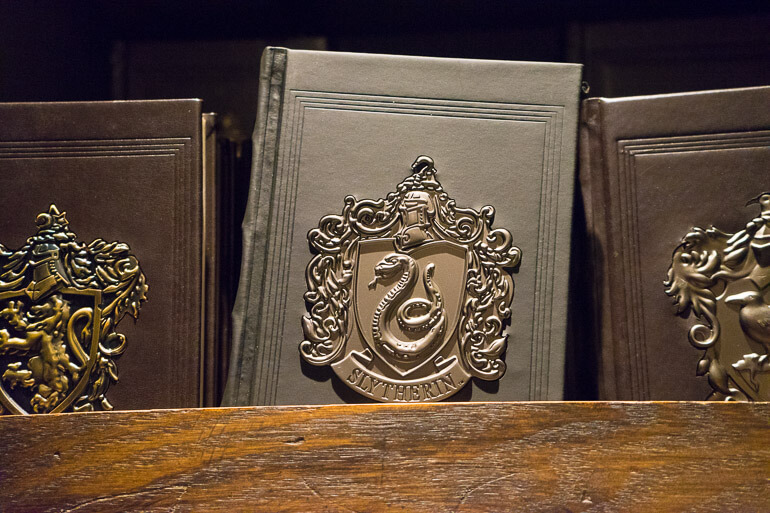 Select Your Magic Wand
Every wizard needs a wand so make sure you spend some time looking carefully for the perfect one. The best place to go is Ollivanders. Fortunately you'll find this shop in both Diagon Alley and Hogsmeade. When you enter the shop it looks like there are thousands of boxes of wands stacked all the way up to the ceiling. There are so many different types of wands you can buy here. In fact 68 of them are replicas based on the originals used by wizard and witch characters from the movies. Others are more unique and have explanations on their material construction such as Willow, Oak, or Sycamore. To me the coolest wands are the interactive wands. They cost a bit more but with these you can cast spells throughout the wizarding world to make magical things happen. Equivalent Store: Wands by Gregorovitch, Diagon Alley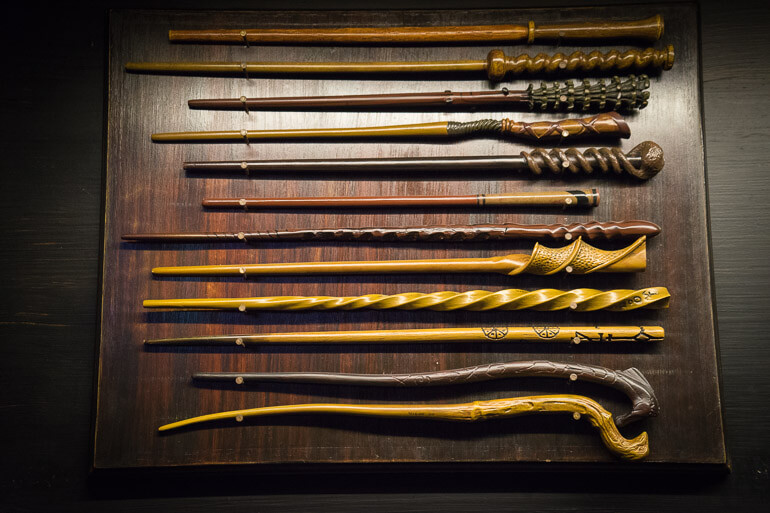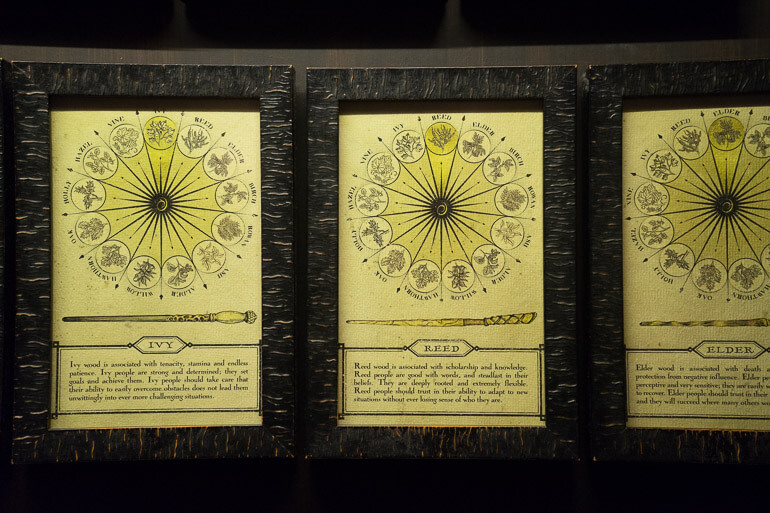 Up For A Game Of Quidditch?
Whether you'll be playing a Quidditch match yourself or just routing for your favorite house's team, you'll need some gear. At Quality Quidditch Supplies in Diagon Alley you can find Quaffles, Bludgers, and even the Golden Snitch. They also sell great quality sweaters, T-shirts, hats, pennants, and other apparel. So on Pottermore the Sorting Hat said I was a Gryffindor but I really like the color green. So don't tell any of my Gryffindor friends that I bought a Slytherin sweater. The sweater, made in Scotland is 100% lamb's wool and is sooo warm for those extra cold days. Equivalent Store: Dervish and Banges, Hogsmeade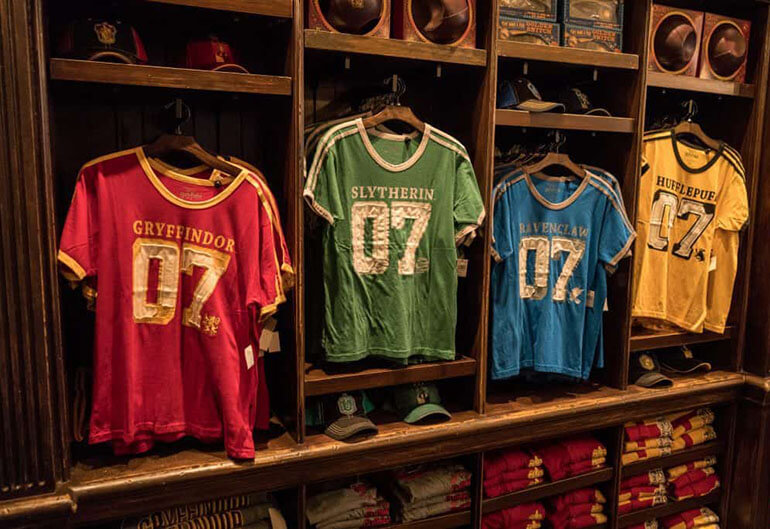 Keep Things Interesting With Tricks And Toys
If you happen to see a purple building with orange window and door trim then you've stumbled upon Weasley's Wizard Wheezes in Diagon Alley. This novelty joke shop founded by Fred and George Weasley sells tricks and toys from the movie. Honestly most of these items are things I wouldn't really want but of course with the Harry Potter spin everything is more interesting. Among these items are the Screaming Yo-Yo and the Extendable Ear.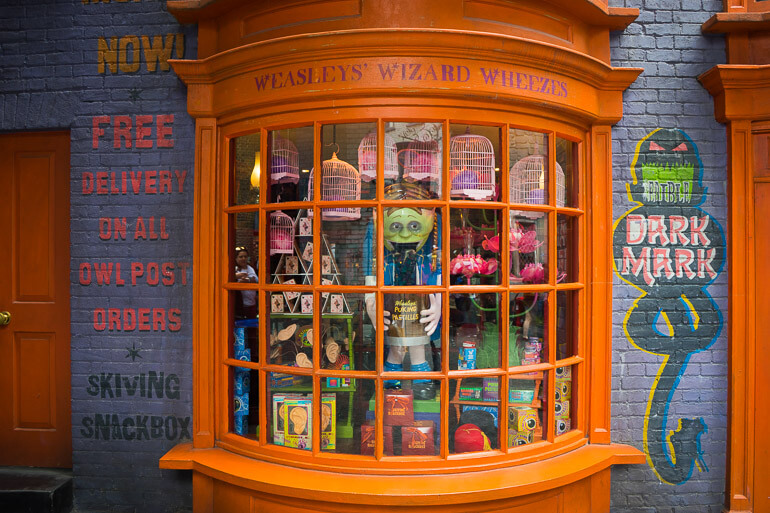 All Aboard The Train To Hogsmeade
After you've spent a good amount of time shopping in Diagon Alley be sure to head over to Kings Cross Station. There you will board the Hogwarts Express bound for Hogsmeade. This is no ordinary train ride though. I won't spoil the surprise but just know the train ride is very interactive. Keep your eye out for the runaway chocolate frogs!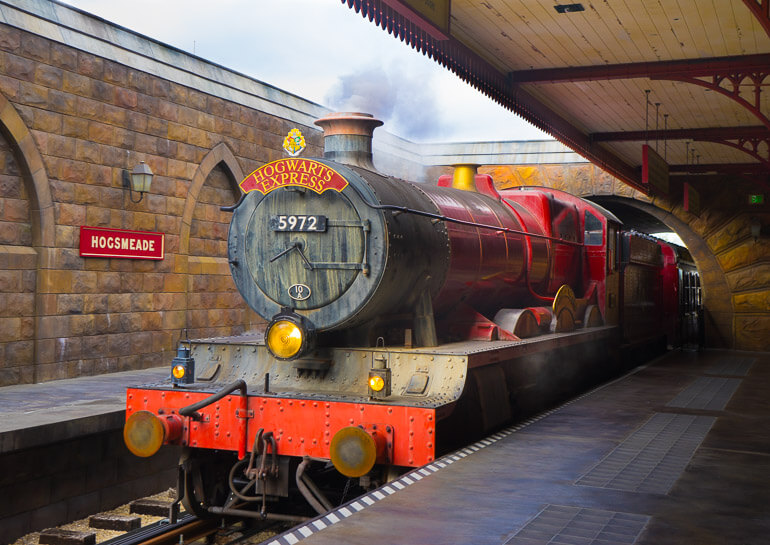 Welcome to Hogsmeade
You've finally made it to Hogsmeade. Everything looks so different in Hogsmeade as you'll notice by the snow capped pointy buildings that line the street. At the Owl Post you'll see an enormously tall building with little openings where all the owls that are resting are perched. There's quite a bit of bird poop adding to the realistic quality of design. Yuck! Inside the shop you can find plush Hedwig owls. You can also buy stationary, quills, stamps and ink.
Not too far away is the Honeydukes Homemade Sweets shop. This pastel green store with a black and white checkered floor sells all kinds of candy that was featured in the books and movies. I had to purchase a chocolate frog. Each pointy purple pentagon shaped box includes a wizard card inside. I'd love to collect all the wizard cards, but the chocolate frog was solid chocolate and pretty large. Maybe if it had been hollow I'd have purchased more. Next I bought a box of Bertie Bott's Every Flavor Beans. Omg! These are so weird. The flavors include things like banana, lemon, vomit, grass, earwax, and booger. Strangely enough they actually taste like their names. After eating vomit I can't believe I had enough curiousity to try a booger bean. I'm a glutton for punishment I guess. Other candies include Peppermint Toads, Queen Bee Fizzing Whizzbees, and Exploding Bon Bons. Equivalent Store: Sugarplum's Sweetshop, Diagon Alley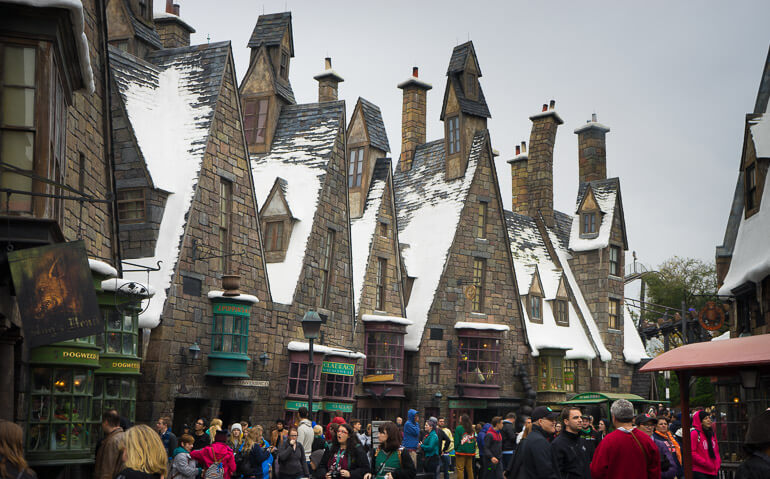 Don't forget to drink a glass of Butterbeer!
After a bit of shopping your bound to get a little thirsty. Take a break and buy yourself a glass of delicious butterbeer. You'll have to decide between regular, hot, frozen or ice cream butterbeer but no matter what you pick I guarantee it will hit the spot. These butterscotch flavored drinks are very popular. My favorite is the hot butterbeer especially if it's a cold day. If you want to try something else to quench your thirst you can also find Tongue Tying Lemon Squash, Otter's Fizzy Orange Juice, Fishy Green Ale, Peachtree Fizzing Tea, Pumpkin Juice, Gillywater, Wizard's Brew and Dragon Scale. I swear these are real drinks guys!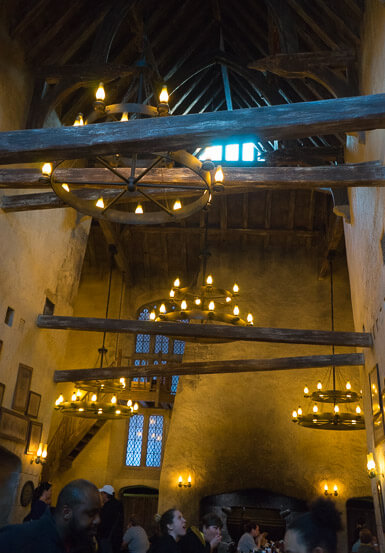 You might also be getting hungry about now so check out one of the restaurants like The Three Broomsticks in Hogsmeade. This place looks amazing inside. The ceilings are high with old looking lanterns lighting the room from above. On the walls are whimsical pictures of fellow witches. It was cool to see all the future wizards eating lunch together. A table of Slytherins here and a table of Ravenclaw there. I kept thinking "Is this place real?" Authenticity is truly amazing. The Three Broomsticks is a great place to enjoy some proper British food. The beer battered fish and chips is so delicious I had to remind myself I was eating in a theme park. The Banger and Mash is a tasty plate of sausage and potatoes. You can also order shepards pie, wonderfully cooked chicken, huge corn on the cobs and cornish pastries. Yum! Oh and don't forget to purchase another glass of butterbeer. A wizard can never have too much of a good thing like that.
Try Casting A Spell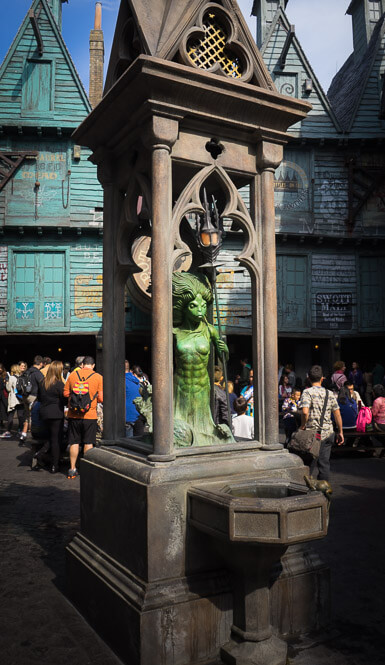 While your eating, drinking or just happily wandering through the park you'll probably notice a small crowd gathered around a window or water fountain. Usually a new wizard will be practicing using his or her magic wand to make something interesting happen. Remember those interactive wands from Ollivanders? If you purchased one your in luck. Find a spell location marked by gold medallions that are placed into the pavement. Each one has an image depicting how to move your wand and an incantation you should say. If you do this correctly then you might make the water fountain start working or the suit of armor assemble. If you don't get the spell right the first time fear not. A fellow wizard is always close by to help you do it right. The really cool thing is that after doing a few spells it kind of feels like magic is actually real. The charm of this place really starts to grow on you.
Have An Adventure In Gringotts
Spell locations aren't the only attractions though. In Diagon Alley you can enjoy the thrill ride Harry Potter and the Escape From Gringotts. Store your belongings in a free for 2 hours locker then marvel as you wait in line at the amazing experience inside. You'll see scores of goblins high on their perch busy at work. This fun 3D attraction features Ron, Harry of course and Hermoine.
Visit Hogwarts Castle
At the end of Hogsmeade is a path that takes you directly to Hogwarts Castle. Here you can experience a crazy 3D adventure that will have you spinning in all different directions. It's called Harry Potter and the Forbidden Journey. This ride is so fun that if the lines are short enough you'll probably want to ride it several times. If you have a weak stomach you might not want to ride it just after you eat though. Again the line is an experience in itself. Up on the walls portraits of Hogwarts teachers seem to be still and suddenly the people in the images begin to move. Must be that magic happening again!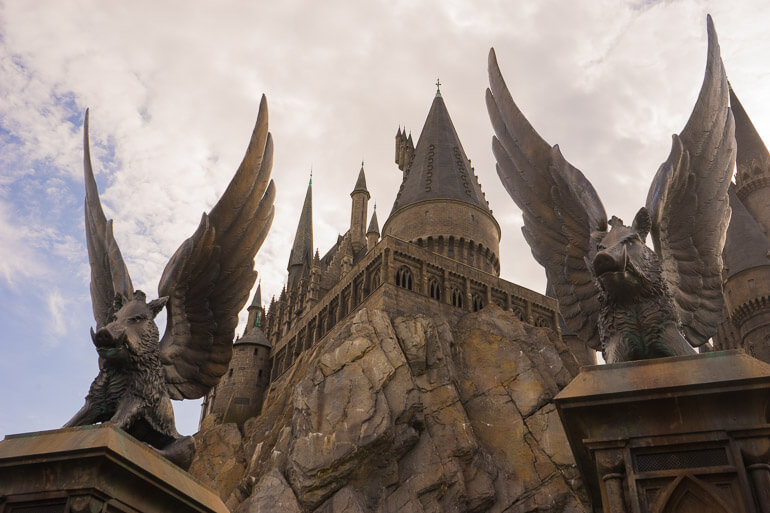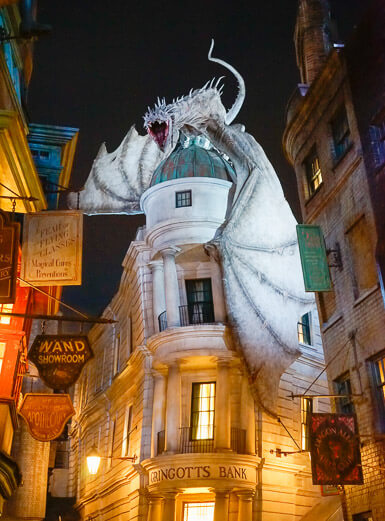 Time For Some Last Minute Shopping
Towards the end of the night you'll probably want to return to Diagon Alley to see the dragon that guards Gringotts Bank. He is always there even during the day and every several minutes will spit out a blast of fire. It just looks so much cooler at night though. Also you can return to pick up those last souvenirs that you forgot to buy earlier. In Wiseacre's Wizarding Equipment shop you'll find all the magical items you need such as cauldrons, crystal balls, telescopes and hourglasses. The entire store is themed around magic and astrology. If your looking for more unique higher priced items you'll find it here. I forgot to mention that every wizard attending wizard school needs a uniform. At Madam Malkin's Robes For All Occasions you can assemble your yellow, blue, green or red-trimmed robes, ties, scarves, sweaters and jewelry.
Just around the corner from Diagon Alley you may stumble upon Knockturn Alley. This is the location of Borgin and Burkes, a shop that tends to sell darker more unusual merchandise. If you need sinister items, then you've come to the right place. But beware! Creepy things might be lurking in the shadows. Well that's it for today! Hope you had fun! I know I did.
For more information visit the Wizarding World of Harry Potter in Orlando official website.