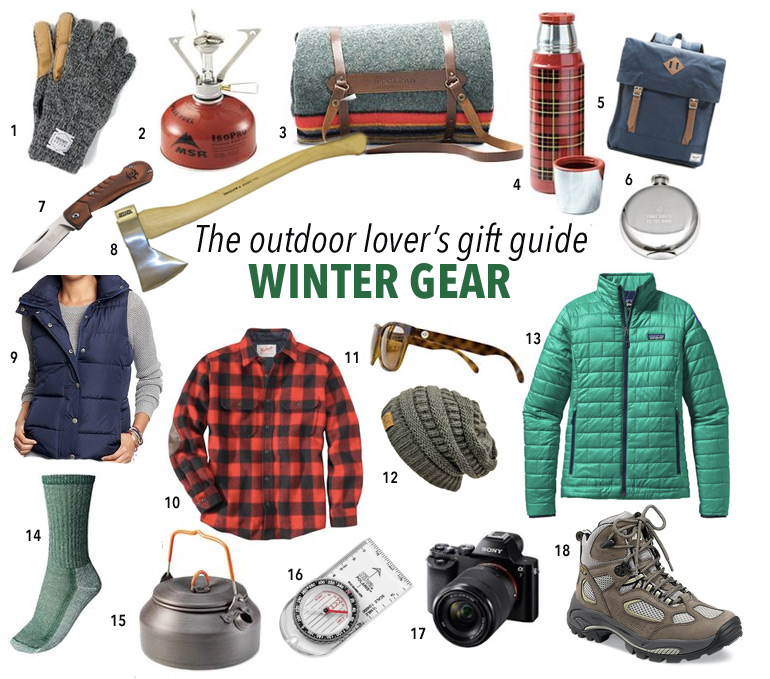 Well the holiday season is finally here! I'm super excited to stock up on some new gear and can't wait to give loved ones gifts to help keep them inspired to enjoy the outdoors! When I started making a list of gear I already own, I realized I have some pretty good stuff that I can recommend to you guys as holiday gift ideas. So without further ado, here is my recommended outdoors winter gear gift guide.
1. Ragg Wool Fingerless Gloves
My wool gloves are my best friends when the weather is chilly outside during the winter. I love the color, the deerskin palm material and the fact that I can use them while typing on a computer keyboard.
2. MSR Pocket Rocket
Despite the funny name, this little guy packs a punch when it comes to backpacking stoves. It is so tiny and yet transforms into a stove that can steadily hold a pot atop its burner. I've used it several times outdoors and heats up a pot of water fast!
3. Lumberlander Camp Blanket
I love…repeat…love this blanket. It's so warm and thick, and has a cool leather strap to keep it in place so you can sling it over your shoulder when heading out to your campsite!
4. Thermos
I don't have a thermos brand thermos, but I have a similar one from REI. The best thing is you can keep drinks or water hot in this storage container. It's perfect for bringing your hot chocolate to a holiday boat parade or holiday light show!
5. Backpack
I can't endorse one yet because I'm still picking out my favorite one and have yet to buy it! However, look for one that fits nicely on your back, is not too big for the occasion, and has lots of pockets to store all your wonderful treasures in.
6. Three Sheets To The Wind Flask
I've mentioned this item in a similar blog and I stand by it. This flask is so nice and small, it's easy to fit in almost any pocket be it your jacket or backpack. It's just that little something extra to keep you warm in the great outdoors.
7. Benchmade Bone Collector Knife
So I think these well crafted knives might no longer be available as they were a limited collaboration item. When I bought mine I loved the way it looked and come on…the name Bone Collector caught my attention. The link shows a review of the Bone Collector from Benchmade. Every good outdoorsman should have their own camping knife when visiting the outdoors.
8. Hudson Bay Axe
Everyone makes fun of me for purchasing this ahem…"designer" axe. But hey, I love it! No, I haven't used it to chop wood yet, but I'm waiting patiently for my opportunity. Sure you can find much cheaper ones at a simple hardware store but I love the story behind this one. Definitely one of my guilty pleasures.
9. Blue Puffer Vest
Sometimes you need to let your arms breath when the winter air is upon you. For such times I turn to my blue puffer vest. You can find them at almost any store during winter. What's nice is that your core can stay warm while your arms are free to move around. Kinda stylish too!
10. Buffalo Print Shirt
Nothing says outdoors clothing more than the buffalo print long sleeve shirt. Again you can find them all over especially outdoor outfitters. Some are heavier than others depending on the weather you expect to wear them in. Mine just makes me feel cozy and warm.
11. Sunglasses
Just because it's not summer anymore doesn't mean you can forget wearing your sunglasses. Make sure you have a good pair for those days out in the snow where the sun can be most damaging.
12. Beanie
I used to think beanies were worn by people who don't like to wash their hair. Well maybe that goes for some people, but it's an essential item for winter walks in the outdoors or evening outdoor gatherings.
13. Pantagonia Nano Puff Jacket
The nano puff is an awesome jacket! It may appear thin, but that's the beauty of it. I've used it outdoors in colder hiking conditions (not snow) and it really kept me warm. Also you can roll this baby up into a tiny little ball to stuff in your backpack! Pantagonia carries them for both men and women.
14. Wool Socks
Wool socks are great for warm feet and dry feet. If your hiking, snowshoeing, snowboarding or skiing, wools socks are the best you can get!
15. GSI Outdoors Halulite Minimalist Cookset
I can boil water for my food in the outdoors in under 3 minutes. This awesome and compact set comes with a separate bowl and spork making eating easy while backpacking.
16. Suunto M-3 D Leader Compass
Having a compass (and a map) just makes a whole lot more sense when you tend to go off the beaten path. It's also a lot of fun to try to learn to navigate which could one day save your life!
17. Sony a7 Mirrorless Digital Camera
There are so many cameras you can buy out there that would work just fine. I love my Sony a7 because it can take great photos with such clarity due to the large sensor inside. Also it's easy to carry since it's not as large as the DSLR cameras. I carry mine with me on every adventure!
18. Hiking Boots
I have a pair of low-top hiking boots for the summer or paved trail hiking. I have my high-top boots for more rugged mountain hikes or snow! Treat them well and they will return the favor.
Well that's it. My winter gear gift guide. I hope that you've found some great gift ideas to get for either you or your loved ones. The cool thing about getting gifts like these is being able to go out and USE them! I already can't WAIT to get outside and use my gear! From all of us at Adventure Tales Have yourselves a Merry Christmas and Happy Holidays to all!