The latest winter storm has brought new snow which means snowshoeing season has officially begun! It's time to prep your gear to make sure you're ready for the season. If you're curious about what gear you need to begin the sport of snowshoeing then read on. We'll cover all the basics to get you confident and ready to get out there and have some fun.
Snowshoes
The obvious first piece of gear you'll need is a pair of snowshoes. You'll want to look for the Go-Anywhere/All-Terrain snowshoes that are best used by recreational snowshoers. 99% of you will totally be okay using snowshoes from this category. Experts trekking through extreme mountainous ranges might need more specialized snowshoes from the Expedition All-Mountain category. Snowshoes are made specific for men and women, the main difference being women's snowshoes are tapered more in the back and the bindings allow for a smaller boot. Other than that they are virtually the same. There are two types of snowshoes you'll see on the market; composite snowshoes and aluminum tubing snowshoes. If you'll mainly be snowshoeing on flatter land or trails you might want to choose aluminum snowshoes for better comfort. If you're going to be in mountainous terrain, then composite snowshoes would be the way to go since they offer more traction for better security.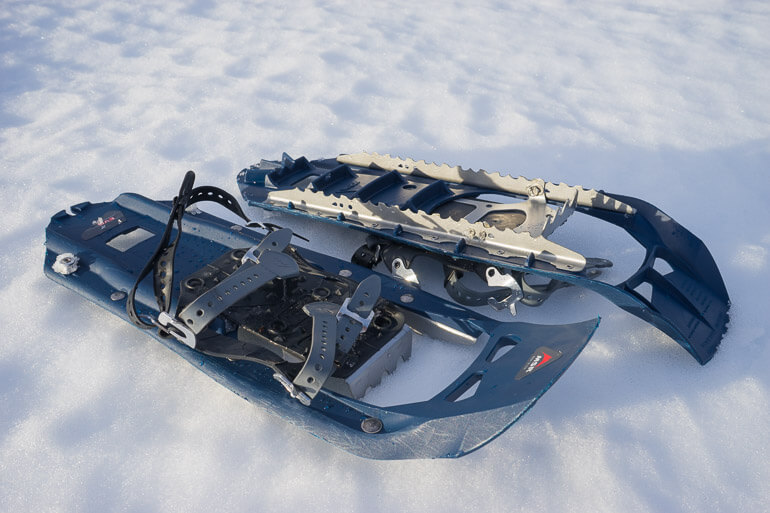 Don't get overwhelmed by the various brands of snowshoes. They're basically all very good, but I'll describe a few of them to help you make your decision. First up are the MSR brand snowshoes. These are excellent snowshoes that are very technical. I own the MSR Evo snowshoe because I hike in the mountains and I gotta tell you they're fantastic. These composite snowshoes have a molded plastic frame that keeps the snowshoes light, affordable, and allows for twist. The twist is beneficial for walking on uneven terrain so you can get as much traction as possible. The bindings on my Evo's are called DuoFit bindings and are freeze-proof and glove friendly. This means it's easy to grab the rubber straps, pull on them and secure them without snow getting in the way. Newer MSR's have what's called a Speedlock binding where you can set the top binding once and then just slip your boot in securely. The toe core rotates to allow the snow to fall out the tail and it has a metal claw underneath to help dig deep into the snow. The edges of the snowshoe have a plastic and metal grating to allow for even better traction. Optionally you can buy MSR snowshoe tails that clip on for additional flotation if you're traveling in deeper snow or if you're carrying a heavy backpack.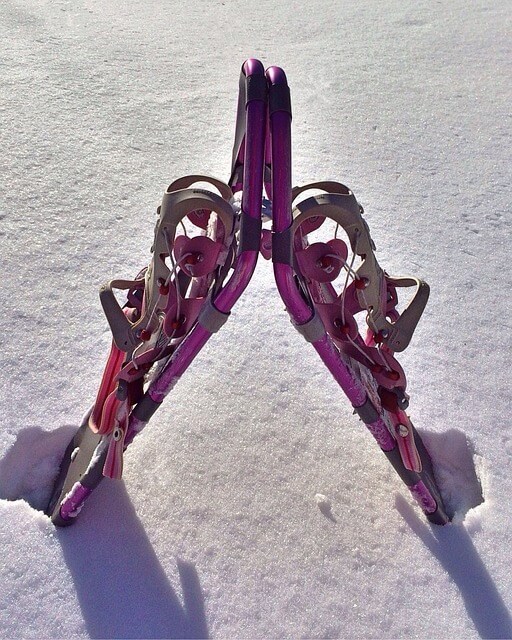 You'll notice Atlas and Tubbs brand snowshoes have aluminum tubing all along the edge and a neoprene decking. Again these are good for flatter areas but still can do quite well on snowy slopes. The Atlas snowshoes are spring loaded which means when you take a step, the shoe springs up to help you lift your foot. Both brands are very lightweight because of the construction materials. I would say these two brands offer better type bindings with more padding than the MSR's. Tubbs also has a composite model snowshoe called Flex that is similar to the MSR's I talked about before. This construction offers way more twist than the more rigid aluminum models and is better for icy packed snow or rougher mountain terrain.
Snowshoe Poles
Snowshoe poles are necessary to help you keep your balance. They also help to take some of the load and shock off your knees, especially when hiking over steeper hills. The most important feature of a good snowshoe pole is the ability to adjust the pole height. Poles usually have 2 or 3 telescoping sections and can be shortened to two feet (a great height to stow them away at) or lengthened to a max height of about 4-1/2 feet. Why exactly do you need them to be adjustable? Well when your climbing uphill you want to shorten the poles so your arms don't have to raise up so high when your walking with them. When heading downhill you want the poles to be a little longer so they can reach the trail below you. Some poles lengthen by screwing open the telescoping sections from each other to unlock them then pulling them apart to lengthen them. I have a pair of Black Diamond Snowshoe Poles with a plastic tension lock that you simply pull open to lengthen the poles and push closed to lock them in place. So far they've worked for me and they haven't broken yet.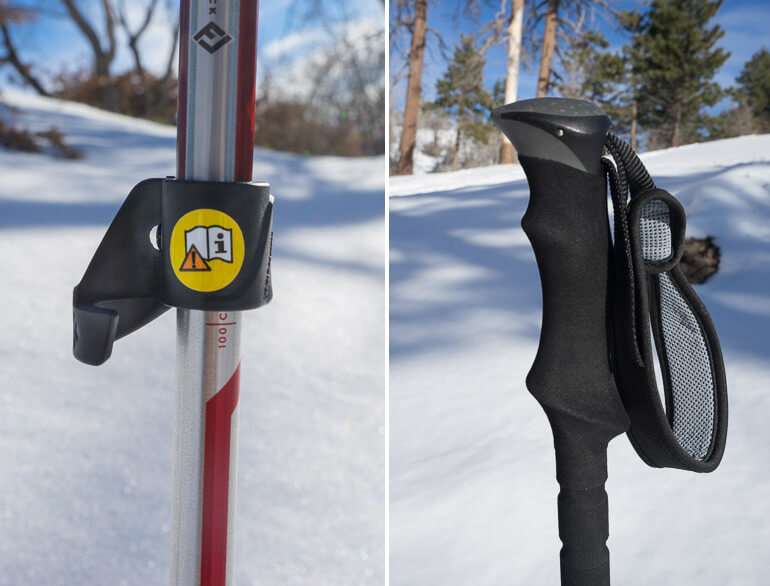 Make sure to get poles that have a sturdy enough construction so they wont buckle the first time you use them. You'll find most poles are made of either aluminum or carbon fiber. The carbon fiber will be lighter and stronger than aluminum but more expensive. Poles have hand grips that are made from either cork, foam or rubber. It's personal preference so test them out to see how they feel to you. You'll also notice some poles have wrist straps. I like using the wrist straps so I don't accidentally drop my poles while hiking.
Oh and one more thing. Trekking poles and snowshoe poles are pretty much the same thing. You really just need to make sure you have the larger diameter snow basket for hiking in the snow.
Snowshoe Pole Baskets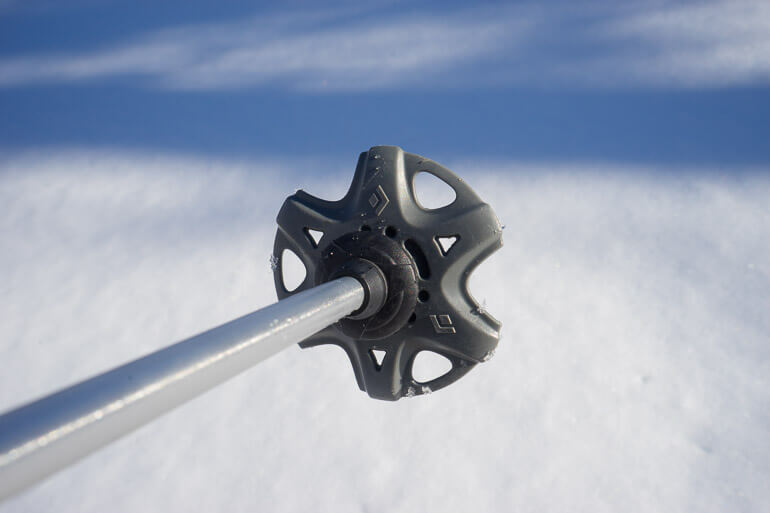 Also referred to as "snowflake baskets" these easily attach to the bottom of trekking poles and are mainly used to help keep the pole from sinking deep into the snow. They're shaped like snowflakes and made of plastic. If your heading in deeper snow you can buy a larger diameter basket from your local outdoor outfitter. When snowshoeing you should constantly check your poles to make sure the baskets haven't fallen off. As long as they're securely attached you should be fine.
Gaiters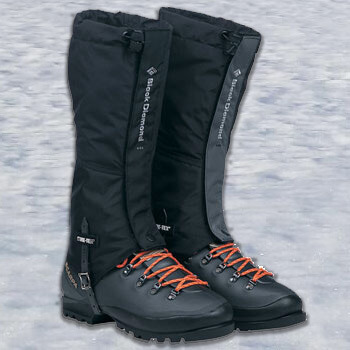 I haven't found the need to use gaiters yet. It might be because I don't travel in deep snow often. Or maybe because I wear snowboarding pants that have an inner elastic material that covers the top part of my boot much like how a gaiter would. Depending on what kind of pants you wear and how deep the snow is you may need gaiters to help prevent the snow from getting into the top of your boot. Gaiters are made of a waterproof material that slides over the leg of your pants and are held in place by an elastic strap. I'd try snowshoeing without them first and if you notice your getting too much snow in the top of your boot, go ahead and buy a pair.
Boots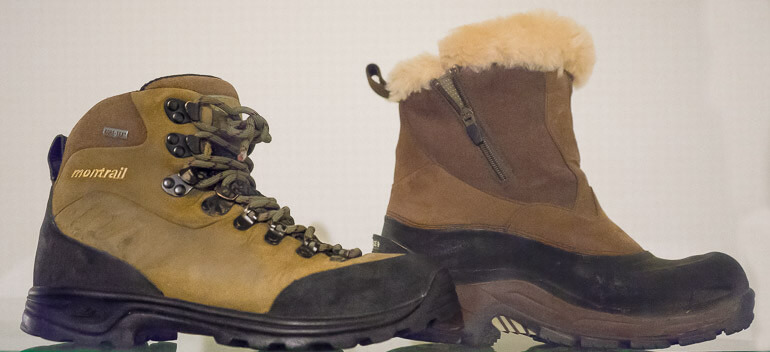 Usually I'd include boots in another article about winter outdoor clothing recommendations. However, it's important to mention that wearing a hiking boot is preferred over a snow boot. I use a high-top hiking boot pictured above left which really allows me to achieve maximum motion when walking in snowshoes. I tried using a snow boot pictured top right before and it was really difficult to walk because my ankle area was so stiff. You really want the boot to be something you can comfortably hike in. You should also look for a boot that is made of a waterproof material like the Gore-Tex boot top left.
Snowshoe Bag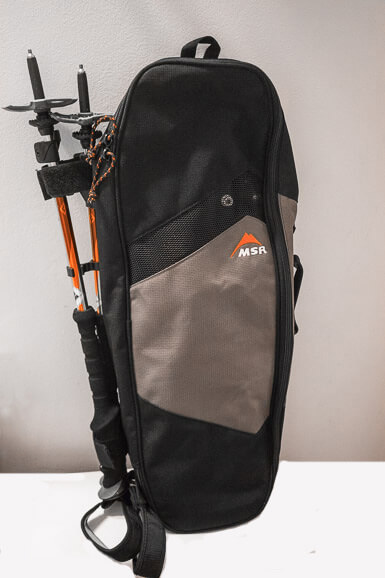 I'm sure there are a million other cool gadgets you could buy to enhance your snowshoeing experience but one that I'd recommend is a snowshoe bag. The MSR snowshoe bag I bought is great for carrying my gear to and from the mountains. The snowshoes fit perfectly inside and there is a plastic netting on one end of the bag to allow snow or water to drain out. There's also two velcro straps on the side of the bag to secure your poles.
Clothing and Accessories
When your headed for a day in the snow, you want to be sure you are as comfortable and warm as possible. I will soon be writing a post that discusses the best options for outdoors winter clothing, but until then here is a handy checklist of what clothing items you should have when you go snowshoeing. The weather will help you determine if you need to layer up or down. It's a good idea to bring extra clothes just in case the weather changes or the sun starts to set.
Snowshoe Clothing Essentials
Waterproof gloves and liners
Wool socks
Waterproof pants – outer shell
Baselayer pants – wool or synthetic
Baselayer top – wool or synthetic
Mid layer top – fleece or synthetic
Outer shell jacket – waterproof & wind-resistant
Beanie
Sunglasses or ski goggles
Gaiter mask
Winter Outdoors Accessories
Map
Compass
Hiking bag
Water bottle or bladder
Chapstick
Camera
Snow shovel
Ice Axe
Renting vs. Buying Your Gear
Now that you know what you need, do you really need to buy all your gear? I would say for the first time you try snowshoeing just rent your gear. Not only will this allow you to test it all out, but if you decide snowshoeing isn't for you then you haven't wasted your money on gear you won't use. Some REI stores rent both snowshoes and gear. Now if you've found that the sport is totally fun and you just can't wait to go back out in that outdoors winter wonderland go ahead and buy your gear. If you take proper care of them, your gear should last you for many memorable snowy seasons.