Sometimes a great adventure can be the result of a totally spontaneous decision. Like when my brother Gabe decided to skip his second day of snowboarding in Whistler, British Columbia and instead try a day of dog sledding. He had tired himself out the previous day and decided to head to the village for some much needed relaxation. Although there are over 200 shops in the Whistler Village, Gabe has never been much of a shopper. He wandered around until he came across a kiosk in the village that had brochures advertising dog sledding tours. Willing to give it a try, he signed up and wound up experiencing an incredible and truly Canadian adventure.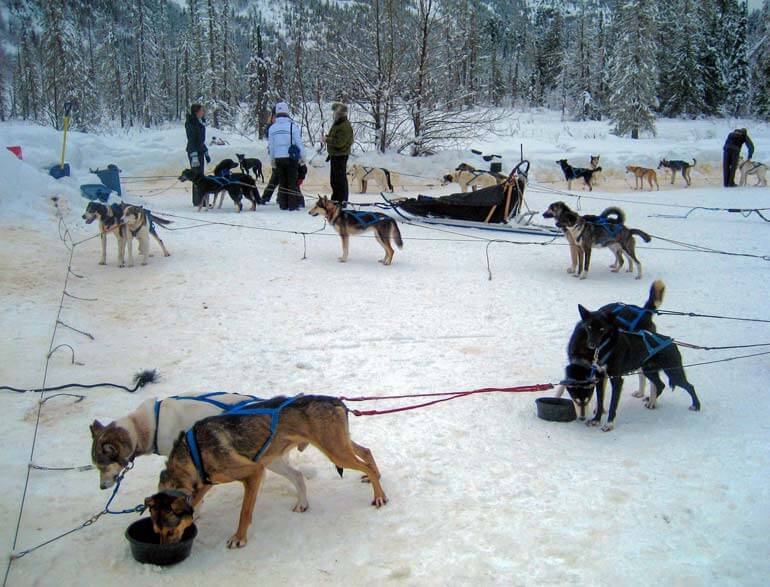 When booking his adventure, he realized the prices were more expensive for singles than they were for people booking as couples. Fortunately there was single girl who was about to book her adventure so they decided to book together to save money. They were instructed to dress warmly and meet in a few hours. The bus was on-time and soon they were shuttled off to the dog sledding location. When he exited the bus, he could hear the yelping of the sled teams eager for their next journey. There were several sled teams with 6-8 dogs each already tied up to each other. Before the trip, the dogs drank from their water bowls while the patrons assembled into their 2 person teams.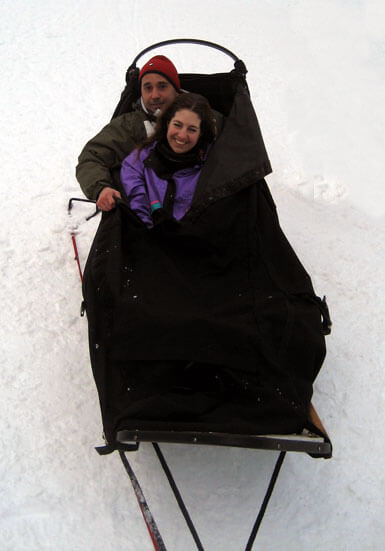 It would seem that these dogs would be freezing and tired from pulling people all day long. The truth of the matter is that these Arctic dogs have been bred over centuries to withstand cold temperatures. They've also been bred to pull sleds distances of up to 80 miles a day! When you see a sled dog, you might feel bad for them because they work so hard to lug your heavy butt around, but don't! These dogs have been trained from an early age to run with the pack. Sled dogs truly enjoy the activity. It was evident to Gabe this was true as the dogs began barking excitedly when the musher began hooking up their gang-lines. They literally couldn't wait to get out on the trail.
Gabe and his female companion boarded their sled. He said it was like a sleeping bag in that it had a canvas cover that zipped shut to help keep the wind and snow out. It really helped to lock in the heat which was good because it was a chilly thirty something degrees outside.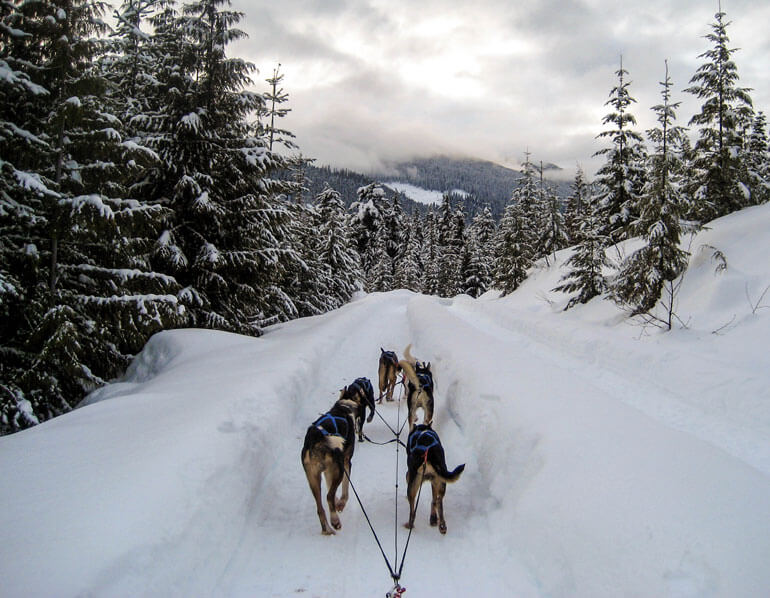 All it took was the command of the lead musher and off they went down a carved out path through the snow. There were six beautifully colored dogs pulling his sled. The lead musher was standing on the back of the sled commanding the dogs and steering them. These dogs can reach up to speeds of 20 miles per hour if they wanted, but the lead musher had them moving at a much more comfortable pace. That allowed Gabe and his companion to enjoy the scenery around them.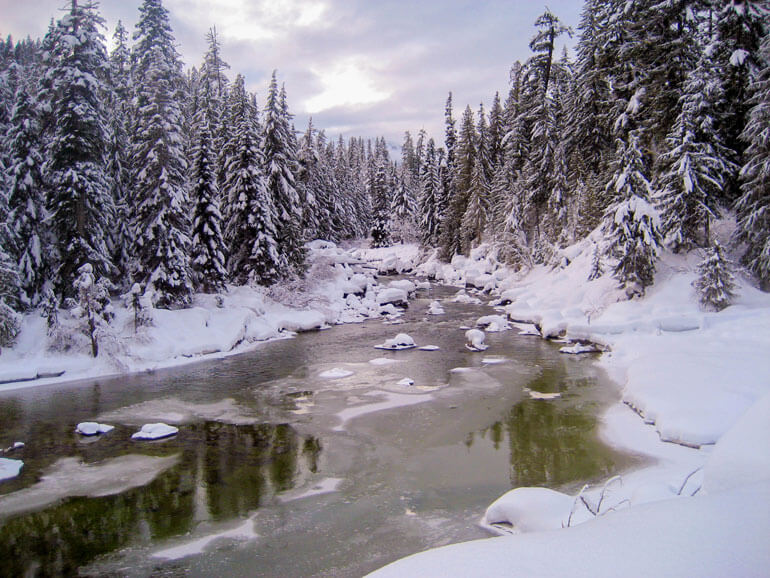 The trail went deep into the Canadian wilderness and Gabe said it seemed there was something beautiful around every turn. Around one bend they discovered a frozen river. In a large open meadow a snow bunny hopped around oblivious to the sled team. The peaceful quiet would suddenly be broken by some snow falling from a tree. Sometimes Gabe and his companion were allowed to stop and get out to take pictures. That allowed the dogs to rest a bit and bite the ice around them for some water.
Not only did he get to be a passenger in the sled, but the lead musher let them each drive the sled. As he stood on the back of the sled, Gabe practiced yelling out the commands the musher instructed him to say to the dogs. Just like that off they went down the trail. As he steered, Gabe imagined how for thousands of years dog teams just like this one had been pulling humans through the winter tundra for travel or hunting trips. Before electric snowmobiles existed, this was the only way to go. To slow the dogs down, Gabe was taught to push down on the back of the sled leg.
It seemed like they had been sledding for an hour, but Gabe wasn't exactly sure because as he explained, once you leave the noisiness of the village behind, the magic of this winter wilderness seems to engulf you. Your senses are sharpened and you truly begin to appreciate the beauty of the wild nature that surrounds you. Soon Gabe's dog sledding adventure came to and end and the dogs were rewarded with a much deserved lunch break.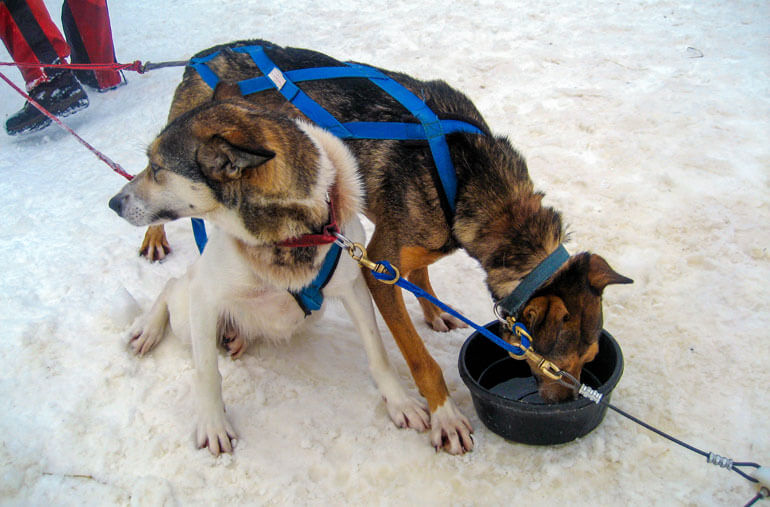 If you ever get the opportunity, this is a great way to experience winter and learn some Arctic history. There are several locations throughout the world that offer dog sledding tours, but this one was great in Whistler, British Columbia. Prices have definitely gone up since Gabe experienced his dog sledding adventure, but if you want to try it out for yourself you can book a similar experience through this website for Whistler Dog Sledding.