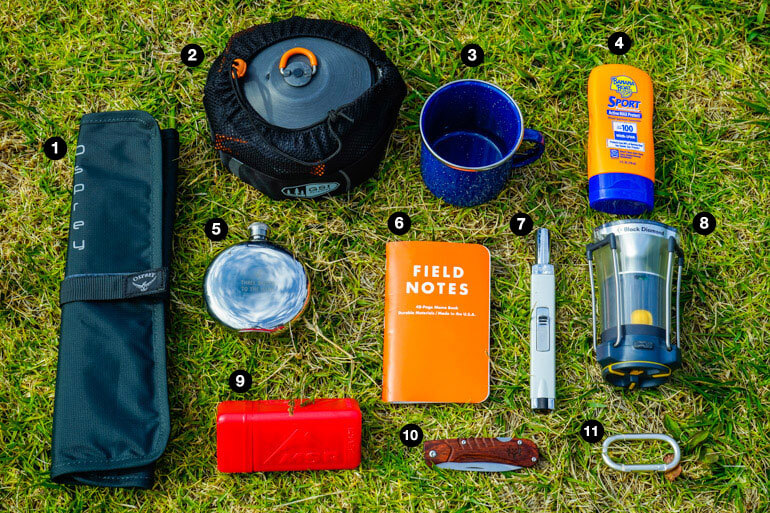 When summer arrives, it's time to hit the road and pitch a tent in the great outdoors. So you already have your tent and sleeping bag…you know…the big stuff. But there are a few more items you might want to include in your backpacking essentials kit. These are some of the main items I brought with me on a recent backpacking excursion. I picked them mainly because they were light, compact and necessary for my trip.
1. Osprey Map Wrap ($19.50)
The MapWrap provides a safe and secure place to carry and view your topo maps. It attaches to any pack via a simple velcro strap. It's great for easy access to your map while hiking.
2. GSI Outdoors Halulite Ketalist ($34.95)
This ultralight kit includes a kettle for boiling water, a bowl, cup with lid and a spoon. The black mesh carrying sack packs everything away tightly and can easily be tied to the outside of your backpack.
3. GSI Enamelware 12 oz. Blue Mug ($7.40)
Enjoy hot cocoa, tea or your favorite poison in this classic blue camp mug. Made of heavy gauge steel with a speckled enamel finish, it will hold even the hottest liquids without burning your little digits.
4. Banana Boat Sport Performance Lotion SPF 100 Sunscreen ($16.99)
When your in the sun you need a good sunscreen, plain and simple. This one won't come off when you sweat and since they don't make SPF 1000 yet, a good and safe SPF 100 will suffice. I took the 4 oz bottle on my backpacking trip and it worked out just fine.
5. Three Sheets To The Wind 5 oz. Flask ($27.00)
If you enjoy a stiff drink to wet your whistle while enjoying a night under the stars, don't forget to pack this little 5 oz flask for your next backpacking trip. After all, when weight is an issue a 5 ounce flask is much lighter than a six pack of beer!
6. Field Notes Expedition Edition ($9.95)
When I'm packing for an adventure, I never forget to bring a Field Notes notepad. It's the best way to quickly jot down notes or ideas while out and about. The pages are waterproof and tear proof so rain is not an issue.
7. Zippo Champagne Multi Purpose Lighter ($14.85)
There are lots of ways to light a fire, and then there is the easy way. I didn't have the smaller Bic lighter (which could have worked just as well), so I brought this zippo butane lighter instead. The cool thing about it is that it's butane refillable and is perfect for outdoor use.
8. Black Diamond Equipment Apollo Lantern ($49.95)
I love this powerful little camp light. It's double power LED with 80 lumens (max setting) is enclosed in a frosted globe to provide bright, ambient light. You can also dim or brighten the light. It's perfect for hanging from your tent ceiling, or placing outside on a camp table. My only warning is to remove the batteries when your done with it. My batteries exploded and it took a major cleaning job to get the lantern working again.
9. MSR PocketRocket Stove ($39.30)
I made an easy decision when I bought the MSR Pocket Rocket Stove. This little guy only weighs 3 oz. and comes in a red case enclosure for easy storage. I used it with an MSR isoPro 4 oz. Fuel can (not pictured). It boiled my water in under 3 minutes.
10. Camp Knife ($130.00)
Camp knives really come in handy when out in the woods. Make sure to get one your not afraid to get dirty. I went all out and got a quality Benchmade Bone Collector with Lock Back Folder. Yeah I know this one is pretty pricy but I'm kind of proud of it. Get one to suit your budget and taste.
11. Aluminum Carabiner ($10.99)
It's always good to have a few carabiners with you when camping or backpacking. I've used these to hang my camp lantern from the ceiling of my tent, to hang other random objects in places where I can see them, or to latch objects onto the outside of my backpack. They are pretty cheap, so you can pick up a set of them.