Ahoy Mateys! So…Ye want t' be a pirate aye (or at least be able to sail like one?) Well you can do both at the annual Tall Ships Festival in Dana Point, CA. Every September, the Ocean Institute and the city of Dana Point gives ordinary landlubbers a chance to climb aboard several old-fashioned sailing vessels. If your feeling particularly adventurous you can sail onboard a tall ship during the mock cannon battles at sea or take a sunset cruise. Stroll along the festival grounds where you can meet pirates, enjoy music and entertainment, and shop for unique pirate plunder. Fill up on some tasty festival food and then prepare for the timed cannon blasts off the end of the pier. With so much to see and do, the Tall Ships Festival is a guaranteed good time for everyone. I'll give you a few extra tips to make your trip even better!
Tip: Park at one of the designated festival parking locations for free. I parked at Dana Point High School. They will have free shuttle buses to transport you from the parking lot to the festival. Check the website for updates on this years parking locations.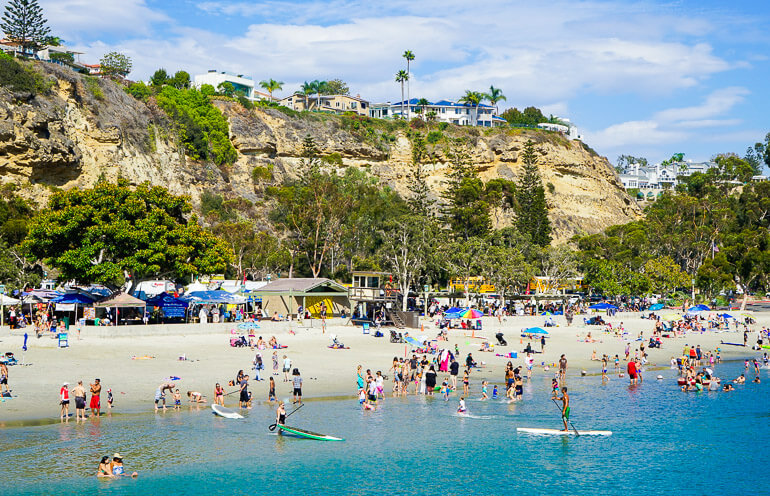 What a beautiful location to host a festival! Dana Point is especially enjoyable in September when the weather is still warm enough to go for a dip in the ocean. The protected cove at Dana Point next to the harbor is so tame that it's the perfect place to enjoy stand up paddle boarding, rent a kayak, or just wade in the bright blue water. Since there are no waves younger children can safely enjoy playing in the ocean too. The beach is so beautiful and pristine that when I attended last year I was shocked at how uncrowded the beach actually was. I mean there was enough room for me to plant an umbrella on the beach if I had wanted to without feeling cramped. After being dropped off by one of the free shuttle buses we were ready to check out what the festival had to offer.
Tip: The beach is free, but entry to the Festival is $8.00 general admission. There are separate tickets for the ship cruises available for purchase online at the Tall Ships Festival official website.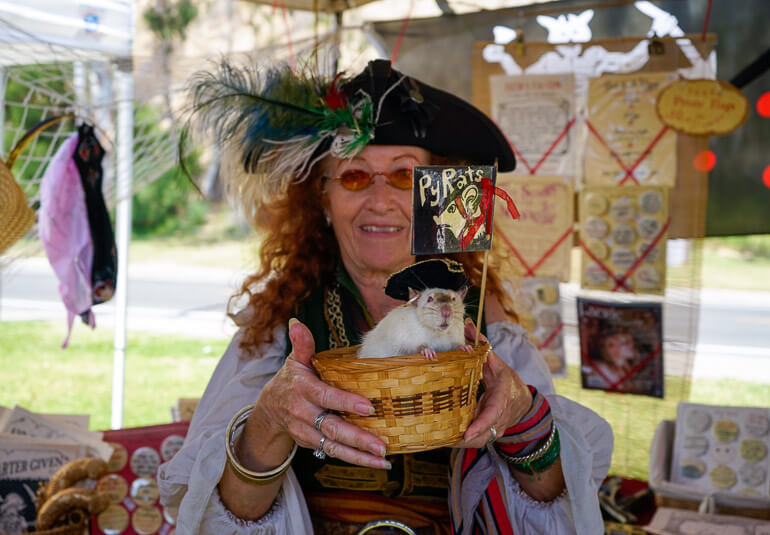 Who is that swashbuckling rat wearing one gold earring? He is one of the mascot PyRats from the No Quarters Given booth. This booth was one of my favorites offering all kinds of interesting pirate souvenirs for sale. At the Tall Ships Festival, you'll find lots of interesting goodies. We browsed through elaborate pirate costumes, jewelry and art inspired by the sea.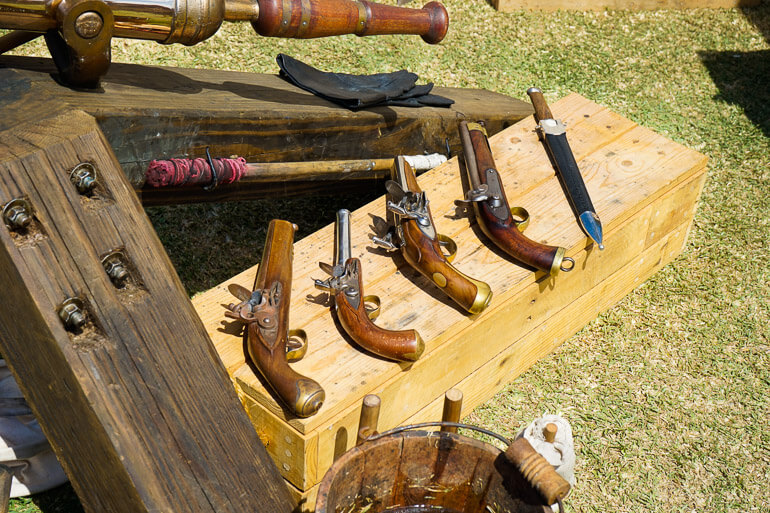 The pirates had definitely taken over the beach! There were plenty of opportunities to explore interactive living-history encampments including blacksmiths, pirates, schrimshanders, and British and Civil War marine re-enactors. Many of the encampments had authentic looking objects on display like these pirate pistols.
Tip: I didn't know what a schrimshander was, but found out it is a person who practices schrimshaw (the art of incising or cutting designs into bone and ivory). Early whalers used whales' teeth and bone to create their works of art. Eskimos used mammoth and walrus tusks.
Of course a pirate and his treasure are never apart for too long.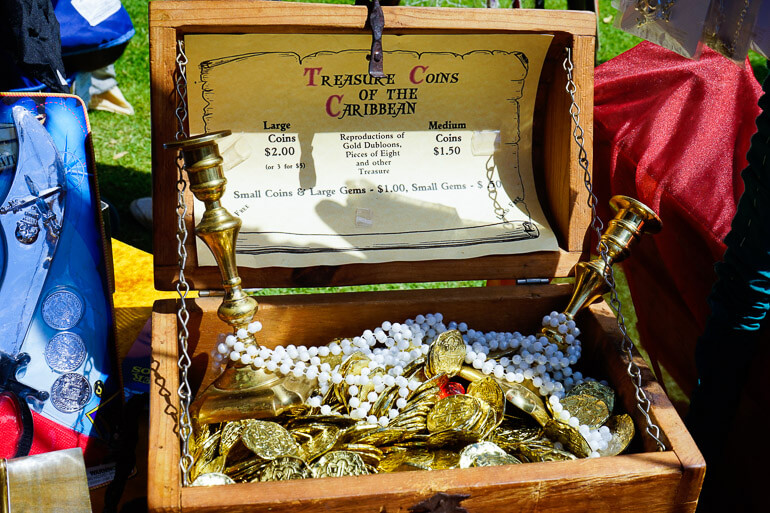 Lo and behold you can buy your very own pirates treasure! You can even buy authentic looking small wooden pirate chests to store that treasure. I always thought a great game for kids would be to take a small treasure chest and fill it with small toys and a few coins. Then bury it in the sand on a beach, draw a map to the location, and have your kids try to follow the map to uncover the treasure! Of course don't forget where you buried it or you'll need a metal detector to find it again. But wouldn't that be fun for kids? Heck it'd be fun for me!
We came to see some sailing ships and so we wandered down to the docks. Unfortunately because of dangerous waves that year in the open sea the ships would not be sailing with guests. It looks as though this year, the Ocean Institute is on track to take those vessels out to sea again.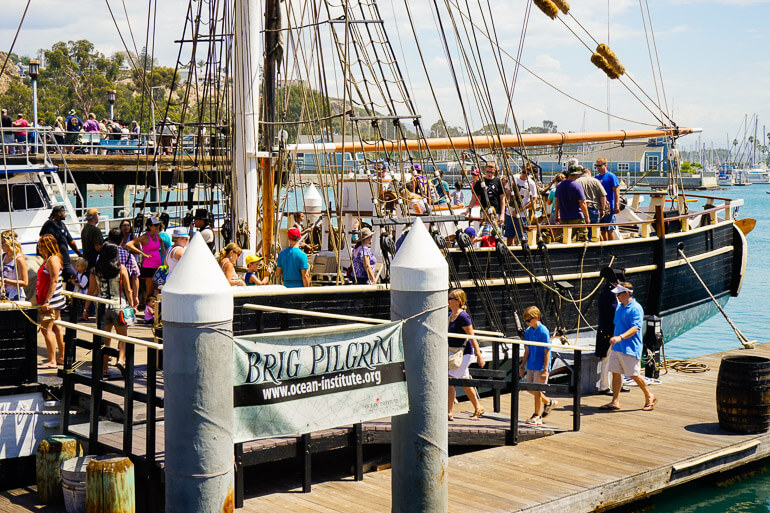 With your festival admission, you can climb on board several of the ships to see them up close. On deck are sailors full of interesting facts and stories about sailing. Guests are encouraged to ask questions and learn about life at sea. Each ship has it's own unique history and design such as the Brig Pilgrim above. You can read about each vessel on the Tall Ships Festival Ships page.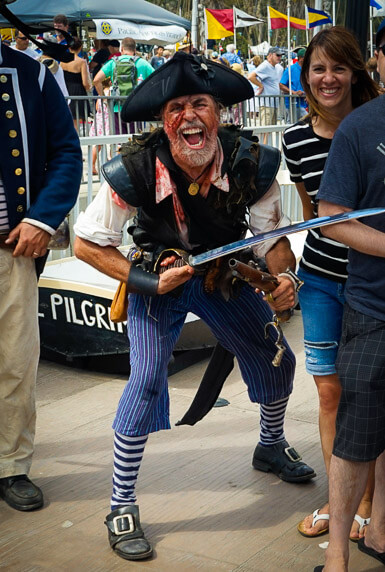 Did I mention there are pirates? This guy looks pretty convincing right? This year there are two pirate groups that will be providing entertainment throughout the festival… the Port Royal Privateers and the Alliance of the Double Cross. Don't be surprised if you find them interacting with the public, encouraging visitors to join in a song or game, or handing out souvenir "pirate treasure" to children. The members share a passion for history, adventure and the romance of piracy. The pirates also provide educational seminars on pirate life in the 17th and 18th centuries and the weapons commonly used.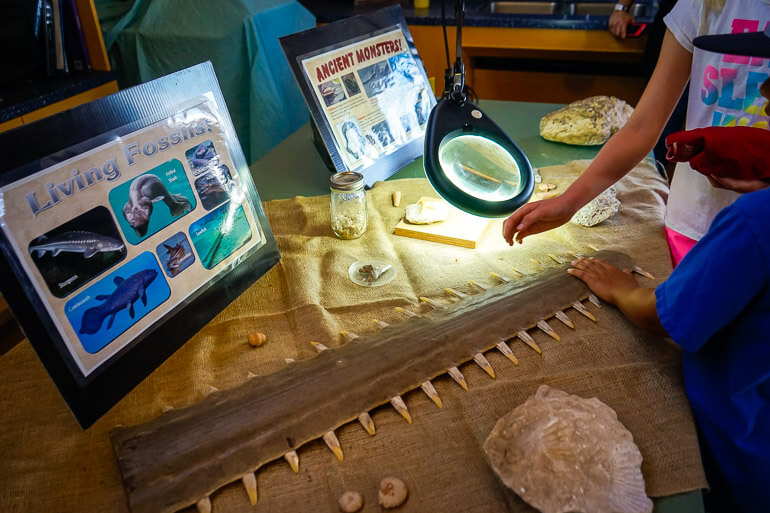 If you thought this festival is all about pirates and sailing you would be wrong. The Ocean Institute also will open it's interactive ocean exhibits for visitors so you may learn a little science. They had some pretty cool displays of ancient ocean fossils. Check out that huge fossil that looks like a saw blade. Wonder what ancient animal that came from?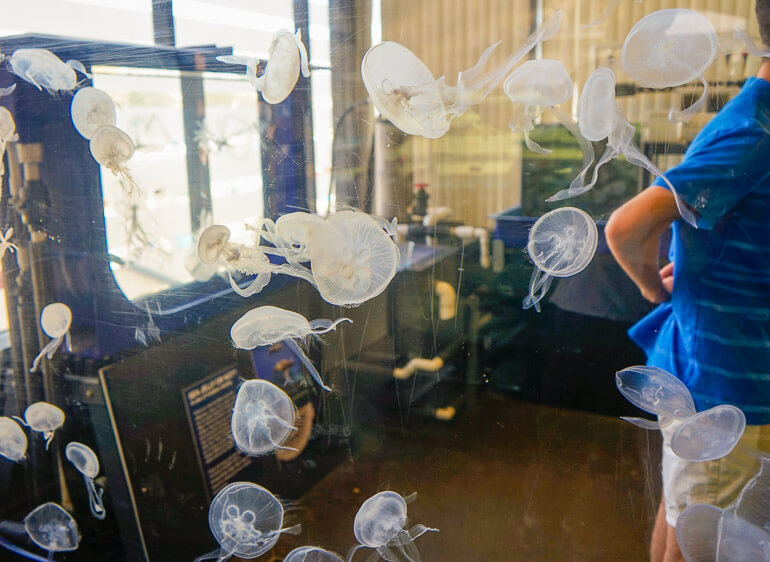 They also had this incredible tank of jellyfish. New this year is something a bit different. "A mermaid and merman will take turns inside their large surf-science tank interacting throughout the day! And one of them will also come on land with a pirate to talk about ocean awareness and showcase some of her favorite animal friends!" Really? I can't wait. See you down there!
Tip: The 2015 Festival will be held on September 12-13. Get all the details to plan your weekend at the Tall Ships Festival website.