Sometimes nature can put on such and immense display of beauty, you are shaken to the core of your being and awakened to the magnificence that is in our world. Pretty deep thoughts, I know. But this is exactly what I felt as I drove past the hills in Gorman, California one April morning. In fact I was so overcome by the beauty I saw, I had to pull off the freeway and get a closer look at the fields of brilliantly colored spring wildflowers on display.
What I'm listening to: Wildflowers ~ Tom Petty and the Heartbreakers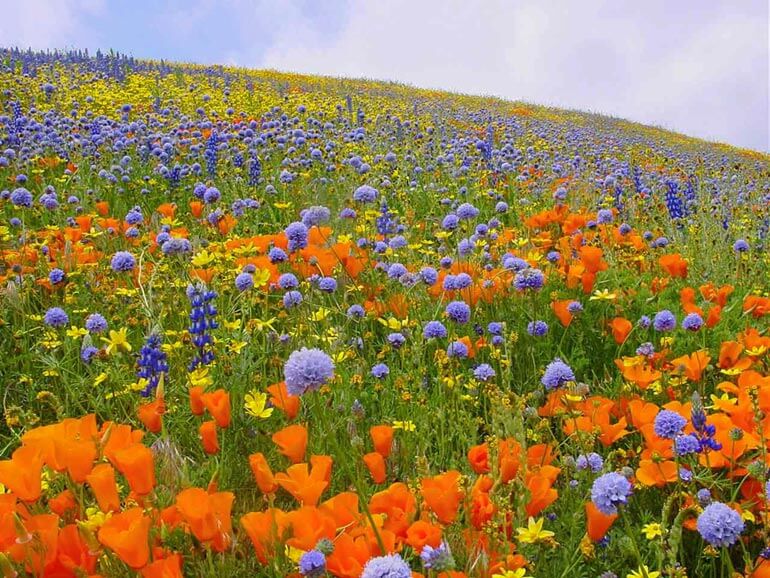 I was actually on my way to Sequoia National Park for a solo camping adventure. Excited to get an early start from the usual hellish Los Angeles traffic, my plan was to get past the Grapevine area of the I-5 freeway as quickly as possible. I had no idea that wildflowers would be the distraction to keep me from my goal of an early start. But after I glanced in disbelief at those colorful fields, I didn't care. I had a new mission…to see these wildflowers up close.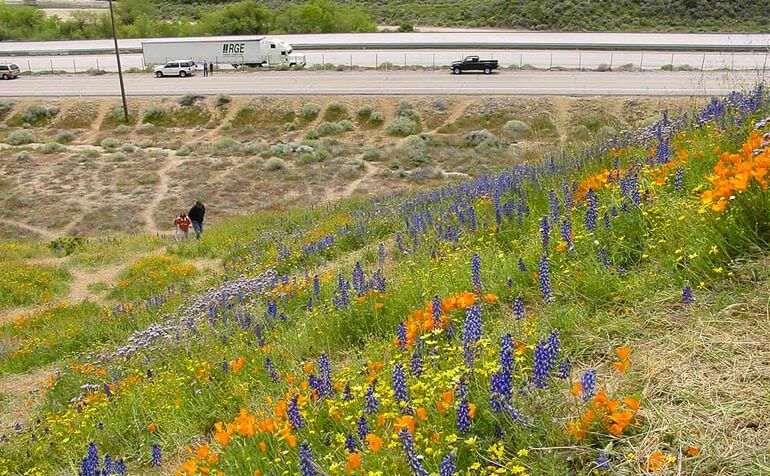 I pulled off the first exit I could find and parked my car down a long two-lane road that paralleled the freeway. You can see my black truck in that picture above. Apparently I wasn't the only one who decided to pull off the freeway. Several other people had parked their cars and began wandering up the hill towards the flowers.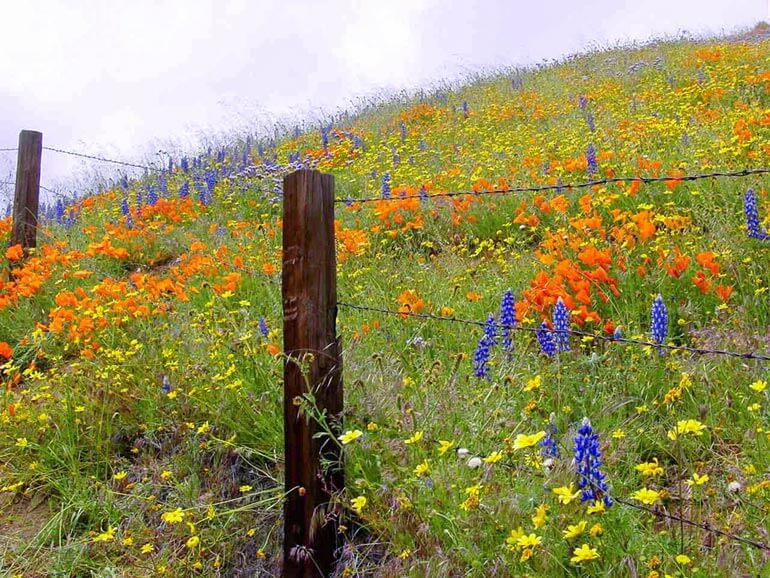 As I walked up the hill I noticed barbed wire fences protecting the fields from trespassers. Probably a very good idea. Not only would this protect the flowers from getting trampled on, but lord knows how many snakes and other creepy crawlies were out there.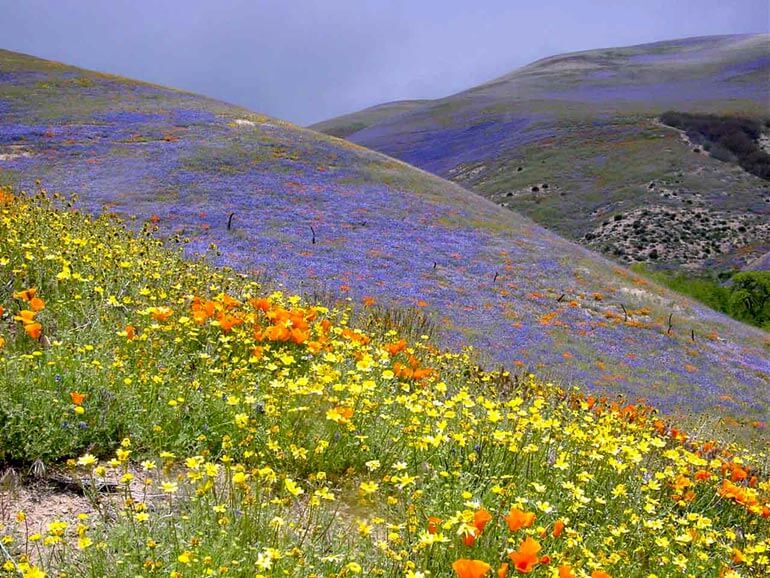 When I stepped back to soak in the scenery, it looked as though some famous artist had just created a landscape painting full of purple, orange and yellow paints. The further you gazed into the distance, the more unreal it seemed.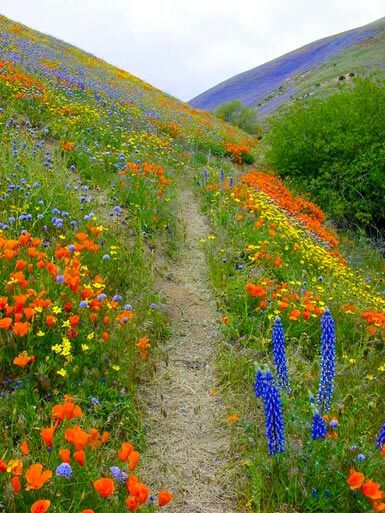 Although I saw a lot of fences, there were some open trails that lead to God knows where. I followed a few trails to get different perspective views of the hillside flowers. This particular year, the floral display was incredibly amazing. I tried to return to Gorman a few years later and unfortunately, the California drought had taken a major toll on the wildflowers. I did not see the abundance of color that I saw the first year. But every year is different. Sometimes the flowers will bloom in late March, and sometimes they'll bloom towards the middle of April. Sometimes it will be too cold for the buds to open and sometimes your timing can be perfect to witness nature's spectacular performance.
This experience inspired me to research how I could find other wildflower locations around Southern California. DesertUSA.com has a wonderfully informative wildflower page. They list frequent updates on wildflower locations, photographs of the flowers, dates the images were taken, and plenty of other useful news. This can make planning a trip to see wildflowers much easier than just leaving it up to chance. After all, it can be a long drive to get there. Another good resource is the Theodore Payne Foundation Wildflower Hotline. They have weekly updates of wildflower locations submitted by volunteers. No matter what state you live in, I'm sure you can find websites that will help you track down wildflowers.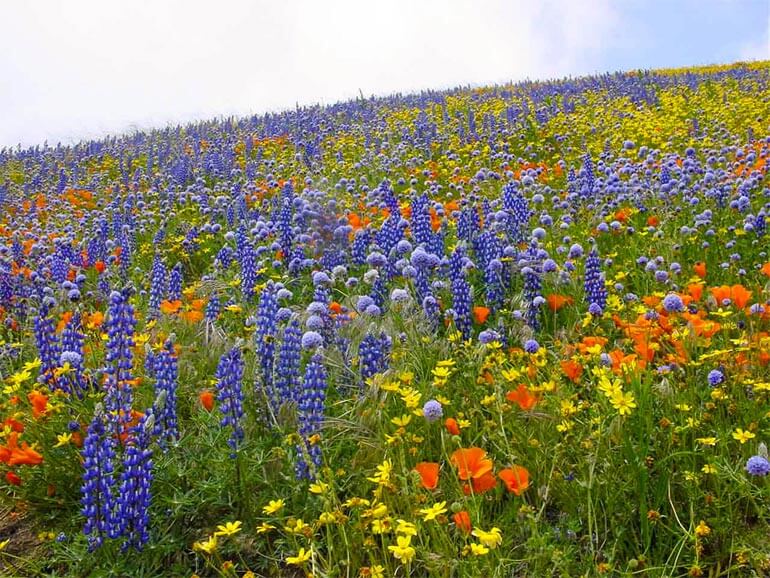 In some places, I was standing in wildflowers that were waist-high. I looked around and noticed the obvious color, but then I thought I don't know any of the names of these flowers. That became my second research goal, to identify what I saw. I quickly learned the deep orange flower was the California poppy, our state flower. To identify the rest I'd have to use a good resource. Then I found a site that has pictures and names of all the wildflowers found in the Gorman area. Using caopenspace.org I was able to identify the rest of the flowers: the taller dark purple flowers are Lupine, the yellow ones are Goldfields, and the lighter blue ones that look like dandelions are called Globe Gilla.
You know, it can be a real adventure to slow life down just enough to be able to soak in the beauty nature can provide. It can be a sort of treasure hunt to find wildflowers and identify them all. These days I'm sure there are a ton of apps that can help you with that. And if you can't make it to a location, why not just plant your own garden. Or better yet, just plan an urban hike where you can identify the flowers in your neighborhood gardens. If you want to explore more of California, you can try to explore the Antelope Valley Poppy Preserve (only 30 minutes from Gormon Post Road). They also have hiking trails through the preserve where you can witness multiple blooms of California Poppies. So this spring, look for a wildflower adventure near you! Happy hunting!
Directions to Gormon: From Los Angeles, take the 5 Fwy north, take the Gormon exit, turn right to Gormon Post Road. Find parking by the side of the road.

Directions to Antelope Valley Poppy Preserve: Continue east on Gormon Post Road to Hwy 138. Make a left on 170th Street, then a left onto Lancaster Road which will loop you into the entrance of the park.