You might not be aware that there exists a pristine stretch of Southern California coastline whose clear offshore waters have been designated as a Marine Conservation area. The mysterious location I'm referring to is Crystal Cove State Park in Orange County, California. Nestled in between the more popular beaches of Laguna and Newport, it's easy to miss this rugged piece of land and sea. I'm a native of Southern California and even I am guilty of bypassing this beach. It was only recently that I visited this state park which consists of 3.2 miles of beach and 2400 acres of undeveloped woodlands. On my first real trip to Crystal Cove State Park, I realized just what a gem of coastal beauty it is. I was so excited to finally discover the many ways to enjoy both the beach and the backcountry of Crystal Cove.
Location

For a downloadable map of Crystal Cove State Park, click here.
If you click on the map of Crystal Cove above you can begin to plan your day by choosing from one of the several parking lots right off of Pacific Coast Highway. I choose to spend the day at Reef Point for no other reason than it's smack dab in the middle of the map. The fee to park is $15 dollars per day due to it being a state park. (I do miss the days when most beaches were free, but I realize the parking fees are used to keep the facilities and beach clean for everyone to enjoy.) If you visit in late spring, you'll be amazed by the beautiful yellow wildflowers that line the coastal cliffs. Just a short walk to the edge of the cliffs and you can get bird's-eye views of the gorgeous beach below. Gather your beach gear and walk down the path to the beach. From Reef Point, it is a bit of a steep walk so be aware in case you are bringing people with mobile disabilities. There are a series of wooden stairs you must descend to get to the beach and if your carrying a lot of gear, you'll need to be careful.
The Backcountry
Since we were primarily going to be spending the day at the beach, I did not have time to visit the backcountry part of the park. I did learn however that popular activities include hiking, mountain biking, and even horseback riding. You can even camp here, but the sites are very primitive and are 3 miles inland. You would have to park your car in the El Moro lot, then hike 3 miles inland to the campsite. Also there are no trash cans so you must pack in & pack out. The trails in the Crystal Cove backcountry can be pretty strenuous so plan accordingly.
The Beach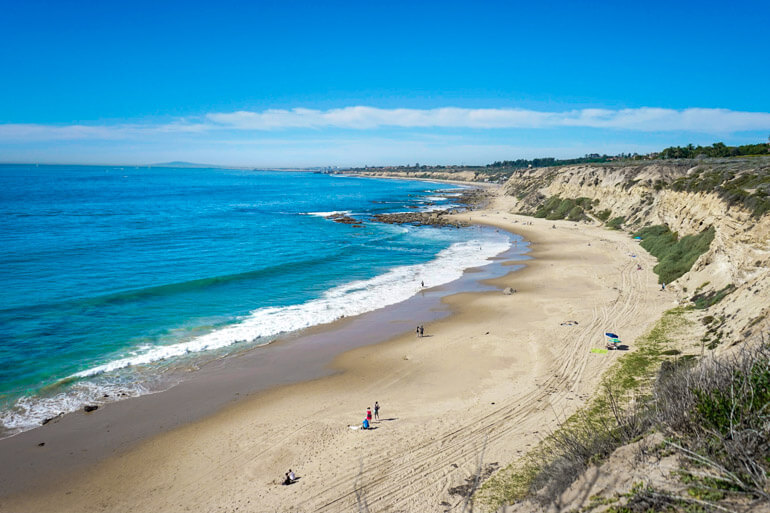 What a gorgeous day! It was warm, and this beach was relatively empty when we arrived in the morning. The views were just spectacular. I couldn't get over the colors of the water! Blue, turquoise and emerald green waves crashed onto the sandy shore. From the picture above you can see it was pretty easy to find a spot…something that is rare at my local beach during the spring and summer months. I highly recommend bringing a beach umbrella to help shield you from the unrelenting sun. After planting my umbrella in the sand and setting up our chairs, we sat back and relaxed on the beach while appreciating the beautiful Southern California scenery. When I stare at the ocean long enough, I'm usually compelled to dip my feet in the water. Wow! A bit cold as the Pacific Ocean usually is, but it was also pleasantly refreshing.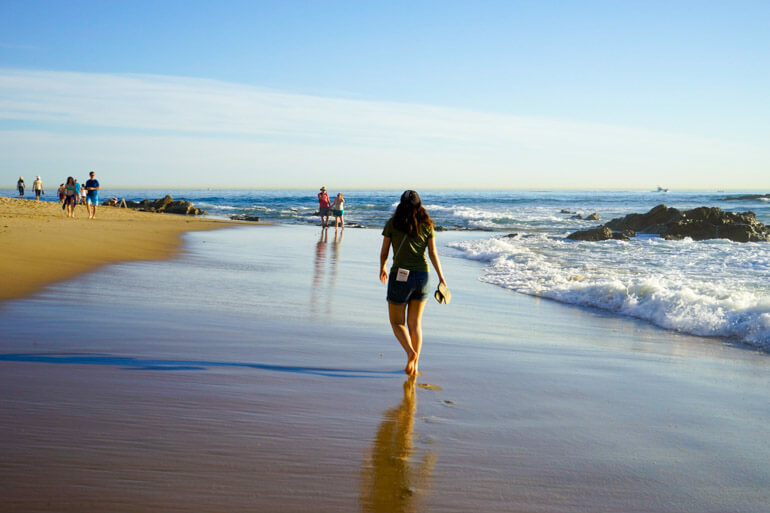 Relaxing on a warm beach is great! You can soak in the scenery, chat with a friend, or sleep the afternoon away. After awhile I noticed how many couples were walking up and down the beach. It looked fun and I was curious to see some of the other points of interest so we walked from Reef Point past Rocky Bight towards the Historic District.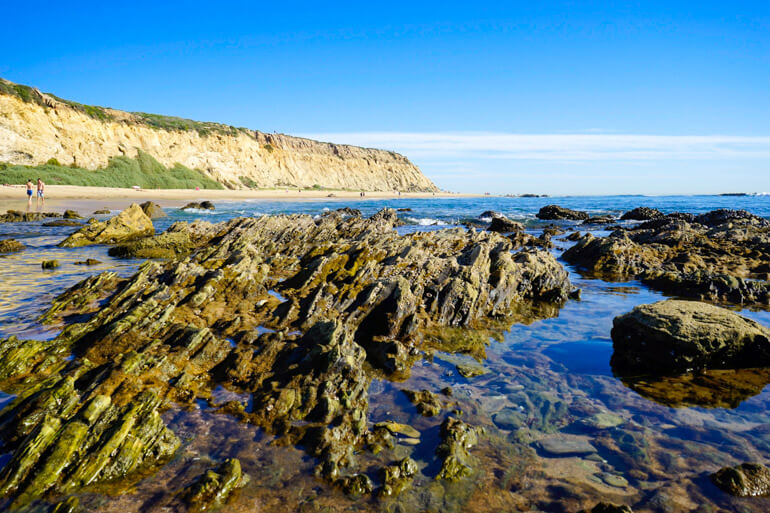 One of the main attractions at Crystal Cove are the unique rock formations and tidepools. The best locations to explore these tidepools are at Reef Point, Rocky Bight, Pelican Point, and the north end of Treasure Cove. In fact if you explore the tidepools during low tide, challenge yourself with a scavenger hunt by trying to see how many of these you can find: sea anemones, mussels, barnacles, chitons, limpets, hermit crabs, shore crabs, tidepool sculpin, opaleye perch, and ochre seastars. The one rule is there is no collecting of any kind allowed from the tidepools. So look, enjoy and leave the little sea creatures alone.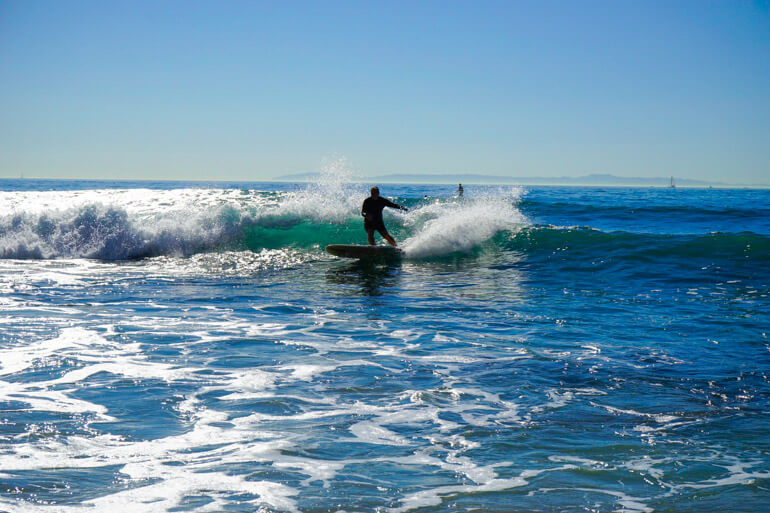 The oceans at Crystal Cove provide a waterman's playground of sporting activities to enjoy. Right in front of us surfers were carving up the shiny emerald waves making it look all too easy. The beach is also very popular with swimmers, snorkelers and scuba divers. The underwater park is such a healthy habitat and can include everything from sharks, eels, and lobster to kelp forests, sandy seafloor, and rocky reefs. I'm a bit of a wimp these days when it comes to cold water without a wetsuit, so the furthest I ventured in was my up to my ankles. Maybe next time it will be warmer.
The Historic District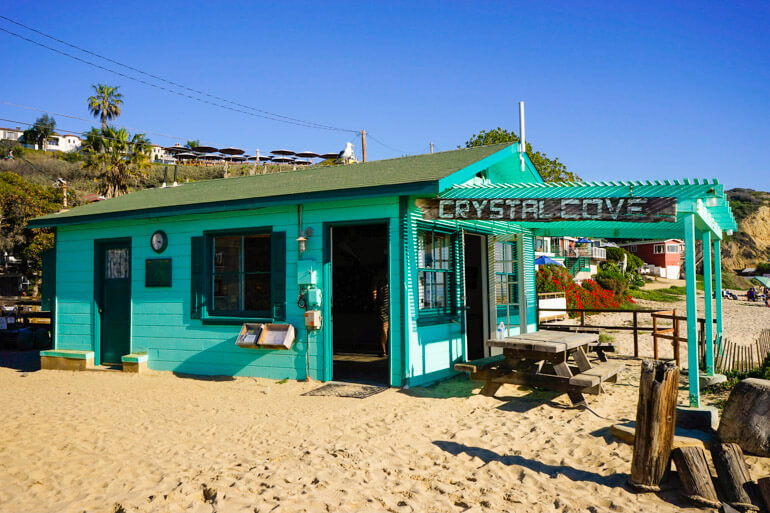 Moving past the tidepools and surfers, we approached the more populated beach area known as the Historic District. The first cottage we came across was the turquoise one shown above. Originally it was used as a store, but now acts as an exhibit room. The other cottages, spread out over 12-acres, were built to be a seaside colony in the 1920's and 30's.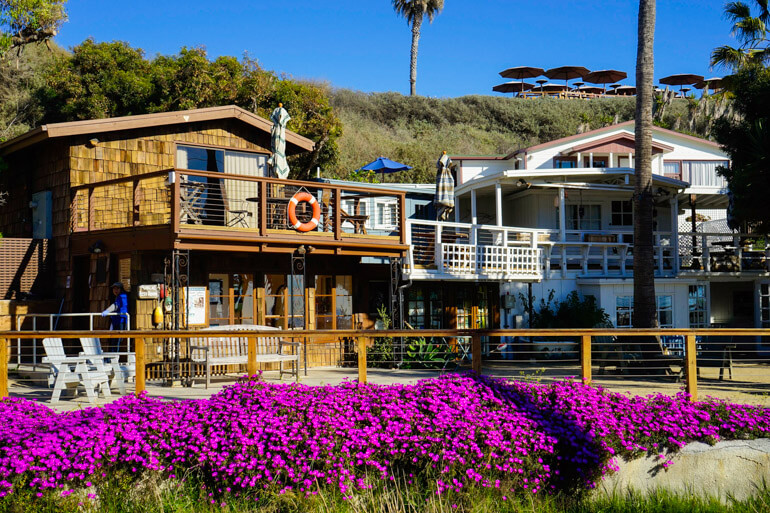 It's amazing that all the original cottages are still standing today. Actually twenty-one of them have been authentically restored to reflect the era between 1935 and 1955. Some reside directly on the beach or overlook the seaside from a bluff top. The cool thing is they are open for reservations year-round. Staying in your own cottage is an awesome way to enjoy vintage beach culture and relive a little part of history.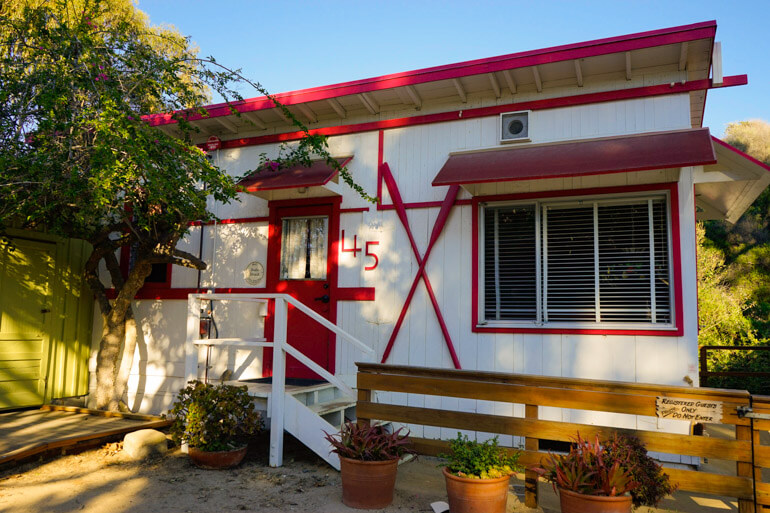 Visitors are more than welcome to roam around the cottages and explore the history. Some of them are open to tour with historical images and stories posted on the walls. Here's a random fact for you: The house from the Bette Midler movie Beaches is one of the Crystal Cove beach cottages. To learn more about the history of each of the cottages, follow the Crystal Cove Historic District Walking Tour.
After we finished exploring the cottages, we decided to quench our thirst with a tasty drink at the Beachcomber Restaurant next door. On the side of the main restaurant is an outdoor beach bar where you can enjoy a cocktail or munch on some food. Not a bad idea provided you're not planning on going swimming afterwards.
Just another day at the beach…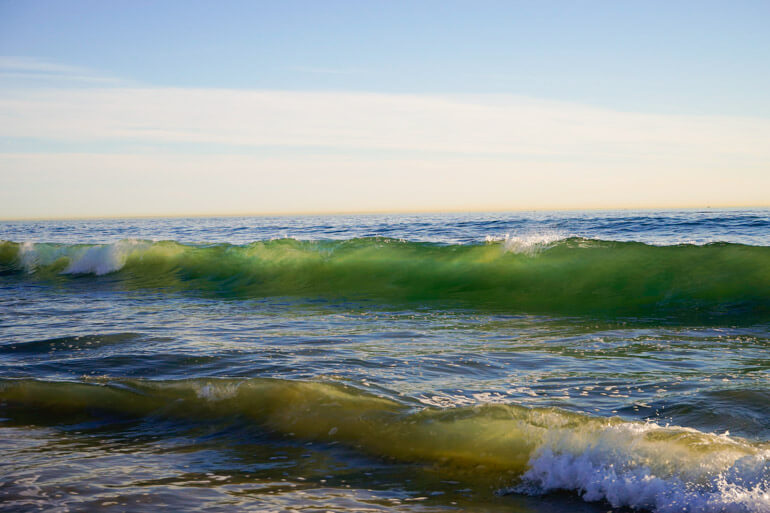 Sounds like the perfect day right? Well when I took the picture above, I was wearing my sunglasses on my head. I got deeper in the water getting more excited from the photographs I was taking. For a second I stupidly leaned over and plop! My sunglasses fell into the ocean. When I reached down for them, I realized I couldn't reach too far because my camera was in my other hand. I dumped my camera on the beach and frantically ran back to look for them, but the sea had taken them away. Someday, someone will be exploring the tidepools and instead of picking up a seashell will pull out my brown Prada sunglasses. C'est la vie.
Overall, it was wonderful spending time at this beach. I get frustrated trying to find parking at the more popular beaches of Newport and Balboa. And I don't like the crowds of people who frequent Huntington or Manhattan Beach. Crystal Cove certainly offers a more rustic peaceful beach going experience. You should definitely try it out some time and I'm sure you will agree…it's a beautiful place to be!
For more information on Crystal Cove State Park, visit the official website at: crystalcovestatepark.org