Hiking in the Grand Canyon is not easy, but if you're dead set on checking this off your bucket list, you might want to start by hiking the Bright Angel Trail. After all, it is considered one of the safest and best trails in all of Grand Canyon National Park! My plan was exactly that…to hike from the South Rim down to Indian Gardens and back. However, in this land of extremes I would wind up getting more than I bargained for. Here is my experience and some important tips on how you too can successfully complete this trail and make it back alive!
Trail Name: Bright Angel Trail To Plateau Point
Length: 12.6 miles (round trip)
Trailhead Elevation: 6,860 ft
Gain/Loss: 3,120 ft
Difficulty: Strenuous
Time: 6-8 hours
Location: Grand Canyon National Park
The Grand Canyon is one of the most beautiful national parks in America. Over 5 million visitors a year come here to gaze at this immense canyon which is considered one of the eight natural wonders of the world. By far, the most popular destination in Grand Canyon National Park is a visit to the South Rim. This was my destination, a place where I could, for the first time in my life, stare into the endless expanse of the majestic canyon. It was also from here that we had planned to hike the 6.4 mile roundtrip via the Bright Angel Trail.
Trailhead Access
The coolest thing about the Bright Angel Trail is that the trailhead begins just west of the Kolb Studio in Grand Canyon Village. It is also within easy walking distance of Maswik Lodge, Bright Angel Lodge and Parking Lots E and D.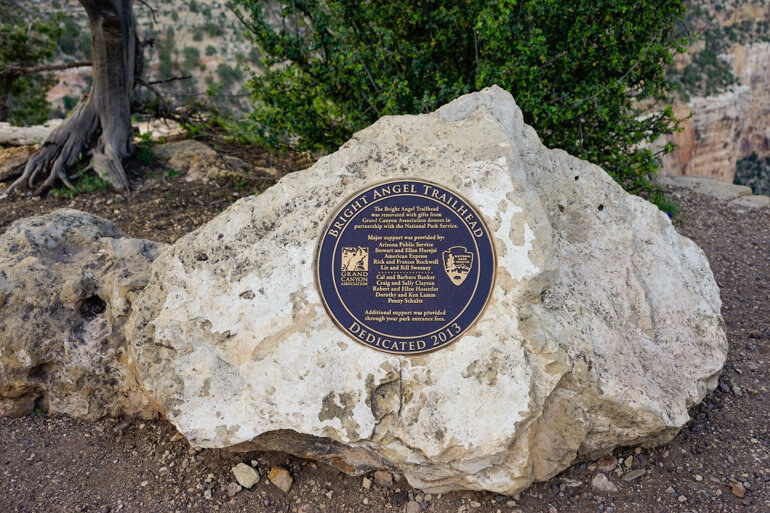 If your planning on doing any more than a few miles of hiking, it is critical that you begin your hike before dawn.
Otherwise you may be hiking in scolding hot temperatures…never a good thing in a place like the Grand Canyon. We began descending from the trailhead at a very late 8am. Already there were lots of people further ahead along the trail. It wasn't especially crowded and I knew the further we went, the less people we would see.
Trail Points Of Interest
Of course the whole trail is interesting, but there are a few places you should be aware of. From the top of the rim at 6860 feet, you will descend for 1.6 miles to Mile-and-a-Half Resthouse (5729 feet). There you'll find a stone shelter built as a rest area for tired hikers to seek refuge from the exposure and elements of the trail. From there you could continue for another 1.5 miles to Three-Mile Resthouse (4748 feet). Many day hikers find this is a good place to turn around and head back up the canyon.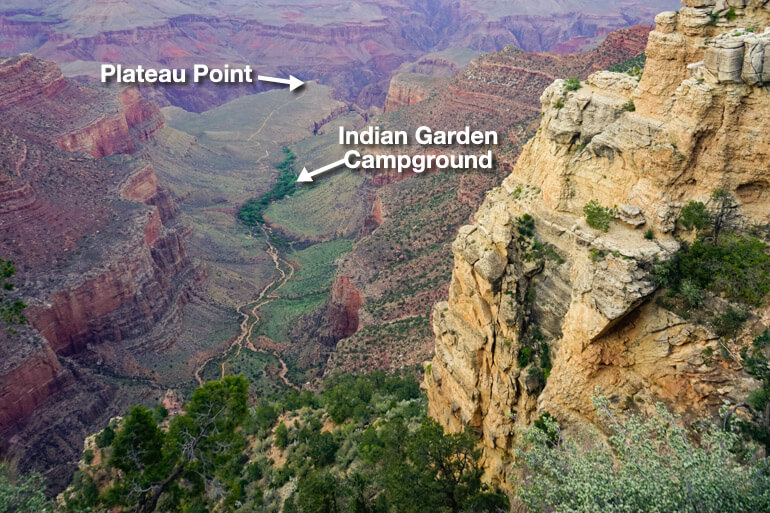 If you are committed to attempting a more difficult hike and have allowed enough time for it, you can continue for 1.7 miles to Indian Garden (3800 feet). Here you'll find lots of shade provided by an oasis of trees. This is were we had planned to break for lunch then turn around and head back to the top of the rim. At the time, I didn't know that from Indian Garden you could continue for 1.5 miles to view the Colorado River at Plateau Point. Some people will go the full 5 miles to visit Phantom Ranch at the bottom of the canyon.
Descending Into The Canyon
The Bright Angel Trail begins with a descent into the side of a canyon via a series of switchbacks like the ones above. Can you find me on the trail in this image? You'll quickly loose most of this hikes elevation within the first four miles. As you descend, the views become increasingly beautiful and you'll be tempted to slow down to take pictures or to just soak in the gorgeous scenery. On our way down, we passed up the first resthouse and only briefly stopped at the second one. I did notice signs posted reminding hikers to fill up at the water fountains before continuing to descend. Going downhill is the easy part (unless you have knee problems I suppose). I was aware it would be much tougher to ascend this trail on the way back.
Resting At Indian Garden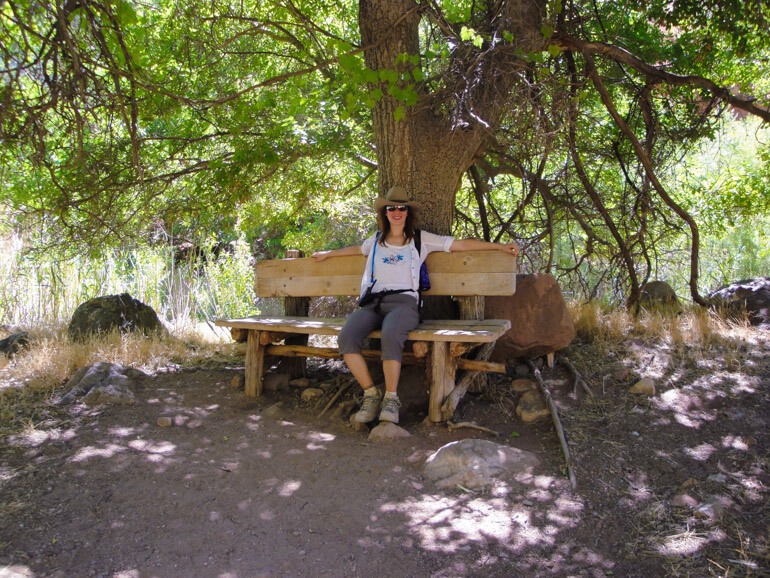 It really is no easy feat to hike to Indian Garden. Especially if your hiking during the hot days of spring or summer like we did. It was a hot day on July 2nd and we welcomed the shade of the cottonwood trees with relief. There were lots of other hikers silently cooling themselves in the shade and opening their packs to search for their snacks and lunches. As I ate my lunch I noticed a few squirrels sneaking closer to me…closer to my lunch that is. They were quite aggressive so I took a long tree branch and…NO…I wouldn't hit an innocent animal! I just hit the ground a bit to scare the little guys away. But they kept coming back, hoping that I would eventually give up and toss some food out.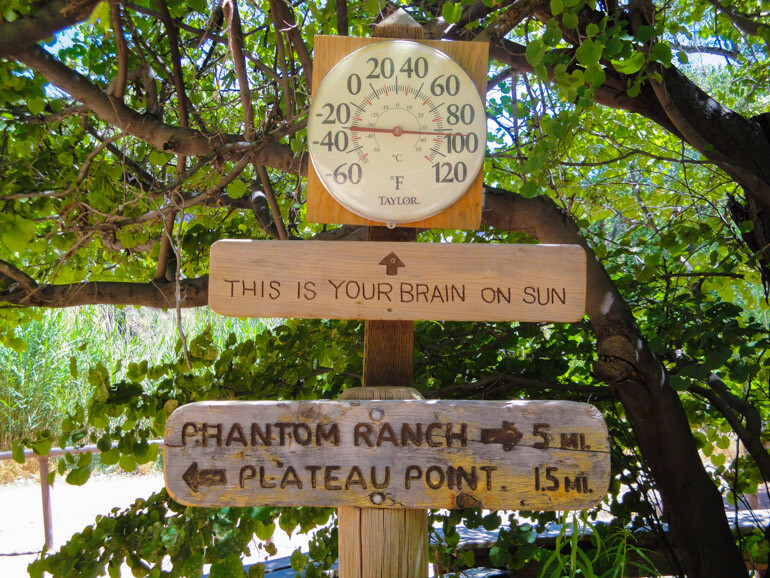 Rest spots are great places to have conversations with fellow hikers. We met a few people who had planned to continue further on to Plateau Point and asked if we were going there as well. I was already tired from the 4.8 miles we had already hiked and knew we would have a much tougher 4.8 miles to return to the rim. The trail sign said it would be an extra 1.5 miles to Plateau Point or 3 miles roundtrip. Let's not forget that it was hot that day…really, really hot! Just look at that temperature scale in the picture above. It was pushing 95 degrees Fahrenheit in the shade! So can you guess what I responded? You bet…I said sure…let's go! Now looking back, it was a stupid decision considering the heat that day. I'm pretty lucky nothing serious happened to us, but it was not easy and very easily could have turned into a dangerous situation.
Blister In The Sun
Once you leave Indian Garden, you leave behind the comfort and protection of the tall shady trees. The trail flattens out considerably and you'll follow about 0.75 miles of the Tonto Trail before the trail splits north towards Plateau Point. If it had not been for the occasional water fountains like the one above, we probably would have died of heat exhaustion. Every chance we got we drenched our clothes and faces in the water to cool us down. We drank profusely to prevent from overheating. After filling our water bladders, we hiked the last 0.75 miles till we reached Plateau Point.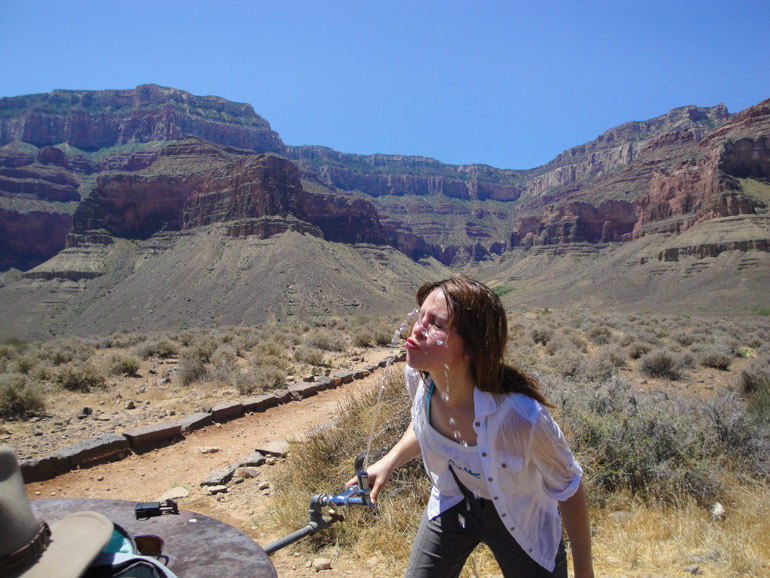 Behold The Mighty Colorado River
And there she was…the mighty Colorado River flowing swiftly below. Hikes always seem better when there is a visual trophy at the end of them. To be able to see the Colorado raging between the canyon walls was our trophy. It really made the extra effort to reach this spectacular overlook completely worth it.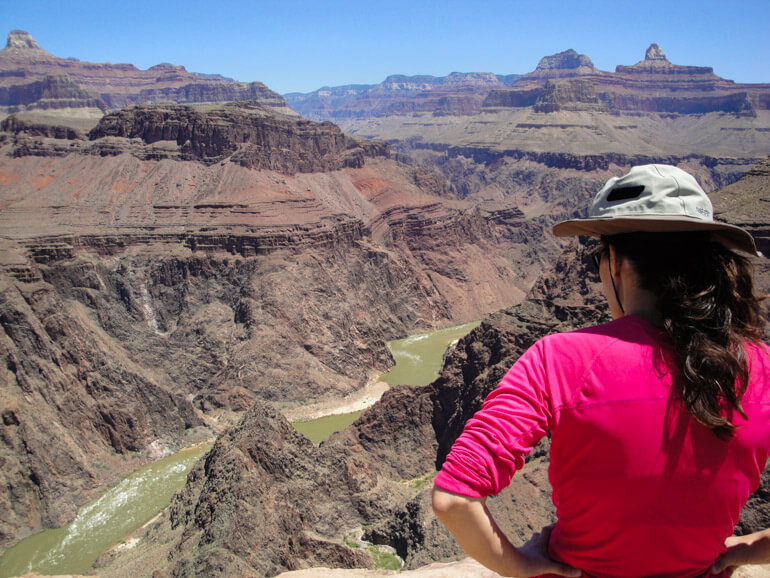 Although the views were breathtaking, the reality that we were still very much exposed to the full hot sun began to weigh in on us. I thought it would be wise to find some shade but there really wasn't much. Plateau Point is made up of these really large flat slabs of rock. The image above shows a small sanctuary that offered just a little bit of shade so we used it.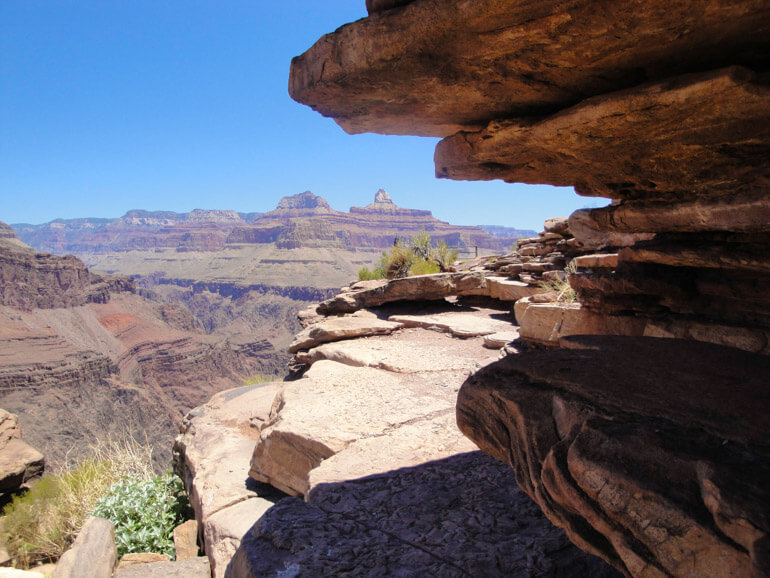 And Now For The Tough Part Of The Hike
So now everything we experienced on the way down we would have to do again but in reverse. After leaving Plateau Point, we hiked through the open and still very sun exposed trail till we made it back to Indian Garden. From there we continued on until we hit the switchbacks. I realized this is where the tough part of this hike really truly begins. Hiking up the inclines was grueling work. When we reached Three-Mile Resthouse, my legs were throbbing with soreness. I was completely beat and the water I drank didn't seem to refresh me anymore. The next 1.5 miles to Mile-and-a-Half Resthouse seemed to take forever. I was a little overjoyed that reaching this destination meant I only had about 1.6 miles left to go. I sat inside the rest house for so long and watched other fatigued hikers try to regain enough strength to complete their own journeys.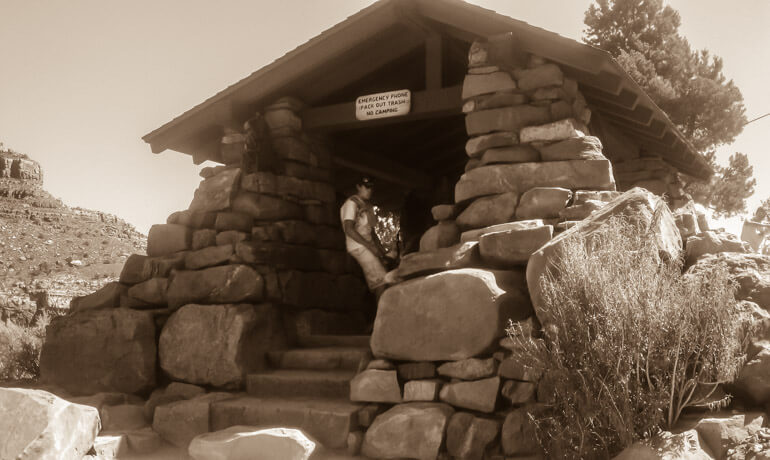 While inside that rest house, I couldn't help but to wonder if any people had met their doom while on this trail. A day or two later, I would find the answer to that very question in a book titled "Over The Edge: Death In The Grand Canyon". This book had gripping accounts of all known fatalities some of which had happened right here on the Bright Angel Trail. Without getting into all the doom and gloom, let's just say that if you take precautions you can save yourself from becoming a new entry in that book. For example, on the last leg of the trail back to the rim I saw a family of four descending. It was a man, his wife and their two portly looking kids. The man's family looked completely exhausted, and the kids looked like they were ready to faint. The father kept pushing them to go further probably to satisfy his own selfish desire to see a bit more of the trail. Do you think they had enough water? Nope. One tiny water bottle is all they had for the entire family. Completely stupid! Something like this could totally lead to a tragic accident on this trail. I shared my water bottle with the two little boys and through their tears they seemed grateful. I advised the family to turn around and head back up to the rim. Not sure if they took the advice but maybe the father came to his senses. I suppose my decision to continue for the extra three unplanned miles could have ended up bad as well. I guess the take away lesson is to learn everything you can about the adventure your about to take on. That knowledge may protect you from harm and can help you to succeed in completing your adventure safely.