Sure, everyone loves Las Vegas. But sometimes the noisy slot machines, stuff your face buffets, and dizzying nightclubs can wear you down. You might go for a jog or a quick dip in the pool to help break up the monotony of gambling, but what if you're looking for something a little more outdoorsy? I found a place where you can get all the nature time you want and it's less than an hours drive from the Vegas Strip. I'm talking about a place called the Valley of Fire, Nevada's oldest and largest state park.
I remember being intrigued by a postcard in a coworker's office that had an image of beautiful deep red rock hills. When I asked her where she got the postcard, she told me that if I was planning on going to Vegas, I should visit Valley of Fire State Park. She also told me there were some great hiking trails in the park and I wouldn't be disappointed. This is the story I told three friends of mine as we headed east on Interstate 15 just past Vegas. My friends were skeptical about leaving the Strip and were probably thinking what could possibly be out here that was worth the drive.
When we arrived, our collective skepticism vanished completely. The park was alive with gorgeous red colored sandstone hills. The scenery was just spectacular. It was a perfect blue-sky day that seemed to compliment the color in the rocks making them look even brighter. We eagerly hopped out of the car and started down a trail that led us to a small slot canyon.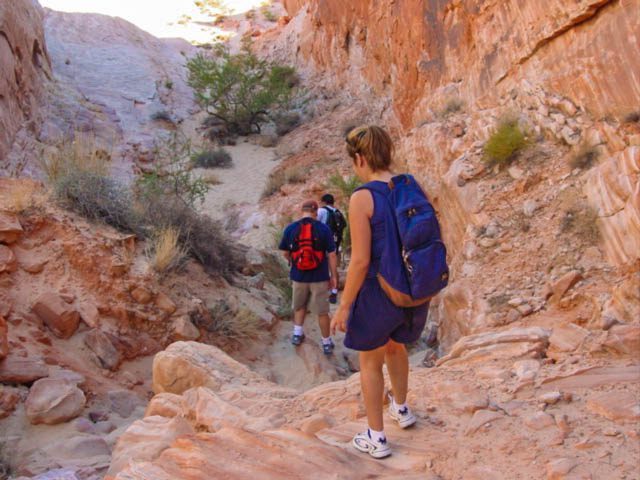 The slot canyon didn't take too long to walk through although we did take our time to explore every nook and cranny. The temperature was pleasantly cool since the high canyon walls protected us from the rays of the sun.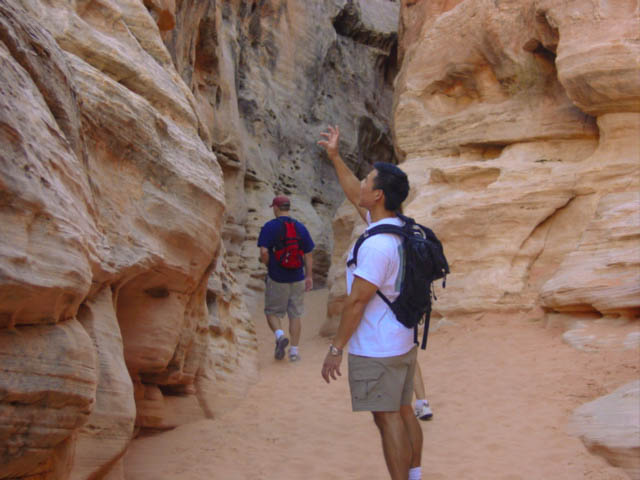 Look at those holes. These sandstone walls are very porous. If they were deep enough, it looks like they could provide an awesome hiding place for small animals.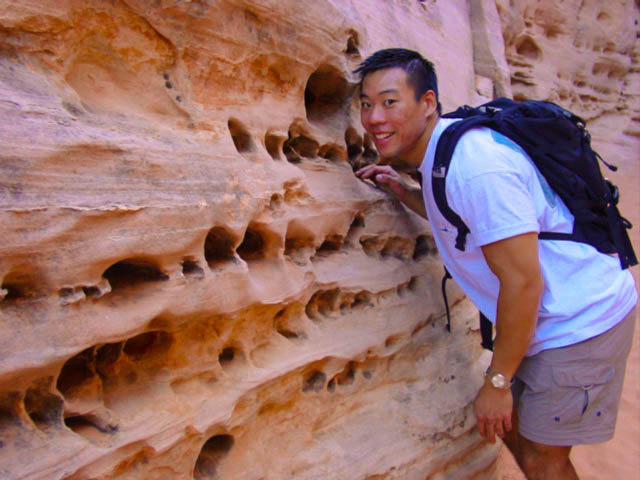 It was really fun to discover interesting desert plants like this one below. I'm not sure what type of cactus, but the spines on that little bush were very long and sharp. I wouldn't want to fall on that!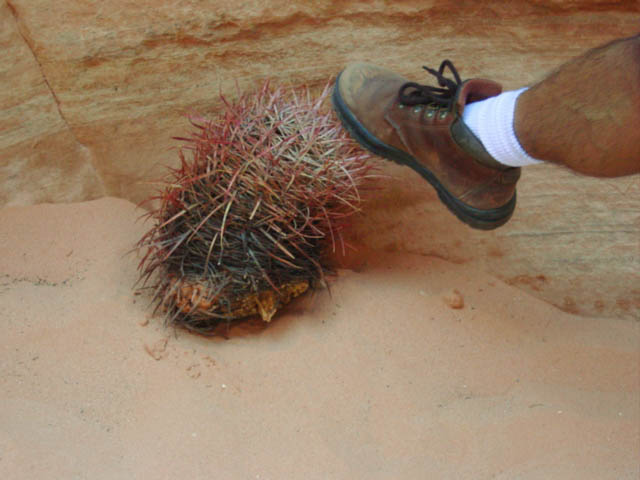 We hiked out of the slot canyon and the trail led to more vividly colored formations. Some of the rocks were of a deep yellow color like in the picture below. Some rocks had both yellow, red and even shades of pink mixed in.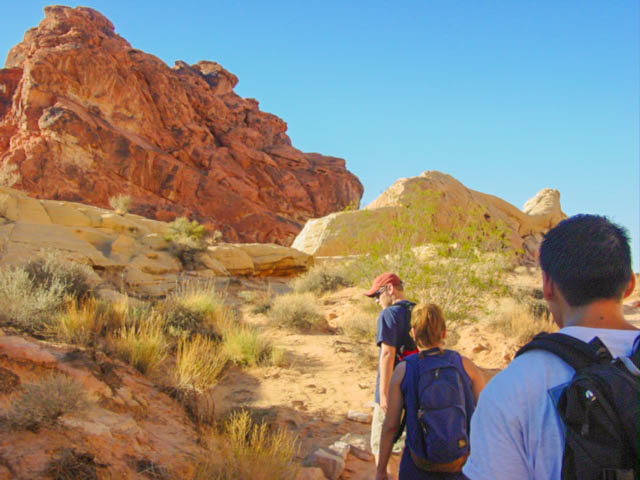 We approached an open area of the park that had some sandstone hills that looked pretty easy to climb on. It reminded me of Tom Sawyer's Island at Disneyland during the 80's. They had big rock formations on the island that kids could climb on and explore. We weren't exactly kids anymore, but we felt like kids discovering this desert playground.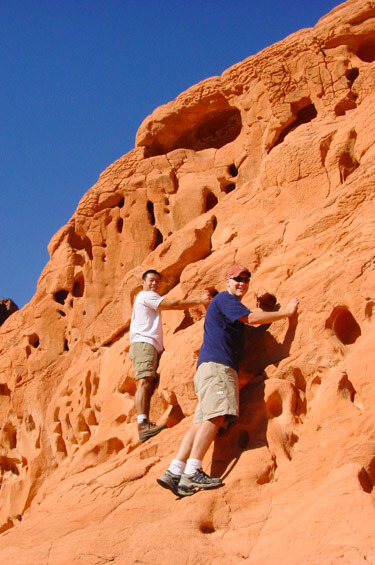 The sandstone itself seemed pretty stable and didn't crumble when we walked on it. The porous holes made it easy to get a foothold or use as a handle to help us climb. We really just monkeyed around till we got tired.
My friend Steven was a little bit more adventurous than the rest of us. When we looked around, we found him escalating to a high point in one of the rock formations. Mind you, I don't condone this type of dangerous climbing. He had no ropes and more importantly we had no first aid kits. Then again Steven is a bit of a mountain goat and has better balance, strength and climbing skills than anyone I know.
Up and up he went, but to be fair there were lots of ways to climb these rocks. It just looks really scary.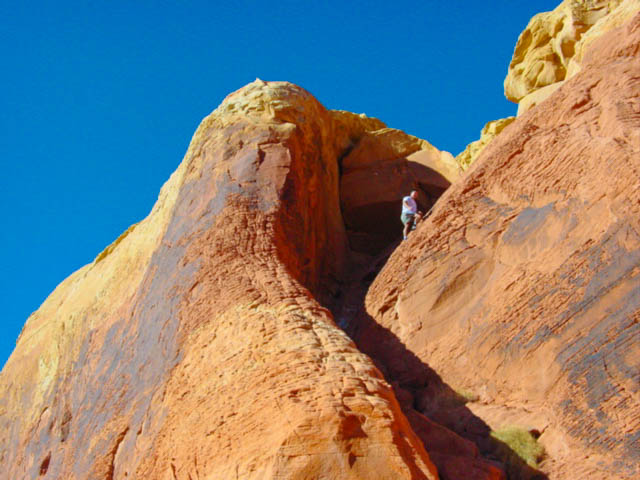 I guess I spoke too soon. Below is a picture of Steven doing a little more of a technical free climb. We sat at the bottom watching him and cheering him on. We were also trying to remind him that going down is always harder than going up.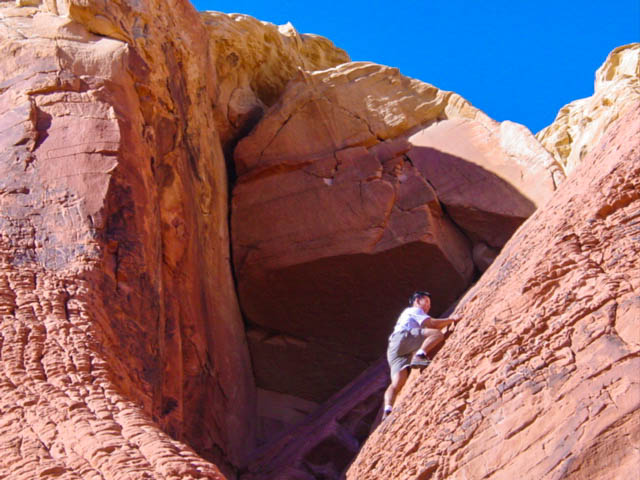 The Valley of Fire State Park opened in 1935 making it Nevada's oldest state park. We only explored a small portion of the park, but it actually covers a 36,000 square foot area. The formations are the result of sandstone that was fossilized and formed more than 150 million years ago. Long ago, Native American tribes inhabited this area, but today the only permanent residents in the area include rattlesnakes, kangaroo rats, kit foxes, coyotes, bighorn sheep, white tailed antelope, and ground squirrels.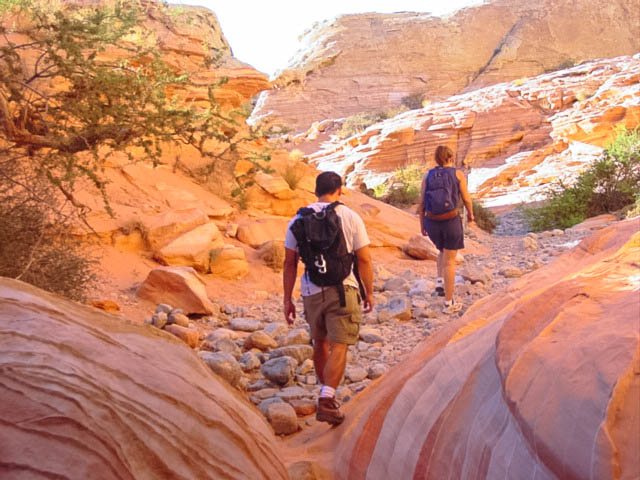 We left the park feeling pretty content in getting our nature fix. It was a place that I didn't even know existed so close to Vegas but was so remarkably beautiful to discover. We didn't have time to see the petroglyphs that I hear are scattered throughout the park, or swim at Roger Springs, but that just gives me more incentive to return to the park someday and continue exploring.
Valley of Fire State park offers opportunities for picnicking, hiking, and camping.
The visitor center is open daily from 8:30 am to 4:30.
A small entrance fee is charged per vehicle upon entering the park.
For more information visit: Nevada State Parks website