Fellow travelers if there is one piece of travel advice I can give you it's this. DON'T WAIT TILL THE LAST MINUTE TO APPLY FOR YOUR PASSPORT! Trust me! By applying early you will save yourself time, money and above all the possibility of suffering a heart attack due to the stress that comes with waiting till the last minute. You'd be surprised at how many people apply too late and find themselves in a terribly stressful situation, myself included. It usually happens like this… you find a fantastic last minute travel deal, decide to book it right away, and suddenly reality hits. Oh sh*t! My passport expired! What should I do? Based on my recent agonizing experience of trying to renew my mom's passport for a last minute trip to Canada, I have some advice to help you out if you find yourself trying to renew or apply for a passport at the last minute.
Try To Apply For Your Passport Early
The most obvious way to avoid the hell of dealing with the US Passport Agency is to simply apply early for your passport. If your planning a summer trip abroad, apply in January. If your planning on a relaxing vacation at the end of the year, apply in June. Give yourself plenty of time to take care of getting your passport. At the time of this post it takes around 6 weeks to get your passport processed. You can check processing times online to see what the wait will be. Don't take a chance, just apply or renew ridiculously early. Make sure you fill out your forms correctly so you don't loose any extra time.
But I Don't Have Six Weeks To Wait!
What if you made travel plans that are under six weeks away? Don't worry you still have some options. First of all, you can get your passport expedited. Of course you will have to pay a fee for this (I think it's an additional 60 bucks), but at least it can be done. You can apply for the expedited passport online and get the passport in the mail. Be sure to avoid those expedite website companies that promise to have your passport in 24 hours for hundreds of dollars. They actually go through the same process you would have to go through if you appeared in person at an agency so save yourself the cash. You'll still get the passport in the same amount of time.
My Trip Is A Few Weeks Away So I Need The Passport Now!
This is the situation I found myself in. I had booked a trip to Eastern Canada and decided to take my mom with me. After I had booked the plane tickets and hotels I realized that it had been a long time since she had been out of the country. I asked her to check her passport and sure enough it had expired. I thought I was screwed. The trip was exactly two weeks away. I had gone online and looked at the US Passport & International Travel website and saw all the stuff about applying online but this was different. I didn't want to run the risk of not getting her passport back in time for the trip. At first I Googled ways to get the passport immediately and saw the companies promising to get you an expedited passport but the prices were outrageous. Something like 300 dollars processing fees. That's almost the price of the roundtrip tickets I bought. Fortunately I found a much cheaper way to deal with this issue.
The first thing you MUST do is to find a US Passport Agency near you and call to make an appointment. I called and the earliest appointment date they had was June 6th just two days before my trip! I was sweating bullets so I decided to go visit the agency a few days earlier to see if I could get the passport earlier. I picked up my mom, had her fill out all the documents the night before, and processed her passport photo. We showed up to the Los Angeles Passport Agency at 7am. There already was an enormously long line of people waiting to plead their cases at the Will Call window. It took about an hour for us to reach the window and when we pleaded our case we were turned away. I was told that unless we had an emergency travel situation (48 hours or less) then we would have to just stick with keeping the appointment date. I told the girl at the window that there was no way I was going to be able to bring my mom back to Los Angeles because she lived too far away. The agent told me that as long as I had a signed letter of consent from my mom that I'd be able to apply and pick up the passport without her. Whew! That solved one problem. So we didn't get it that day.
What To Expect At Your Appointment
I returned to the agency on my appointment day with my letter of consent (a couple sentences written on regular paper signed and dated by my mom), my mom's passport photo, the filled out renewal form, a printed copy of her airline itinerary to show proof of travel, and a front and back copy of her drivers license. I also had her expired passport and birth certificate (I didn't need the birth certificate but at this point I wasn't taking any chances). When I arrived I though that because I had an appointment it would go much faster. WRONG! I was instructed to go into the cafeteria and wait till they called my appointment time. There must have been 50 or so people in the cafeteria. I had an appointment at 11am and they had just called the 10am group. Another hour went by.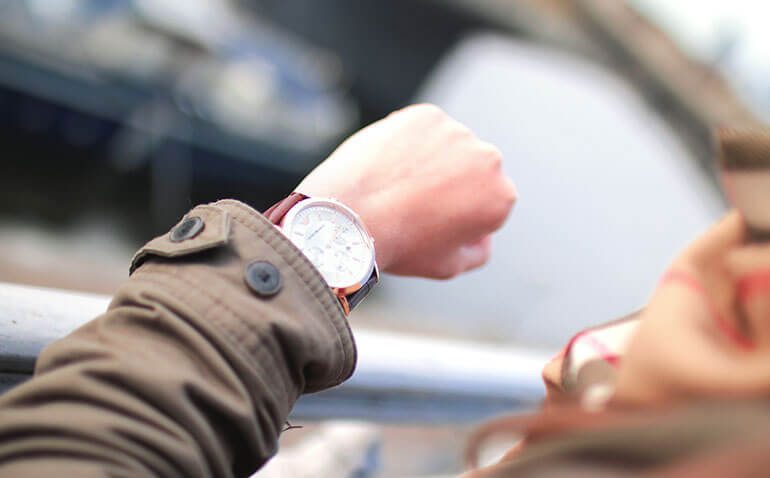 Finally they called the 11am group so I rushed into the line. This line was a line to wait for the line that got you into the building. I waited for another 30 minutes before I had the pleasure of joining the line where we had to take off our belts and go through the security screenings to get into the building. Once inside the building I thought…whew! Finally. I walked down the hall into the Passport room and immediately was depressed. There was an even longer line to stand in just to get a ticket. This line took the longest, probably another hour or so. I must have a lot of patience because I saw other people in line just totally freaking out. Once I made it to the ticket window, I gave the agent the stack of my mom's paperwork. She reviewed it, stapled it together and gave it back to me with a ticket.
The final leg of my intense day of waiting in lines seemed like it was coming to an end. Very much like the DMV system, the Los Angeles Passport Agency will issue you a ticket and you sit and wait till your ticket number is called to see an agent. It wasn't long before I saw the agent so I passed her all my documents. She reviewed them and then told me the total cost for the passport which I paid for by credit card. Are you ready for the best part? She told me "um, unfortunately we have too many passports to process so your going to have to come back tomorrow to pick yours up". WHAT???? OMG. After all that waiting, after two days of back-to-back hell, I still couldn't get my mom's passport? Sad face. Well, I walked away from the office feeling semi-defeated and still very nervous.
I returned the next day to the same long line at the Will Call window I had stood in on the first day. Another hour passed and I was finally at the agents window. I gave her my confirmation number and she returned to me the new passport and the original documentation I had given her the day before. I kind of couldn't believe it was finally over. I checked the passport and docs just to make sure nothing was missing. Yep, it was accurate. Everything was there. I was ecstatic and half skipped back to the parking lot still in disbelief that the experience had finally come to and end.
What If You Have To Fly Within 48 Hours?
Ok so while I was in line waiting all that time I did come across some people that had emergency travel situations worse than mine. The guy behind me in line had to get on a plane at 4pm that very day and his friends had already flown to the country he was destined to go to. Apparently the US Passport Travel office has a method of dealing with these kind of emergency situations. I don't want to ever experience what these people must go through but I'm certain it's way more stressful than what I just described. I think in those cases you must show proof of your immediate travel and they will process your passport on the spot. Of course they close their offices at 3pm so that doesn't leave you a whole lot of time to make your flight. I imagine they do the best they can and some cases will just have to miss their flights and try catching a later one.
I've heard some people had no problems getting their passports right away. I'm not sure if it's just because there are so many more people in Los Angeles or what, but I really recommend not taking any chances with a passport. It's a hell of a nerve-wracking process to deal with so plan early and get your renewals or passports as soon as you possibly can!