Sometimes adventures can occur that are totally unplanned and of a complete surprise to us. These are usually spur-of-the-moment events that you can neither plan for nor predict when they will occur. An experience like this will usually catch us off guard, but if executed safely can fill our wonderful thirst for adventure, spark our imaginations and ignite our desires to continue exploring. This happened when two friends of mine and I were on the last day of a 3-day visit to Zion National Park in Utah.
We had already hiked some incredible trails and had explored many of the natural landmarks in the area. On this particular day our only real plan was to check out the gift shop, eat lunch, take a few last minute pictures, then head out on the road headed home. The minute we heard that some tourists had plans to hike the Zion Narrows, a spur-of-the-moment idea began to develop.
Eagerly we inquired about the Zion Narrows and began asking a Park Ranger a million questions on the subject. How long is it? Where does the Zion Narrows trail begin and end? Are there any animals? What are the dangers? Have there been any flash flood warnings lately? I think the ranger could see the gleam in our eyes and told us that it was perfectly fine to hike from our location, but that we would never be able to do the entire 16 mile hike since it was already late in the afternoon. He told us that if we wanted to return, we could either complete the hike in one long day or an overnight backpack trip (permit required) but beginning at the other end of the trail. The Zion Narrows immediately became a bucket list adventure for a future trip. However, we had just been given the green light to hike as far as we had time to. So we began.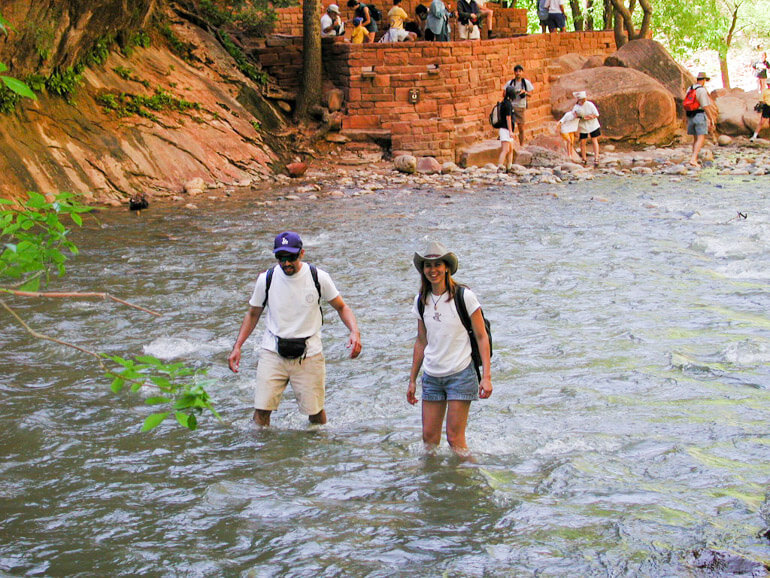 Zion Canyon Drive ends at a location in the park called Temple of Sinawava. It is one of the designated shuttle stops in the park and also the location of a popular and easy walking trail called Riverside Walk (originally called Gateway to the Narrows). The Virgin River flows right alongside this trail and is usually quite shallow in this area. We could see several tourists cooling off in the river by just getting their toes wet. It was a warm spring afternoon so I didn't think twice to follow in removing my shoes and socks and dipping my feet in the water. My two friends did the same and in no time, we were ankle deep in the river. Of course, we had already decided to go further so we began crossing the river to the embankment on the other side. It wasn't very wide across but when we reached the middle, the water level was already up to our knees.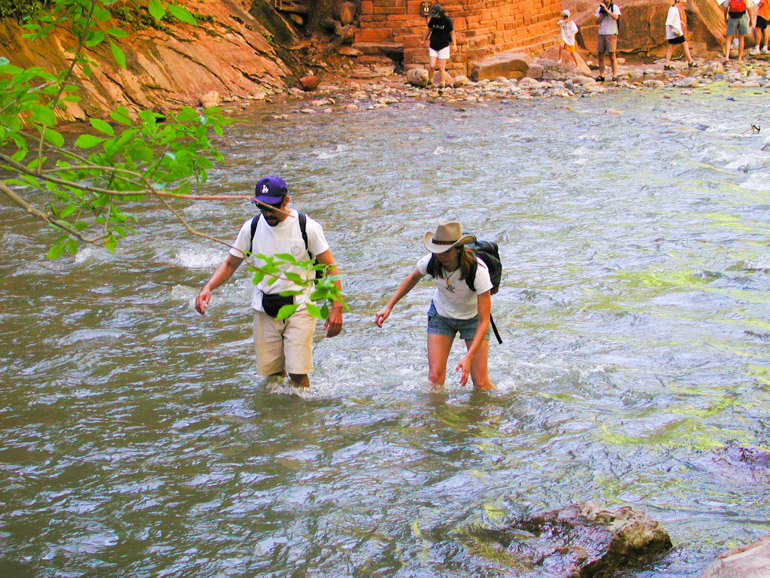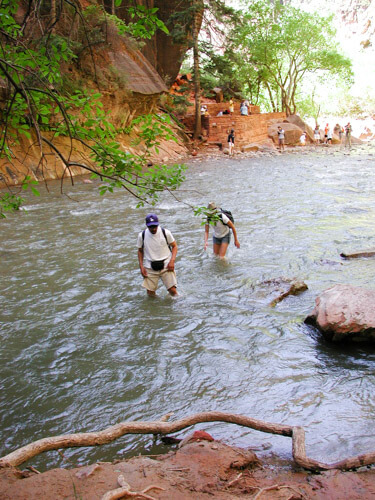 So there we were, crossing the river barefoot and trying to be as graceful as possible while doing it. This was not easy though because the rocks under our feet were very smooth and slippery. Basically the entire riverbed was lined with these rocks. A small group of tourists had gathered at the edge of the walkway where we first waded into the river and had begun taking pictures of us crossing. That made us feel pretty adventurous but we knew there was no turning back at that point. We made it to the other side and took refuge on the reddish muddy embankment. After we realized how difficult it was to walk on slippery rocks, we decided it would be safer to put our socks and boots back on and continue the river hike.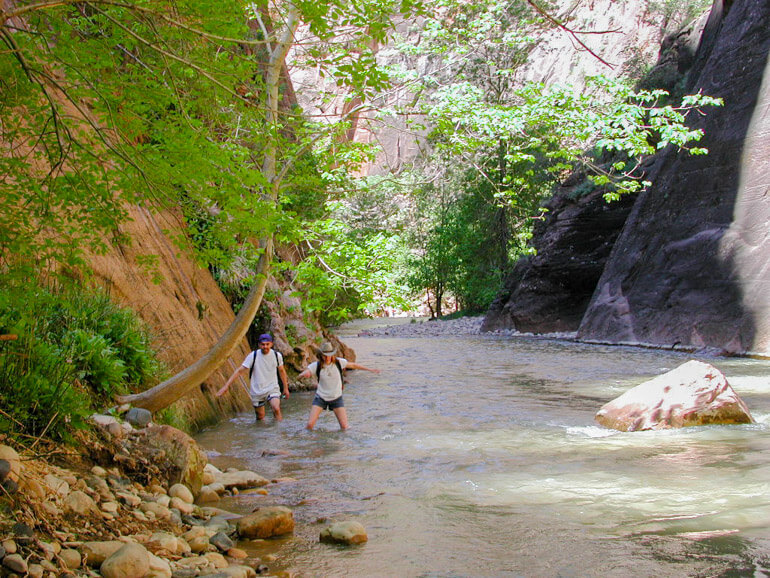 We continued into the Narrows around one bend and then another and yet another. There were so many bends to this river trail that I began to eagerly anticipate the changing scenery every time. In some areas there was a nice rocky edge to the river with some trees that we could dry off on or take a quick break at. Other times there was no escape from walking in the river itself. The canyon walls shot straight up on either side for around 1300 feet. The river was flowing pretty fast, but the water level was still low enough not to be dangerous. In the photograph above, you can see the areas were there are embankments and where there aren't any. And although we had our boots on, it was still tricky to walk over the slippery rocks. One could easily slip and break an ankle, so we slowed our pace down just to be extra careful.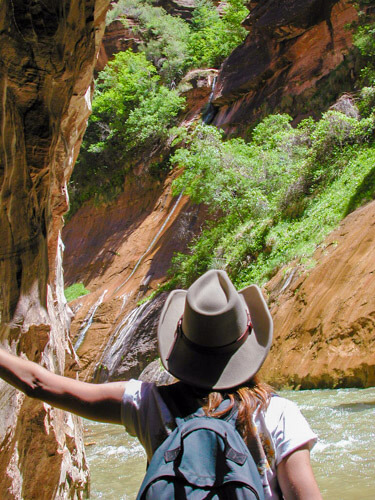 At the beginning of the hike the canyon width was pretty wide, but the further we traveled, the narrower the canyon became. For us it was quite addicting to explore each and every bend of the river trail that snaked through the canyon. We were discovering new and unusual sights literally around every bend. Around one bend we heard the loud croaking of a frog. We searched a bit and found a large frog making all the noise. I later learned it was a Great Basin spadefoot toad. Around another bend we discovered a beautiful waterfall pouring down the canyon wall. It was breathtaking to see all the green shrubs and trees growing on the canyon walls.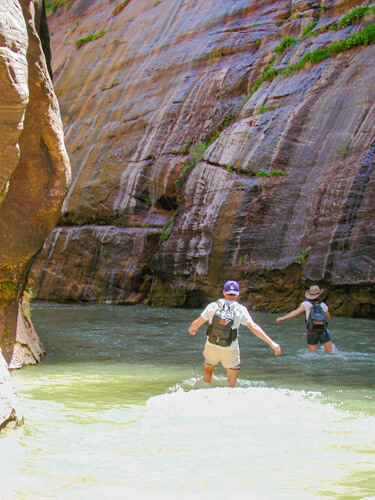 We were pretty far in the canyon when we noticed the water getting significantly deeper and it was flowing at a much faster speed. The water level was now up to the bottom of our shorts. I had heard of adventure stories where people traveled through rivers that were so high they'd have to carry their gear over their heads. I don't know why this sounded fun to me but it did. At the rate we were going, it looked like we might just have to do this.
And so we did. We carried the backpacks over our heads and were exhilarated by the experience. The water was now waist level, and we had already spent a few hours hiking so we made the decision to turn around and head back. We had to say goodbye to our mini-adventure in the Zion Narrows, but made a promise to ourselves that we would one day return and complete the full 16 mile trail.
The coolest thing about discovering the Zion Narrows was that it had not been planned at all. It was just one of those last minute adventures that you act on when inspired to do so. We made sure it was safe enough to attempt and we went for it. So be observant when you are out an about. You may discover a really cool adventure is just around the bend too!