If your in Palm Springs and your looking for a place to go hiking, look no further than Indian Canyons. Within it you can visit the canyons of Palm, Murray, Andreas, Tahquitz and Chino. Whichever one you choose will offer plenty of trails for hiking and interesting terrain to explore. From the large California Fan Palms to the rustling peaceful streams your going to find that a wonderful desert adventure awaits you!
Exploring A Palm Oasis
"Just look at those palm trees!" I exclaimed as I drove up to the parking lot in Palm Canyon. Not only were the trees giant but there were so many of them and they seemed to stretch deep into the canyon. Apparently they stretch for 15 long miles. I had only seen trees like this on old cartoons where someone was dragging themselves through a desert pleading for water. And then Poof! A desert oasis appears with palms surrounding a glistening stream of water. Well this was no cartoon and the oasis was right in front of me! We headed over to the Trading Post which marked the start of the trail. A paved foot path winds down into the canyon and into the heart of the palm garden.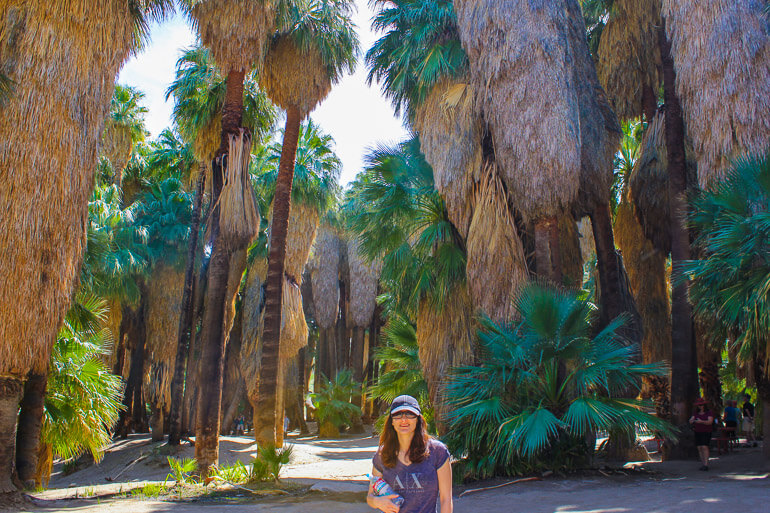 The canyon can get very hot so I'd suggest bringing a hat for shade from the sun. Although when you hit the canyon floor there is lots of shade from all the trees. There are also several picnic benches near the stream to allow people to sit and eat or simply relax.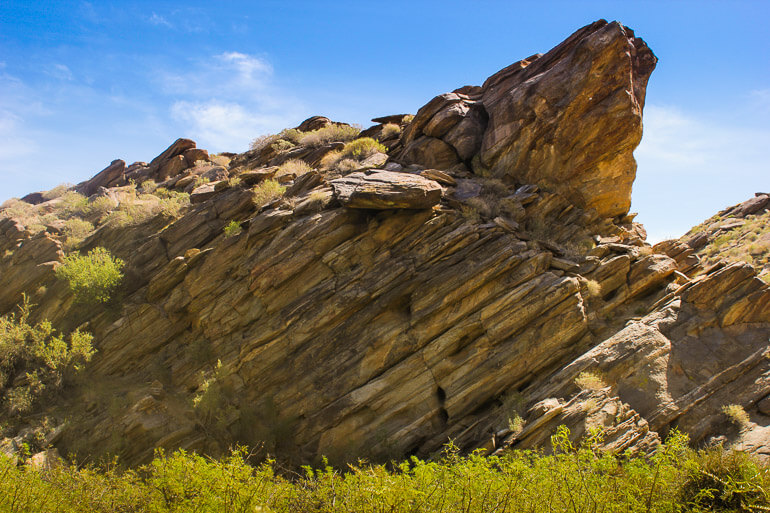 The great thing about the Palm Canyon Trail is that you can go for as long as you like and turn back anytime. When you head out past the palm trees you'll see rock formations like this one above. In a way the shape of these rocks looks so similar to the ones of Grizzly River Run in Disney's California Adventure theme park. To me it looks like the head of an animal jutting out towards the sky. You could really do lots of "rock-gazing" in a place like this.
Learning About Native Culture
Indian Canyons once belonged to the ancestors of the Agua Caliente Cahuilla people. They were able to thrive in desert conditions due to an abundance of water and hundreds of plants and animals that abide here. For some it's hard to imagine how this area could be so prosperous but the natives grew crops of melons, squash, beans and corn. They hunted animals and gathered plants and seeds for food and medicines. They had quite a stable existence and traces of their original communities are found all over the area. Below is the Indian Grinding Mortar they would use to grind things like acorns, beans and wild oats. If you pay attention while hiking you'll find other evidence of native living as well.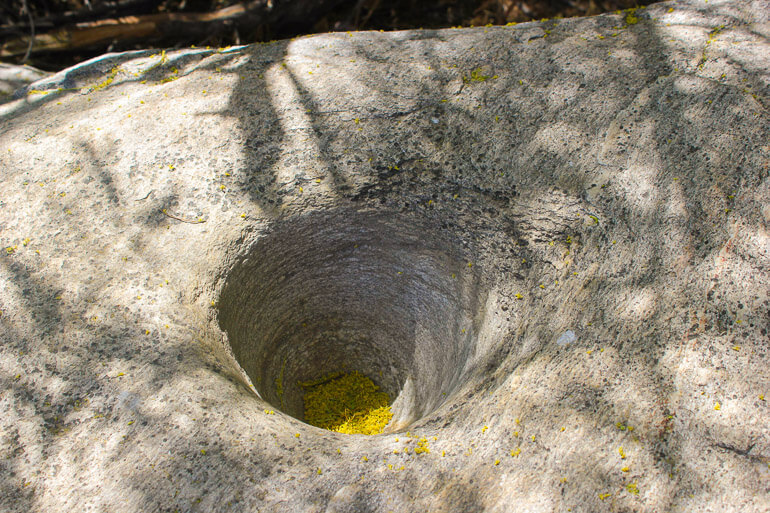 We turned back towards the parking lot and climbed the short paved path up to the Trading Post where we began. Inside they had hiking maps, books, Indian art and jewelry and most importantly refreshments! It was a really hot day in the spring so we treated ourselves to two popsicle sticks. I overheard someone had just hiked to West Fork Falls to see a waterfall. I inquired how long it would take to reach the waterfall since we were already pretty exhausted from being in the sun. The lady at the counter looked up at me and said…"oh, about 1 minute walking distance". Uh…awesome! It looked much farther on the map. Sure enough just around the back side of the Trading Post was a little trail that wound down towards some large boulders. There was a nice sized waterfall pouring onto a boulder and it was all just a minute or two from the parking lot.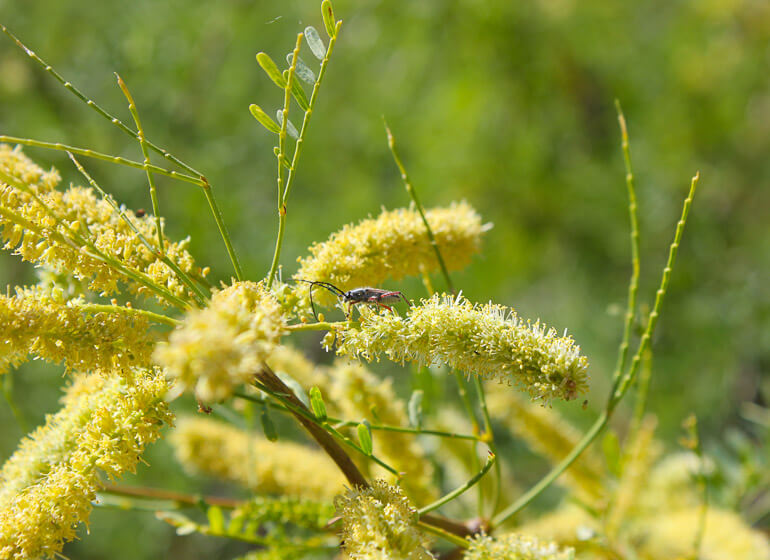 We also traveled to Andreas Canyon and walked a short loop footpath discovering more sites and indications of native living from so many years ago. Because it was spring there were bright yellow flowers everywhere making the hike even more scenic. When you stop to really look around you will find the animals and insects that currently live in this interesting oasis busy doing what they do best.
For more information on hiking in Indian Canyons visit the the official website here.